So, Who Should Replace Holly in Peepshow?
---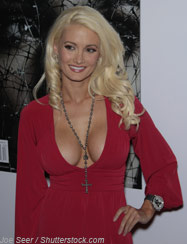 It's been common knowledge for a while now that after three and a half years, Holly Madison would be leaving the popular Peepshow at Planet Hollywood at the end of the year. On the heels of her exit announcement, Madison, 32, revealed to the Las Vegas Sun's Robin Leach last week that she's 12 weeks pregnant. So, her final show could actually be a whole lot sooner than the planned date of December 30th. (We're just doing simple math here, Cheapos; as far as we know, Madison is still on schedule to finish her stint in Peepshow on the scheduled date.)
(Update: It was announced on Tuesday, September 11th that Holly Madison's final appearance in Peepshow will be October 21st.)
So, while there's been some rumors floating about who could - and should - replace Holly (not that anyone could really replace the lovable lass), the discussion heated up today when Robin Leach reported that both Jenny McCarthy and Carmen Electra could be in talks to star in the show; perhaps even as duel-headliners that take turns starring in this popular Vegas Strip show.
Admittedly, either McCarthy, 39, and Electra, 40, would be a great choice as the heir apparent to Ms. Madison on the Peepshow stage; both are Playboy vets who enjoyed the hosting duties of MTV''s date show Singled Out back in the '90's. And while it's easy to conceive both of them playing naive as the sexually-innocent star of the Vegas burlesque show, Bo-Peep, it's way more fun to discuss other possible stars of Peepshow Las Vegas.
Here are a few other ladies we think would make a great choice to star in the Holly-less version of Peepshow. (Join the discussion by posting your pick to replace Holly in the comments section below, or hit us up on Facebook and Twitter and give us your two cents!)
This would be a no-brainer if Lohan was a shred more, um, reliable. Then again, given her poor cue card-reading skills (anyone that caught her SNL appearance last spring can attest to this) and the fact that she would be taking up permanent residence in Las Vegas, maybe for her sake (and audiences) it would be a good idea for Lohan's agent to dodge this (hypothetical) call.
Kendra Leigh Baskett (Formerly Wilkinson)
Holly Madison's former, um, what do you call someone who dated the same 80-year-old mogul as you, at the same time? We'll just call her "cast-mate", since the whole thing was televised on the weirdly-entertaining The Girls Next Door on E! Anyways, Wilkinson...Err...Baskett would also be a conceivable addition to the Peepshow cast, though given her lack of success on Dancing With the Stars, we're not so sure she could totally hack it when it comes to the dancing numbers this Vegas burlesque show calls for. Sorry, Kendra!
We're not 100% clear (ok, we're not even 10% clear) on what Audrina has been doing for a living ever since MTV's The Hills was cancelled, but she seems to show up at Las Vegas pool parties a lot, and she's obviously not terrible to look at, either. That being said, we're not so sure her star is bright enough step into the role of Bo-Beep, and are we really ready for a brunette in this role? Eh.
A little over the hill? Sure! Totally available for this role? You bet. Agile in heels? Absolutely.
So, why couldn't Pam take on the role of Bo-Peep? Well, I mean, do you want to see Pamela Anderson on stage today? Yeah, we're probably gonna' pass on that one, too. You're still one of our favorites, Pam! (Editor's Note: That last sentence was written in 2003.)
Hey, she's got the stage presence AND the charisma. And isn't Peepshow looking for a golden girl to fill the the Planet Hollywood Theater? Consider this the beginning of the second Internet campaign to promote Ms. White into an unlikely stage role!
You know what? Maybe he should stay away from Vegas for a while...
So what do you think, Cheapos? Who should play Bo-Peep once Hugh Hefner's "No. 1 girl" leave Planet Hollywood for good? Tell us in the comments section below!