Casino Boy's Top Picks for Obnoxious Big Drinks in Vegas while Fat Tuesday at MGM Grand gets Fatter
---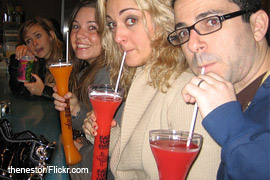 Since Fat Tuesday at the MGM Grand has been temporarily shut down due to renovations, Casino Boy is already feeling thirsty and missing the yard-long margaritas. Although a fatter Fat Tuesday with a new look opens up in March at the MGM Grand, a Vegas trip in the meantime wouldn't be complete without a tacky gigantic souvenir drink. Luckily, Las Vegas bars up and down the strip can come to the rescue with their variations of oversized drinks. It may be touristy and trashy, but its SIN City people…we don't hear Ron Burgundy saying "Stay Classy Las Vegas," now do we? So until Fat Tuesday at the MGM Grand opens back up in March, here are some Casino Boy favorites for obnoxious big drinks in Vegas:
1. "Booze in the Blender" from Jimmy Buffett's Margaritaville at the Las Vegas Flamingo: Head to the Flamingo hotel for a Margarita from Margaritaville and cruise the night away. You're your time sippin' this huge Las Vegas drink because you get to keep the cup! This blended beverage will cost you $32.95, yikes! But with 45 ounces of margs on margs on margs, it's probably worth the chunk of change.
2. Paris Las Vegas: While bigger isn't always better, Casino boy says size does matter when it comes to beverages. Head to the Paris hotel in Las Vegas and get your 60 ounce Eiffel tower drinkor a 25 ounce ceramic balloon drink! Finish these drinks and you might just think you're actually in Paris.
3. Numb at Caesars Palace Las Vegas: If you're wanting something big and strong…no ladies that's not what I'm talking about…then head to Numb at Caesars Palace for some of the best ice-based drinks on the strip. Some of the most popular drinks include the "Purple Haze," the "Up All Night," "Naked Colada," the "Strawberry Butterfly" drink and the "Mango Kush." If you or one of your friend's isn't into these sweet concoctions, don't fret because Numb also serves draft beers and other more typical drinks.
4. Stratosphere: Head to the Stratosphere to get a Stratosphere shaped obnoxiously big Las Vegas drink. Enjoy one of the biggest drinks on the strip while taking in the view from the highest bar on the Las Vegas strip. When it comes to partying in Vegas, Casino Boy always says go big or go home.
If you're headed to Vegas, make sure to take a look at our Las Vegas deals page to find hotels and special packages for cheap! Did we miss some good oversized Vegas drinks? Let us know in our comments section or by following the Casino Boy Twitter , the Casino Boy Facebook page, or Casino Boy on Google+ for all the Cheapo Vegas updates.
This article was written by Cheapo Vegas travel expert Ariel Abbott.