J W Marriott Las Vegas
Why hello there, golfer! May I recommend your One Wood for the drive to this swank hotel?
---
A Quick Look
Location: Off-Strip
Hotel Class:

Room Price:

Hotel Size:541 rooms
Casino Size:50,000 sq. ft.
Gaming:Yes
Nightlife:

Pool:

Buffet:
---
Book now for great deals!!

Other Hotels like JW Marriott Las Vegas
JW Marriott Las Vegas Deal Finder
Book Now
The Skinny
The folks at Marriott own the hotel part but they don't run the casino. That's just not their business interest. The hotel part is quite swanky. The casino is more of a locals place with the usual food specials and come-ons for locals.
Reviews
Most Recent Reviews
Our user reviews are from real registered users.
Quick Facts
Check-in at 3pm
500+ Rooms
Check-out at 12pm
High-Speed Internet
On-Site Restaurant
Parking
Check-In Age - 21+
Info
Location:
221 N Rampart Blvd
Las Vegas, Nevada 89145
View Map
Website:
https://www.jwlasvegasresort.com/
Room Quality:
JW Marriott Resort Las Vegas has big 560 square foot rooms. That makes them bigger than the ones at Bellagio or Mandalay Bay, and we happen to think they are every bit as nice, provided you don't mind being 25 minutes from the Vegas Strip. The size allows for a big sofa in the king bed rooms, and some fancy cherry wood furniture. Bathrooms are marble, with deep soaking tubs and are successful in making you feel rich. All rooms have nice TVs. Some have french doors and balconies.
Service Quality:
The service at JW Marriott Resort Las Vegas is very good. They don't even yell at us for hanging around. There is hardly ever a wait to check in, and there are plenty of attentive, and amazingly professional staff to serve you. The spa at this hotel is one of the best in Las Vegas, so if you need a facial or pedicure, you're in the right place. Of course, they're starting to act more like any other locals casino, with tacky promotions and cheap food.
What You Get Bottles of in the Bathroom:
It's only the best at the swanky JW Marriott Las Vegas Resort, including high-quality soap, shampoo and conditioner. Moisturize with a generous bottle of lotion, too.
Clientele:
Rich people in their forties and up. It's not our crowd, but we keep hanging around looking pitiful, hoping some rich family will take us home with them.
How's the Pool?
The swimming pool at JW Marriott Resort Las Vegas is excellent. It's the lagoon style with odd shaped pools, plenty of recliners, palm trees and space to spread out.
Resort Fee:
No mandatory resort fee. Guests can choose to pay more for amenities they might actually use.
Is it Worth It?
Of course it's worth it! If you're rollin' in dough and don't want to mingle with us simple folk, of course.
Hotel Amenities
Air-conditioning
ATM/Banking
Ballroom(s)
Bar/Lounge
Business Center
Business Services
Concierge Service
Doorperson
Dry Cleaning
Event Catering
Express Checkout
Fitness Center
Free Fast Internet
Free Newspaper
Jacuzzi
Multilingual Staff
Parking Garage
Restaurants
Room Service
Security Guard
Shoe Shine
Spa
Wedding Services
Table Games:
Blackjack, craps, roulette, Let It Ride, Pai Gow and 3-Card Poker. The tables are swank-tastic, with soft leather-covered rails and very comfy chairs.
Bet Minimums:
$5 minimums pretty much across the board. The blackjack rarely goes lower than $5 but can be $10, and you can get yourself in a craps game with only $5 on the pass line. They'll give you outstanding 100x odds. If it's roulette you're after, you'll have to make bets in $1 increments, and put at least $5 out there to take your chances with the wheel.
Machines:
Slots up to $25. The former full-pay inventory has been gutted, so any good VP machines left are few and far between. The vast majority of the slots are the video type, which makes the place sound a little quiet and electronic. There is a high-limit area called the Summerlin Room with its own little buffet for the VIPs.
Cocktails?
The cocktail service at the Las Vegas JW Marriott is pretty good, but this place caters to well-to-do retired people, and they aren't as eager to get loaded as the dumb kids on the Vegas Strip, so they don't bother trying to shovel booze down your throat. When they finally do get around to you, you can ask for expensive liquor and really good beer. If we see you sucking down Budweiser here, we're going to call you nutso.
Who Gets Comps?
JW Marriott Las Vegas Casino is a decent place for comps. There is some food for the green chip bettor, and there are rooms for the long-term $100 high-roller. The Club Razz slot club now gives a half-percent back in cash and comps for slot play, and a quarter percent for video poker.
Number of TVs:
About 10 TVs of which five are big screens, and they are all for horse races. Usually about five small TVs over the bar are for sporting events.
Number of Seats:
About 60 totally crappy seats. This was once a gorgeous room with fabulous leather sofas and comfy seats but some lame-o pinched one too many pennies and crammed a load of lousy seats and cheap tables in. The lone exception is about ten comfy high-backed chairs with individual screen that are reserved for horse players.
Number of Betting Windows:
The JW Marriott Vegas Casino has six betting windows.
Free Drinks?
Yes, you get chits with your bets if you ask. They will be generous with the chits so long as you don't abuse the system.
Snack Bar?
No, but some of those Irish beers at the bar in the book are like a meal in every can.
Other Notes:
Don't bother coming out here just to look at the sports book or watch games. It's a real disappointment. It's also geared toward horses way more than sports.
Number of Tables:
Four tables in this "room".
Comfort of Chairs:
So average that they will neither thrill nor sadden your tushie.
Closed Room or Open to Casino?
Wide open, baby. The four tables are in the pit, so you are surrounded by other action. It's quiet, only because the casino at the JW Marriott Resort Las Vegas is relatively small and not very wild.
Game Spreads and Limits:
Do you like Hold 'Em? If you answered no, then you need to look elsewhere. It's all low stakes Hold 'Em with an NL game going sometimes.
Beginner Games or Classes:
The low limit games are suitable for a beginner. Just know table etiquette before you sit down.
How Crowded is the Room?
Not very crowded. You can expect to see as many as three tables going, but more likely it will be one or two, unless it's the weekend.
Comps?
What are those?
How Good Are the Players?
Mostly locals and mostly tight at that.
What Else Do I Need to Know?
Welcome to the Rampert's Me-too poker room. It seems to have been assembled for the sole function of being disassembled quickly when the poker boom craps out.
J W Marriott Las Vegas Resort Guest Rooms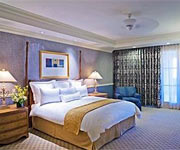 Deluxe Room
Available with one king or two queen beds with premium bedding, the Deluxe Rooms at the Las Vegas JW Marriott are pretty awesome. The rooms are a big 560 square feet with all of the typical amenities: black-out drapes to sleep your worries (and memories of lasts night's tequila shot contest) away, clock-radio, desk, electronic check-out, complimentary newspaper, wired and wireless Internet, TV with premium cable and pay movies, air-conditioning and ceiling fan. The bathroom is our favorite room as usual, we spend a lot of time in there. It has a separate shower and deep tub for group bubble baths. What's wrong with that? Available with a terrace or city view as well. Keep in mind all you Smokey Joes, this is a non-smoking room.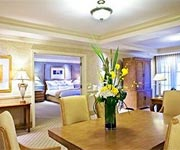 Junior Suite
Want a place to entertain the ladies? The Junior Suite at JW Marriott is the way to do it. Go cougar huntin' at the casino, douse yourself in sweet smelling lotion, put some Enya on the iPod and show her where the magic happens. Or, you know, just spend a night by yourself in the lap of luxury. It happens to the best of us. The Junior Suite comes with one king bed, premium bedding, complimentary newspaper, desk, TV with premium cable and pay movies (for when the hot date steals your bathrobe and bails), black-out curtains, air-conditioning, clock-radio, electronic check-out, and ceiling fan. The bathroom is so great you'll debate marrying it after a long night at the local bar. Maybe you'll end up on an MTV show called "Real Life: I Married A Vegas Bathroom". Follow your heart buddy! This is a non-smoking room.
User Average Review
Overall:
Service:
Cleanliness:
Location:
Room Quality:
Based on 1 review
Rating Distribution
0.0% recommended it
J W Marriott Las Vegas Resort Reviews