Making Memorial Day Weekend in Vegas Memorable
---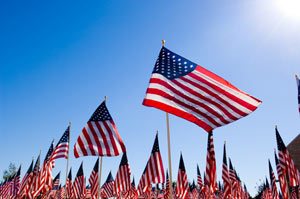 Every year we celebrate Memorial Day, commemorating the fallen soldiers of the Civil War with a 3-day weekend. If you choose to spend this weekend in Las Vegas, you will not be alone. This is the official start of the summer vacation season, so from now until Labor Day there are going to be more debaucheries in Vegas than ever.
Here's what we think you should do to celebrate the start to your summer this Memorial Day Weekend in Vegas. It's going to be hot. It's going to be crowded, and there will be plenty of scantily clad women for you to pretend to gaze over... America, am I right?!
Specials on Memorial Day Weekend in Vegas:
Cabo Wabo Cantina: A Memorial Day patio party featuring drink specials and giveaways beginning Friday. Grab your own $15 pitchers, $25 buckets of Dos Equis and shovel down some Tex-Mex on special. The Cazadores Tequila girls will be giving away free merchandise and tequila samples. You think they're going to be doing belly-shots? Doesn't hurt to ask. What better way to celebrate a day commemorating the Civil War than with Tex-Mex and tequila?
Tacos and Tequila: From Saturday to Monday, there's 2-for-1 Bloody Maria's and top shelf margaritas, 1/2 price daiquiri refills, $10 Dos Equis beer mugs and Patrón shot specials. Plus, "Funny Hour" half-priced drinks always just end up you getting double-drunk. Or quadruple drunk usually in Casino Boy's case.
Lynard Skynard BBQ & Beer: Thursday to Monday they're having "Lyve" entertainment from local artists, and then become your own local legends at "Klassic Karaoke" on Sunday and Monday at 9 pm. All weekend, $5 appetizers from noon to 6pm and $4 draft beers (Lynyrd Skynyrd Lager, Coors Light, PBR and Shinerbock), and $5 well drinks/house wine.
PBR Rock Bar & Grill: BBQ and beer, that's what summer is all about! And besides, May is National Barbeque Month, so celebrate before the month comes to an end. You can get a 15% discount on BBQ Beef Ribs, Texas Style Beef Brisket, Smoked BBQ Chicken and more from 3- 6pm all weekend! Budweiser beer buckets are $19 and a live DJ will be spinning tunes.
Memorial Day Weekend Concerts in Vegas:
The 14th Annual Punk Rock Bowling and Music Festival May 25-28. All festival shows are all ages. Single day tickets are $40 and 3-day passes are $100.
Rock of Vegas at the Fremont Street Experience has a lineup of legendary rock 'n' rollers from the 1980s. This free Downtown Vegas concert will start off the Memorial Day Weekend with Vince Neil, singer of Mötley Crüe, on Saturday.
Supposedly, the Best Las Vegas Memorial Day Weekend Parties will be at Tao, XS, Wet Republic and Marquee nightclub.
Trey Songz will be at Tao on Friday, Sean Paul will be there Sunday, and LMFAO takes over Monday.
Drake is going to Rehab throughout the weekend. And not THAT Rehab ... You know what we mean! Don't alert the Perez Hilton just yet.
Holiday pricing is in effect for all the top Vegas clubs and the best pool parties, so don't expect to get in cheap for any of these and you can be sure that you'll have to pay a minimum for VIP Bottle Service.
Chateau Nightclub at Paris Las Vegas: Las Vegas icon Holly Madison and DJ Felix Da Housecat are hosting a party Friday night, and UFC Heavyweight Champion, Junior Dos Santos, will host his own post-fight party at the club on Saturday. A bunny and a meat-head go to Paris... Well, how about you just let us know how that joke ends. It will probably be better than when Jay-Z and Kanye are in Paris.
The Best Memorial Day Weekend Pool Parties in Vegas:
The Palms: Ditch Fridays will be hosted this week by Roger Sanchez. Then Saturday, get ready for Ludacris, Busta Rhymes, Taboo of the Black Eyed Peas, Mark Foster of Foster The People, Questlove, Jazzy Jeff, Sex Panther, and The Disco Fries.
Saturday: Moorea Beach Club, Wet Republic and the Nectar Music Festival at the Hard Rock Vegas Pool.
Sunday: Rehab, TAO Beach, Surrender (You'll feel so close to Calvin Harris), and Marquee all have great DJs, drinks and there will be plenty of celebrities walking around like they are real people.
Monday: The places to be are Moorea Beach and Rehab/Relax. Yes, you can either relax on the last day of vacation, or if you spent the weekend right, you'll be in rehab.
The Cosmopolitan: M83 plays the pool on Friday, Young the Giant on Saturday and Childish Gambino on Sunday.
You have your pool parties, your patio parties, your nightclubs and your concerts, and all of those pretty much say "Hello summer!" Tell us what you're up to Memorial Weekend in Las Vegas in the comments section below!
Cheers!
-Casino Boy