Eli Roth's Goretorium to debut just in time for Halloween in Vegas
---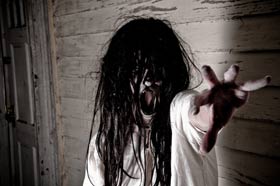 Eli Roth's Goretorium is ... well ... it's just that: one part auditorium, several parts gore. (Just check out their website for a sneak preview at what to expect.) Actually, "auditorium" might not be the right word since the theme of this new Vegas Strip haunt - set to open Saturday, September 28th - is that of a haunted hotel.
But "Goretorium" certainly fits.
If you're not sure who Eli Roth is, allow Casino Boy to get you up to speed. Roth is the notorious horror movie director responsible for some of Hollywood's scariest (and most gory) movies of the last several years, including Hostel and Cabin Fever. You may have also seen him in Quentin Tarantino's Inglorious Basterds as Sgt. Donny Donowitz, aka "The Dude With the Hammer".
So yeah, Roth's a bad dude, and he's the mastermind behind the Vegas Goretorium that's causing quite the stir (and buzz) on the Strip. (If you haven't been to the Boulevard in a while, the Goretorium is located above the new Walgreen's next to Planet Hollywood.)
So, what can we expect from Eli Roth's Goretorium Las Vegas? Well, as Roth told Vegas Chatter, "I want it to be the gold standard. The scariest, top of the line, most intense haunted house in the world." So yeah, he's not shy about building expectations. Points for being bold, Mr. Roth!
Fitting for a street as loaded with hotels as the Strip, the Goretorium will be a hotel-themed haunt in which visitors will hope to "escape" from while actors doused in blood do everything short of give you a heart attack in the dark, tight quarters that Vegas Chatter described as a "claustrophobic atmosphere."
Goretorium Las Vegas admission will cost $40 at the door, however $35 tickets are available online now for those too antsy to wait. (We get it.) The Goretorium will be more than just a haunted house; included in the new attraction is a third-floor Baby Dolls Lounge in which visitors can enjoy a drink while watching other visitors get their pants scared off via closed circuit TV's in the lounge. According to VC, there will also be go-go dancers and caged zombies in the lounge, which doesn't sound totally different from some clubs we've been to after the 2am mark.
The Goretorium debuts a week from today, with a public opening scheduled for the following day (9/28) just in time for the Halloween season. The Goretorium Vegas will actually have some "frighteningly" strong competition when it comes to Las Vegas haunts this season, including the new Screamont Experience from The Amazing Johnathan (Hey, there he is!), Bloody English at the Body English nightclub, and finally the annual Fright Dome at Circus Circus.
However, the anticipation and buzz surrounding the Goretorium is essentially unparalleled, making this the headliner in an exciting Halloween season in Las Vegas.
So Cheapos - are you excited about the Goretorium? Do you think Eli Roth's new project will be a success once the buzz wears off? Let us know in the comments section below, or give us your two cents on Facebook, Twitter and Google+!