Where to Watch the Pacquiao-Bradley Fight in Vegas
---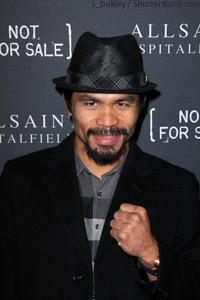 Alright Cheapos, we know you like a good brawl, and another great Las Vegas fight will be at the MGM Grand this weekend, June 9, 2012, so you're going to need to know where to watch the Pacquiao-Bradley fight in Vegas! Manny made his grand entrance at the MGM Grand last night, quite the frenzy, so now we just wait until Saturday to see what happens!
The last fight at the MGM Grand didn't sell out, and the MGM only let the fight broadcast in their hotels, so you're going to need to know where to watch the Pacquiao-Bradley fight while you're in Las Vegas before the very last second. You could buy a ticket to see the fight for an upwards of, well, hundreds of dollars. Aka, not a cheapo price.
There are a some reasonably priced Pacquiao-Bradley viewing parties in Vegas that will get you a clear view of the fight, a drink in your hand and a few fellow spectators to heckle.
Blondies Sports Bar at Planet Hollywood:
Price: $80 cover for Table Reservations Cover
Includes: All You Can Drink Domestic Draft for the duration of the fights
Doors Open at 6pm
Blondies Boxing Viewing Party Pacquiao vs. Bradley Fight tables sell out quick, so if you're waiting until the day of the fight to book a table for your party you may be out of luck friend.
If that's the case, they have standing room for you to stand by your smart friends who booked early to get tables or you can wander around the room from TV to TV. At least you'll still have your beer.
The Mirage is having an exclusive closed circuit viewing party! Wow, everything sounds way better when it's exclusive, doesn't it?
Price: $50 (plus taxes and fees, comes to right under $60)
What? A Closed-Circuit tele-cast. About as good as it gets for where to watch the Pacquiao-Bradley fight in Vegas without being at the actual fight.
Miller's Ale House and Buffalo Wild Wings might be showing the Pacquiao-Bradley fight. They've shown the fights before, generally charge around $20 a head to get in (that was the case for the Mayweather-Cotto fight), so we have a sneaking suspicion they might do this again. Don't take our word for it, call first!
Check around at different sports books to see if they'll be showing the fight.
Your best bet to see the Pacquiao-Bradley fight in Vegas is to call around. Don't go to a sportsbook, bar or house unless you know they're showing the fight and aren't already packed. You won't want to miss your chance to see the eight-division world champion "Pacman" Pacquiao and undefeated two-time welterweight champion "Desert Storm" Bradley go at it in Vegas. Even if you aren't in the same building, close enough to feel the sweat, you can be in the same city, on the same Strip.
Let us know if you hear about any viewing parties we don't have on the list and we'll share it with your fellow Cheapos! Tell us in the comments section below, like us (we know you already like us, but you can click the like button too) and join the convo on our Facebook page and even on Twitter. Yes, Cheapos can tweet! #Pacquiao #Bradley #PacBradley (all already trending) #wegotthis