Playboy Club Closing Saturday
---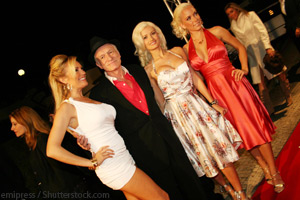 The Playboy Club in Las Vegas is closing this Saturday night, but not before one last party (and one pricey cover) to commemorate the 6-year run at this iconic (kind of) club at the Palms.
The closing is no surprise - in fact, it had been announced back in March - but the final weekend sort of snuck up on us, especially since we can't afford the $40 cover charge to get in the door.
According to a Las Vegas Sun report back in March, neither the Palms nor the Playboy Club offered up any details for the closure but, let's face it, six years in Vegas club years is about 30 anywhere else. In a city where nightclubs come and go with the times, even the iconic Playboy bunny can seem a little dated to Vegas party-goers that were born in 1991. (Feeling old yet?)
The Playboy Club and its accompanying comedy lounge (which closed just after New Year's Eve, 2012) was made prominent by being featured in numerous reality tv shows over the years, including The Real World and The Girls Next Door, and the allure of beautiful babes in bunny ears has kept newer Playboy Clubs bustling in Cancun, London and even China.
So far, there have been no announcements made concerning what will take the place of the space previously occupied by the Playboy Club Las Vegas. However, Las Vegas Weekly's Robin Leach reported on May 7 that there are rumors that the club could be moving to the Strip - more specifically, The Cosmopolitan Hotel.
In the meantime, if you simply can't 'bare' to see the Playboy Club go from afar, you can still attend Saturday's going away party which, according to Las Vegas Weekly, begins at 9pm on Saturday, June 2nd. Tickets are $40 and include Moon Nightclub admission after 11pm.