Hugo's Cellar Las Vegas
I don't want to ever end up alone in this cellar with Hugo, but maybe as long as the wine doesn't run out?
---
A Quick Look
Cuisine:

Steak & Seafood

Hours: Daily 5:30pm-11pm
Price:
---
---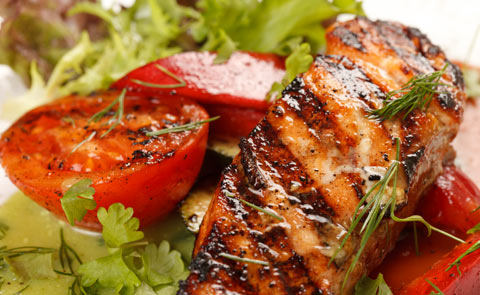 Like Steak & Seafood Cuisine?
Check out more of our Steak & Seafood restaurant faves!
The Skinny
Hugo's Cellar Las Vegas sounds like the place you'd see someone being held captive in, who has to dig their way out with a spoon, when in fact, that's almost exactly what it is! You won't be held captive at Hugo's Cellar in Vegas, but you will be digging your way through a hearty meal that won't disappoint. If your date is in fact holding you captive, though, there's not a better place they could have chosen!
Reviews
There are currently no reviews!
Be the first to write a review!
Write a review
Our user reviews are from real registered users.
Quick Facts
Hugo's Cellar Las Vegas is an upscale restaurant in the Downtown Four Queens Hotel and Casino.
Do you love salad? We don't like to admit it because, you know, nobody makes friends with salad, but, Hugo's Cellar in Vegas has a salad cart that's the bees knees.
Hugo's Cellar Four Queens has some of the best steaks and seafood around, so be prepared to drop at least $50 a person and gain about 50 lbs. by the end of your meal.
Restaurant Website:
http://www.hugoscellar.com/
Restaurant Menu:
http://www.hugoscellar.com/files/menu.pdf
Info
Location:
Four Queens Vegas
202 Fremont St
Las Vegas, NV 89101
View Map
Phone:
702.385.4011
Hours of Operation:
Daily 5:30pm-11pm
The Environment:
Hugo's Cellar in Vegas has a classy atmosphere, from the single rose you get when you're seated, to the romantic ambiance the old-school decorations and polite waitstaff offers all the way through entrees and dessert, you'll have an unexpectedly romantic time for an Off-Strip restaurant.
Why We Dine:
Hugo's Cellar Four Queens is one of the best Vegas restaurants Downtown. That's just a fact.
Old School Feeling: Not the Will Ferrell kind, more like an old mafia vibe. 60's/70's charm, in the classiest possible way. This is not something you'd see in Grease, more like the place that the classy parents of the Grease kids ate at while the teens were out riding in cars and going to diners.
Great Wine List: Not only do they have a lot of wines to choose from, they are well priced and there's a Sommelier on staff to help you decide which one would go best with your meal. We don't need anyone to tell us to choose the cheapest one on the menu though. Not a tough choice.
Salad Cart: The best way to start a meal. Make your custom salad, in which you get to decide exactly what you want on your salad and skip everything you don't.
Inside Knowledge:
Hugo's Cellar in Vegas was voted by Las Vegas Review-Journal readers 5 years in a row as "Best Gourmet Room" in Las Vegas. For a restaurant that's not on the Strip, you'll get a surprisingly fancy meal in a nice setting.
We Recommend:
Sipping Iced Tea: For all you non-winos, Hugo's Cellar Las Vegas has a virgin drink that is just as delightful.
Not Buying Her Flowers: Why waste the money when Hugo's Cellar provides every lady with a freshly cut rose when she walks through the door? That's the cheapo mindset, kiddos!
Is it Worth It?
It's probably the best restaurant to eat Downtown, well worth the extra cash you'll drop here and you won't leave hungry.
Hugo's Cellar Las Vegas Restaurant Amenities
Candle Light
Full Bar
Open for Holiday Dining
Homemade Desserts
Wine Specialist
Wheelchair Access
Romantic Dining
User Average Review
Overall:
Menu:
Ambience:
Location:
Service:
Based on reviews
Rating Distribution
0.0% recommended it
Hugo's Cellar Las Vegas Reviews
There are currently no reviews! Be the first to write a review!
Write a review
Restaurant Hotel
Other Steak & Seafood Restaurants You May Like