Fiesta Rancho Vegas
Ay, mi cabeza! Despite the Mexican theme of this place, I am not a piñata!
---
A Quick Look
Location: Off-Strip
Hotel Class:

Room Price:

Hotel Size:100 rooms
Casino Size:100,000 sq. ft.
Gaming:Yes
Nightlife:

Pool:

Buffet:
---
Book now for great deals!!

Other Hotels like Fiesta Rancho Vegas
Fiesta Rancho Vegas Deal Finder
* Room Rates shown above reflect the average nightly rate for a 2 night stay with the calendar date as the check-in date, our visitors should verify actual rates, promotions and deals directly with the hotel as we make no guarantees regarding rates, but only provide them as a convenience.
Book Now
The Skinny
It's not really festive, unless you consider chain-smoking locals hunkered over slots a barrel of monkeys. Overall, the Fiesta Rancho Station Casino Hotel Las Vegas is like a K-mart for gambling: sufficient, sort of messy and a decent bargain if you don't mind waiting for the specials.
Reviews
There are currently no reviews!
Be the first to write a review!
Write a review
Our user reviews are from real registered users.
Quick Facts
Check-in at 3pm
Check-out at 12pm
On-Site Restaurant
High-Speed Internet
Check-In Age - 21+
Parking
Near Attractions
Info
Location:
2400 North Rancho Drive
Las Vegas, Nevada 89130
View Map
Website:
www.fiestarancholasvegas.com
Room Quality:
Casino first, hotel second, appears to be the motto of Fiesta Rancho Station Casino Hotel Las Vegas. The rooms are an afterthought to the enormous local-friendly casino. The standard room is clean and quiet but a bit threadbare. The furnishings are just beds, a small table and a dresser, and they are getting old. The check-in desk is small and can be hard to find. Because the hotel is only 100 rooms, don't expect to get a great view. The location in North Las Vegas with only one other major casino nearby (Texas Station) means you need a car if you want to use this as home base.
Service Quality:
Fiesta Rancho Station Casino Hotel Las Vegas is small, so simple requests usually get addressed quickly. However, the smallness means that they can't respond to big things, don't have a business center and the hotel staff might quickly get overwhelmed.
What You Get Bottles of in the Bathroom:
Conditioning shampoo and lotion should go a long way toward washing that man (or woman) right out of your hair, as well as the regular Vegas grime.
Clientele:
Retired locals inhabit this place the way bats inhabit dank caves. They hang from the rafters, lurk in the corners, and suck blood from the video poker machines. Actually, they mostly complain that the buffet has raised its price again. If you like a friendly, clean place with no pretension and you're over 45, you'll feel comfortable. If not, head back to the Strip.
How's the Pool?
Nothing to write home about, unless you spend a lot of time writing about boring pools. Actually, the Fiesta Rancho Station Las Vegas pool is serviceable, small and uncrowded since there are only 100 rooms and most of the guests would rather be wrestling with one-armed bandits.
Resort Fee:
Fiesta Rancho Hotel and Casino Las Vegas charges $11.19 a night for internet, a daily newspaper, local, long distance and toll free calls Hope you came to Vegas to make $10 worth of phone calls...
Is it Worth It?
This isn't a bad deal, but there's nothing special about this place. Will you even be able to tell you're in Vegas unless you leave your hotel room? No. Does that matter? You decide.
Hotel Amenities
Bar/Lounge
Free Guest Parking
Security Guard
Restaurants
Table Games:
Blackjack, craps, roulette, Let It Ride, Pai Gow and occasionally a sucker game. They have friendly blackjack games with decent rules so long as you avoid the 6:5 single deck. Oh yeah, let's not forget the enormous bingo hall, either. You play that on a table and those blotters are cool.
Bet Minimums:
$5 blackjack can be had, but expect the awful continuous shuffle machines. $5 Let it Ride, $5 3-Card Poker when we were there last, 50-cent roulette with a $2 minimum bet, and $3 craps (with 10x odds) beckon to you in a soft, lilting voice, "come lose with me, come lose with me. I love youuuuuu." Single deck BJ has the lousy 6:5 payoff, so skip it.
Machines:
So much video poker it could choke a monster who eats video poker machines. Fiesta Rancho Station Casino Hotel Las Vegas still has some full-pay machines at the quarter level. There are plenty of slots in every denomination from penny to $5, but this really is a haven for nickel and VP players.
Cocktails?
It's okay service. These places catering to locals really don't force the liquor down your throat the way the Strip and Downtown properties do, though. I guess they don't want their most loyal customers crashing their cars.
Who Gets Comps?
Get the slot club card, buddy, and rack up points. The Amigo Club is not the best in town, but they do offer both cash back and food comps. There are few room mailings since there aren't many rooms, but they do offer players discounts and plenty of free buffets. Table players should angle for a buffet comp after a couple hours of $15-$20 or higher play.
Number of TVs:
About 28 TVs for the sports enthusiast and one of them is large.
Number of Seats:
They've got around 90 seats and all of them have individual TVs so you can flip back and forth between the Preakness and an Addam's Family Marathon on Nick at Nite. All the seats have better than average comfort. Also, add your car seats because they have drive-thru sports betting.
Number of Betting Windows:
Nine windows are for sports and race, and two more are for race only. But much like at a bank at lunch hour on Friday, most of them go unmanned. The boards are slate.
Free Drinks?
You betcha. Live it up, baby.
Snack Bar?
No, but there are a a bunch of food court eateries right behind it so you can get a Big Mac, burrito or pizza between ballgames.
Other Notes:
Fiesta Rancho Station Casino Hotel Las Vegas has a pretty small sports book. We'd expect bigger from a locals' place. They have a drive-thru window for taking bets, too. That's pretty unique and cool.
Number of Tables:
This is a "Me Too!" poker room: a hastily put together joint to cash in on the poker frenzy. This is a small "room" with only five tables with cheap felts. Check out the best poker rooms in Vegas if you really want to play.
Comfort of Chairs:
Average. Nothing special here.
Closed Room or Open to Casino?
The poker room is right in the middle of the Fiesta Rancho Station Las Vegas casino floor. It looks like they removed some table games and put in poker.
Game Spreads and Limits:
Texas Hold 'Em $2-$4 is the main game, but they also have a $1-$2 No Limit on the weekends.
Beginner Games or Classes:
Fiesta Rancho Station Casino Hotel Las Vegas holds lessons Friday and Saturday nights.
How Crowded is the Room?
This is not a crowded room and you're unlikely to wait long for a seat. Most of the time you can jump right in.
How Good Are the Players?
Players are not good. However, with only low-limits game spread, there is not room to make much money. It's an okay place if you're looking not to lose money, but a lousy place if you're looking to win.
What Else Do I Need to Know?
They have cheap daily tournaments that are sort of crap shoots because you don't get a lot of chips. The room is sort of depressing because it's just space on the casino floor.
Fiesta Rancho Vegas Guest Rooms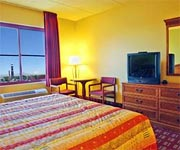 Standard
This is as standard as rooms come. They don't get as much contact as the casino does, but the king bed or 2 double beds will keep you comfortable all night (or day) long. There's a TV with cable channels and pay movies and every room comes with complimentary wired and wireless Internet access. The bathrooms come with a hair dryer, don't expect anything other than that in there though. Unlike some hotels though, every rooms comes with an iron and ironing board. You can iron all your money before the slot machines gobble it up.
User Average Review
Overall:
Service:
Cleanliness:
Location:
Room Quality:
Based on 0 reviews
Rating Distribution
0.0% recommended it
Fiesta Rancho Vegas Reviews
There are currently no reviews! Be the first to write a review!
Write a review