Excalibur Hotel has the best Fall Las Vegas deals! Casino Boy raves about Excalibur
---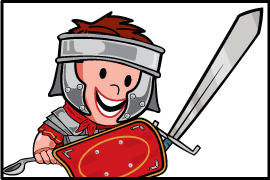 Excalibur is one of the most fun themed hotels on the Strip. How can you not have fun inside a giant castle?! Now you can save 30% more with an exclusive Las Vegas promo code from Excalibur. Rooms are as low as $30, which is a price Casino Boy and King Author himself can get behind. This is one Las Vegas hotel that has both adult and family fun. Grown ups can relax at the spa while the kiddos get rowdy at the arcade.
The Casino Floor (AKA Party Central):
For the card players, there's no limit Texas Hold em', Omaha and Seven-Card Stud. 1 cent slots are available for the reals Cheapos or head over to the full service keno lounge. Play the ponies with parimutuel race wagering or bet on your favorite pro or college sports team at the Race and Sports Book at Excalibur Las Vegas. Maybe seeing girls with no shirt makes gamblers feel better when they loose their own shirts. No matter the reason, Casino Boy is always down to see the live female dancers in The Party Pit every weekend at Excalibur. Did we mention Excalibur hosts strip poker featuring smokin' hot female dancers at 9pm on Saturday nights? It's like no one can keep their clothes on in this casino! Friendly dealers, dancing girls, roulette, music and free beads await you at Excalibur Las Vegas.
Entertainment: Strippers, Jousting and Bee Gees
Speaking of no clothes, Excalibur hosts one of the hottest shows on the Strip, "Thunder from Down Under Las Vegas." Watch as Australian hunks get down and dirty on stage at Excalibur. Ladies have been known to faint from excitement. Thunder from Down Under is the best show for a girls night out or a bachelorette bash. If you're looking for a more family-friendly show, try "Tournament of Kings Las Vegas." This is one of the last dinner shows in Las Vegas and it features thrilling medieval stunts such as jousting and sword fights. Let's face it, dragons and fireworks are awesome no matter how old you are. Plus, there's an entire feast with absolutely no silverware required. Finally, one of the best tribute shows on the Las Vegas Strip is The Australasian Bee Gees at Excalibur. Watch as the group takes the stage for this live concert at Excalibur Las Vegas and prepare to sing along to "Stayin' Alive," Just leave the bell bottoms at home.
The Grub: Meals fit for a King (or Queen)
There's no need to leave the hotel for a delicious meal. "The Steakhouse at Camelot" Las Vegas is a Zagat Award-winning restaurant on the Vegas Strip. There's also some prime, fresh seafood to get your mouth watering at this classic steakhouse. Or if you're in a hurry to get to the casino, grab a cheap, quick bite at the Castle Walk Food Court. Those with a king-sized appetite can become a knight of the buffet table at the all-you-can-eat feast, "Excalibur buffet." The buffet features breakfast lunch and dinner. However, probably the most fun place to eat at Excalibur is "Dick's last Resort," where the staff serves up sarcasm and insults with every dish. Come see why Dick's Restaurant is "The Shame O' The Strip." Nine flavors of daiquiris, live music and good ol' fashioned finger foods make this joint fun and delicious.
Have you stayed at Excalibur lately? Leave us a comment or post a hotel review! Casino Boy doesn't have much of a social life, so he just updates his social media pages instead. Follow the Casino Boy Facebook, Casino Boy on Twitter, and the CheapoVegas Google+ if you want to keep up to date with everything Las Vegas!