The 5 Best New Things to Do in Vegas
---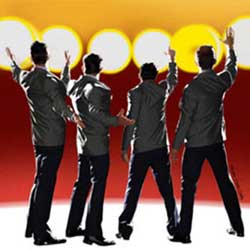 With so many new things to do in Vegas popping up this fall, we here at Cheapo Vegas decided to take a step back and evaluate which new activities in Vegas are worth your dollar and, more importantly, your time.
Granted, some of these joints aren't even open yet, but the buzz alone has us curious enough that we decided to check them out for ourselves and pass along are not-yet-complete opinion of these brand new venues in Las Vegas.
Without further adieu, here are five things to do in Vegas this fall that are new to Sin City...
1.) Eli Roth's Goretorium
We haven't been this excited for a haunted house to open since we were 10 years old. (About Casino Boy's age, really.) Why? Mostly because the name attached to the Goretorium - Eli Roth - has been scaring the bejeezus out of us for over a decade now. (While simultaneously grossing us out beyond belief.)
The Hostel director has dreamed up a seriously scary (and bloody) experience complete with zombie go-go dancers, murderous hotel clerks and even a web camera where you can watch people loose their, um, stuff. The Goretorium will be open 365 days a year according to Vegas Chatter, and will change seasonally to keep the scares fresh no matter what time of year it is. The Goretorium will also have an interactive lounge, and its location on top of the Walgreens near Planet Hollywood puts it smack in the middle of the Las Vegas Strip.
The Goretorium opens on September 27th, with ticket prices starting at $35 online and $40 at the door.
2.) and 3.) Culinary Dropout & Vinyl
The Hard Rock Hotel & Casino is debuting a pair of new venues to enjoy live music in - the Culinary Dropout Gastropub and the Vinyl music lounge. This is good news for music fans that lean on the lesser-known bands and smaller shows to get their fix when it comes to live music, something that's not always easy to find in Las Vegas.
Culinary Dropout opened just this Friday, and as a Gastropub it's specializing in shared dishes and a better-than-average beer selection. (Shared plates generally mean smaller bills. Generally.) They also have low-key live music at night, and are open until 2am Friday through Saturday. Meanwhile, Vinyl is set to open with a debut show on August 29th (That's Wednesday!) by hardcore headliners Static-X. Tickets for shows at Vinyl generally start around $20.
4.) iCandy Burlesque: The Show
You ever think to yourself, 'Man, you know what the Strip could use? More burlesque shows!'?
We didn't think so, but honestly such a thought is more realistic than wishing for less Vegas burlesque shows, which is why the premiere of the iCandy Burlesque Show at the Saxe Theater at Planet Hollywood is such a welcoming addition. Seriously, who's bummed out by a new burlesque show?
Tickets to this brand new show start at $50 a person ($70 for VIP seating and a free drink), and will play every night but Tuesday at 10:30pm, with an Ultra Lounge after-show Thursday- Saturday.
5.) Jersey Boys at Paris
OK, so this isn't really a "new" addition to Las Vegas. (Frankly, it's not new at all.) HOWEVER, as Vegas Chatter alerted us to this morning, tickets to this popular show at the Paris Las Vegas are going on sale after September 1st, with tickets dipping under $60 for the first time probably ever. And as NBC used to say when they were a popular network with popular shows (Editor's Note: If you're reading this and you're under 18, yes, this ACTUALLY happened.), "If you haven't seen it, it's new to you!"
Then again, if you REALLY want to see a new show in Vegas, then wait around until December when two new shows - "Rock of Ages" and the Tim Mcgraw/Faith Hill double-headliner - debut at the Venetian.
What's the best new thing to in Vegas in YOUR opinion, Cheapos?! Let us know in the comments section below, or visit us on Facebook and Twitter to share your two cents on the subject.