2013 Las Vegas Halloween Costume Contests: Which nightclubs are forking out the most dough?
---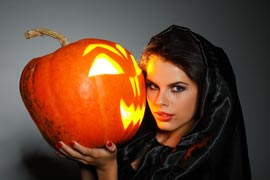 Las Vegas is gearing up to host some pretty killer Halloween costume contests this year. But Casino Boy is cutting to the chase and finding out just how much cash the nightclubs are shelling out to bring in Halloween party animals. You know you can use the cash or at least a good laugh so head to the best Las Vegas costume contests and cheer on your favorite.
1. Hakkasan at MGM Grand-$60,000
The overwhelming winner is Hakkssan Nightclub at MGM Grand who is giving out $60,000 to some lucky costume contest contestants. Maybe they are trying to prove themselves since this is their first Halloween bash ever. However, Hakkasan's "Forbidden City" party is already shaping up to be one of the most anticipated parties of the entire year. Hakkasan pretty much booked every world famous DJ ever, so they could name drop headliners such as Calvin Harris, Tiesto, Hardwell and Dada Life.
2. Light at Mandalay Bay-$40,000
The other newbie on the block is Light at Mandalay Bay Las Vegas. Casino Boy always appreciates a good pun, so "Lightmare" is up there on his list. This three day party goes down on October 30-November 2 with Alesso on Wednesday, Oct. 30, Skrillex on Friday, Nov,1 and Alesso with Matt Zo on Saturday, Nov. 2. $40,000 of cold hard cash is up for grabs over Halloween weekend for categories such as "sexiest" and "eeriest." Too bad there's no category for "Cheapest," cause then you could dress like Casino Boy!
3. The Bank at Bellagio Las Vegas-$20,000
Can't afford to take Thursday off work for Halloween? No worries, Bellagio will still be partying all weekend long. Looks like The Bank Nightclub is taking 20,000 out of it's bank account for it's annual costume contest on November 3. Watch as good looking ladies with self-esteem issues compete to be "Las Vegas' Sexiest Sinner." Casino Boy will be available to console the losers after they show.
4. Haze, Pure, Moon and Ghostbar-$10,000
Looks like these four Las Vegas mainstays are all forking out 10K to costume contest participants. There's a $10,000 costume contest at the Haze Nightclub's "Haunted House of Pain" at Aria featuring rapper T-Pain (Get it?!) Pure nightclub at Caesars palace is giving away $10,000 in costume contest money on October 29. Moon is hosting a "Sexist Costume" contest on it's industry night on October 29 (1st place gets $75,000 and 2nd place gets $2,500). However, if Casino boy is going to spend money on a costume, it would be for the party at Ghostbar Las Vegas. Chostbar is hostinf a $10,000 "Zombie Prom" Halloween costume contest. Casino Boy never had a date to human prom, so maybe this is the next best thing.
Side note: Are you Team Marty or Biff? Whoever wins the "Back 2 the Future" Halloween costume contest at Ghostbar Dayclub on October 26 gets a free stay in a $15,000 Sky villa suite inside Fantasy Tower at the Palms Hotel. Not a cash prize, but still pretty awesome.
5. Carnaval Court at Harrah's Las Vegas-$10,000 (Kind of)
This one is complicated since they are giving away $10,000 total, but it's more divided than the other nightclubs. So we used the clause in Article 702 of the Cheapovegas.com constitution that states Casino Boy has the right to rank costume contests however he wants. Basically, $5,000 will be giving away on October 31 and another $5,000 will be giving away on November 2.
| | |
| --- | --- |
| Sexiest Costume (just the ladies) | Most Creative |
| 1st $1500 | 1st $1500 |
| 2nd $1000 | 2nd $1000 |
| 3rd 100oz full yard drink | 3rd 100oz full yard drink |
6. VooDoo Nightclub at Rio and Heart Bar at Planet Hollywood-$6,000
We aren't sure where Rio is getting all this cash since they can't even launch their zip line, but whatever. There are three separate costume contests at VooDoo Rooftop Nightclub at Rio on October 21. Winnerd for the "scaries" "most original" and "sexiest" categories will all walk away with $2,000. Hint: A "this is my costume" t-shirt is not original. Also, Heart Bat at Planet Hollywood will be giving away $6,000 paid across top three winners on October 26.
What are your Las Vegas Halloween Plans? Who is dressing up? Let us know on the Casino Boy Facebook, Casino Boy on Twitter, and the CheapoVegas Google+.