Where to Party in Las Vegas This Weekend (5/16-5/19)
---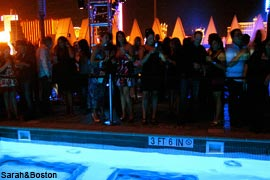 Who's headed to Vegas this weekend? It may not be Memorial Day 2013 yet, but that doesn't mean it's too soon for a trip to Vegas. Even though you might not have Monday off from work, it's looking to be a killer weekend in Vegas for parties up and down the Strip. Plus, you definitely won't have those annoying holiday crowds that will clog up Las Vegas on Memorial Day weekend. Casino Boy hates fanny packs and annoying tourists that overcrowd the casinos almost as much as he hates spending money, and that says a lot. Sometimes though, when it comes to partying at the Vegas hotel nightclubs, he'll make an exception on that cheap Vegas hotel spending rule to rage at some Vegas parties. While he's usually all about Las Vegas deals and sticking to the low limit tables, this weekend may be one of those exceptions for Casino Boy. So, which Las Vegas hotel will Casino Boy be partying at this weekend? Try to spot him at one of these Vegas hotels for some nightclub action or day parties this weekend:
Wet Republic at MGM Grand Las Vegas hotel for Vegas pool parties this weekend:
Steve Aoki at Wet Republic in Las Vegas for Aokify spLASh Vegas with Fergie DJ as the opener on May 18th, 2013. This Vegas hotel pool party is one that even Casino Boy is willing to fork over fifty bucks or more for. Ladies, lucky you, prices start at $30...but as usual there are probably ways around this (Oh, how Casino Boy wishes he was Casino Girl every once in awhile.)
Tiesto at Wet Republic MGM Grand Las Vegas on May 19th, 2013. If you miss Tiesto at Hakkasan on Saturday, make sure to get to his set at Wet Republic this Sunday for a raging Vegas pool party this weekend.
Haze Nightclub at the Aria Las Vegas hotel this weekend:
Missy Elliot in Las Vegas at the Aria Haze nightclub tonight (Thursday, May 16th). Casino Boy has heard that the $40 for men or $30 for women at the door will be worth it for getting your freak on and losing control this weekend in Vegas. Who want's to join Casino Boy's twerk team?
Jay Sean at Haze Nightclub at Aria with DJ E-Rock on Saturday, May 18th.
MGM Grand Las Vegas Hotel - Hakkasan Nightclub May 16th, 2013 to May 19th
Nervo at Hakkasan in the MGM Grand Las Vegas hotel nightclub with Quintino on May 16th, 2013. If you're a local lady it's free (and Casino Boy is awfully jealous). Men pay $50 at the door (Ugh, do we have to? Casino Boy hears it's probably worth it for this party though) and women pay $30 at the door (Find a promoter beforehand and you might be able to get around these, ladies).
Calvin Harris at Hakkasan Las Vegas nightclub on May 17th, 2013
Tiesto at Hakkasan, the new MGM Grand Las Vegas hotel nightclub, on May 18th, 2013.
Dada Life in Las Vegas on Sunday, May 19th at Hakkasan Las Vegas at the MGM Grand.
Palms Pool at the Las Vegas Palms Casino Resort:
Ditch Fridays featuring Taboo of the Black Eyed Peas on Friday, May 17th.
Ditch Saturday at Palms Pool featuring Alie Layus on Saturday, May 18th.
Palms Pool Las Vegas Rock'n Roll Wine Reggae Pool Party on Saturday, May 18th starting at 7:00 pm.. This Vegas hotel pool party event includes choices of 80 wines to sample from 40 wineries and performances by Natty Vibes and Headshine.
This article was written by Ariel Abbott
Where will you be partying in Vegas this weekend? Heard of some other Vegas hotel nightclub or pool parties in this weekend? Tell us about your Vegas weekend plans! You can use the comments section below, and don't forget: follow the Casino Boy Twitter, CheapoVegas Facebook, and Casino Boy Google+ pages for some more information on Las Vegas hotels, deals, nightlife, and more.