Westin Casuarina Vegas
Sell! Buy! Sell! Get me out of this boring hotel!
---
A Quick Look
Location: Off-Strip
Hotel Class:

Room Price:

Hotel Size:826 rooms
Casino Size:20,000 sq. ft.
Gaming:Yes
Nightlife:

Pool:

Buffet:
---
Book now for great deals!!

Other Hotels like Westin Casuarina
Westin Casuarina Deal Finder
* Room Rates shown above reflect the average nightly rate for a 2 night stay with the calendar date as the check-in date, our visitors should verify actual rates, promotions and deals directly with the hotel as we make no guarantees regarding rates, but only provide them as a convenience.
Book Now
The Skinny
The Westin Casuarina Hotel and Casino Vegas caters to business travelers who also want a dash of excitement the way some men want a dash of Aqua Velva. It's a quiet hotel and casino that is also pretty and modern with an airy feel and dark woods. Not our idea of an exciting Las Vegas getaway destination, for sure. Maybe everyone is staying away because they aren't sure what a Casuarina is.
Reviews
There are currently no reviews!
Be the first to write a review!
Write a review
Our user reviews are from real registered users.
Quick Facts
Check-in at 4pm
800+ Rooms
Check-out at 11am
High-Speed Internet
Pets Allowed
On-Site Restaurant
Parking
Check-In Age - 21+
Info
Location:
160 East Flamingo Rd
Las Vegas, Nevada 89109
View Map
Website:
www.westinvegas.com
Room Quality:
Westin Casuarina Las Vegas makes a big stink (just not literally, unlike the big stink we make) about their "Heavenly Bed" and "heavenly this and that". Well, the bed's nice, the sheets are nice enough that we sleep on the floor rather than muss 'em up. The rooms are packed with upscale furnishings, including a flat-screen TV, mini-bar, in-room coffee maker, a nice desk, a couple of chairs, high-speed Internet for an additional fee and a hairdryer. The bathrooms are a bit disappointing in size, but they have fancy shower-heads. Heck, the rooms are sort of small, too. Let's face it, this is an old Vegas hotel re-skinned and renamed a Westin. If they were starting from scratch they'd have chosen a better infrastructure. This hotel is completely non-smoking. So steer clear if you like to puff away in your room. You can still smoke in the casino, but not in any restaurants, lobbies or rooms.
Service Quality:
Very good. The Westin Casuarina Convention Center Hotel is an upscale business hotel, so it's got that old Desert Inn feel, where you can ask for things and they'll be taken care of. For a price. The swank lobby is a great place for a nap.
What You Get Bottles of in the Bathroom:
Jackpot! Hydrating cream (don't drink it!), shampoo and separate conditioner, the grand prize of amenities the sewing kit, plus a swanky "vanity kit" full of cotton balls and Q-tips. You should have seen us fighting over that. There is a shoe shine mitt and very nice towels, although I think you're supposed to leave those. At least, that's what the letter they sent said.
Clientele:
What clientele there is at Westin Casuarina Hotel and Casino Vegas, is generally middle-aged, quiet and dressed in business clothes. They certainly dress nicer than we do.
How's the Pool?
Small with a hot-tub out on the second floor roof. There are very nice furnishings, though.
Resort Fee:
$19.95 per night. You get self-parking, access to the steam-room and sauna, pool access, fitness center access, boarding pass printing, incoming faxes, public notary, local calls and two bottles of water.
Is it Worth It?
If you're looking to avoid the Vegas life-style at all cost, then yeah, but if you actually want to have fun, try Planet Hollywood..
Hotel Amenities
Air-conditioning
ATM/Banking
Ballroom(s)
Concierge Service
Event Catering
Express Checkout
Fitness Center
Free Fast Internet
Jacuzzi
Pets Accepted
Restaurants
Shoe Shine
Spa
Wedding Services
Bar/Lounge
Conference room(s)
Doorperson
Dry Cleaning
Car Service
Parking Garage
Security Guard
Room Service
Sauna
Table Games:
The usual suspects are lined up in this tiny, largely unused casino: blackjack, standard craps with lousy 2x odds, pricey roulette, Pai Gow and Three Card Poker. Playing here is frequently a very solitary experience and is only possible from evening to bedtime. Don't look for a game after breakfast at the Westin Casuarina Hotel and Casino Vegas.
Bet Minimums:
Most tables are $5 during the slow times (which appears to be always), craps can be $3. We're not sure how long this will last, but last we played, the Westin Casuarina Vegas Hotel and Casino offered a weekday gambling "happy hour," (Mon-Thu 5-8 p.m.) during which you can play $3 craps and 25-cent roulette.
Machines:
They have a small selection of slots and a lousy choice in short-pay video poker. The place does not appear to be giving away the store in jackpots.
Cocktails?
Good cocktail service, let's give them credit for that. Bad news is the place is too swanky to inspire you to become a drunken, slobbering lout.
Who Gets Comps?
The Westin Casuarina Hotel and Casino Vegas does have a slot club and it's not all that generous. We'd know more but we can't stand the thought of actually playing in this snoozer casino long enough to find out.
Number of TVs:
Four TVs. Well, that's what our scout reports, but our scouts are usually pretty blotto, so maybe they just had two and he had double-vision.
Number of Seats:
There are no seats so we recommend you sit on the floor. This is not only more comfortable than standing, it serves as a silent protest against the anti-seating movement.
Number of Betting Windows:
Two, plus a self-serve kiosk. As unfriendly loners, we enjoy those and have had many spirited arguments with them. There are eight screens displaying the odds.
Free Drinks?
There are free cocktails, but our scout was unable to get any details from the staff as to when you get them.
Snack Bar?
There's a Starbucks on the other side of the casino, and from our experience, a Starbucks across a casino is usually farther than the nearest one outside.
Other Notes:
This is yet another lonely Leroy's outpost intended not for enjoying sports, but simply for betting on them before you get the heck out of your boring hotel to go someplace more interesting.
Westin Casuarina Las Vegas Guest Rooms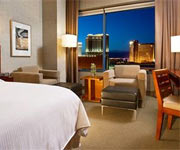 Standard Room
Although the Westin Casuarina Hotel and Casino Vegas doesn't offer much in the way of entertainment, the rooms sure are comfy. The Standard Room comes with either one king or two double beds with pillow-top mattresses and a down blanket to snuggle up in. The black-out drapes help you lose yourself in slumber and complimentary bath robes make you feel like a Las Vegas baller even though you never left the room. You can have a little "Party of One" with the minibar and pay movies on the 27-inch TV. Keep in mind, if you're looking to puff the night away, all rooms in the Westin Casuarina Convention Center Hotel are smoke-free.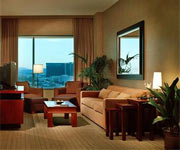 Deluxe City View Room
The Deluxe City View Room is basically the Standard room but guess what? It has a view of the city. This room is available with one king or two double beds, pillow-top mattresses, down comforters, black-out drapes, a 27-inch TV, pay movies, and mini-bar. Setting it apart from the Standard is a coffee/tea maker and the option of available hypo-allergenic bedding, cribs, and roll-away beds. Like we said, basically the same but maybe a little bit better. It's definitely alright for a good cheap business hotel in Vegas.
User Average Review
Overall:
Service:
Cleanliness:
Location:
Room Quality:
Based on 0 reviews
Rating Distribution
0.0% recommended it
Westin Casuarina Las Vegas Reviews
There are currently no reviews! Be the first to write a review!
Write a review