The Orleans Hotel Vegas
Gee Whiz, this place certainly smells better than the French Quarter!
---
A Quick Look
Location: Off-Strip
Hotel Class:

Room Price:

Hotel Size:1,886 rooms
Casino Size:142,000 sq. ft.
Gaming:Yes
Nightlife: No
Pool:

Buffet:
---
Book now for great deals!!

Other Hotels like Orleans Hotel Vegas
Orleans Hotel Vegas Deal Finder
* Room Rates shown above reflect the average nightly rate for a 2 night stay with the calendar date as the check-in date, our visitors should verify actual rates, promotions and deals directly with the hotel as we make no guarantees regarding rates, but only provide them as a convenience.
Book Now
The Skinny
The Orleans Hotel Vegas is a good Off-Strip property in many ways. They have nice, large rooms for reasonable rates, mostly decent gambling, and a load of restaurants and entertainment choices for fair prices. The Orleans Hotel and Casino Las Vegas has everything so they really don't want you going anywhere else. If we have a few more mint juleps we'll have a hard time moving anyway.
Reviews
Most Recent Reviews
Our user reviews are from real registered users.
Quick Facts
Check-in at 3pm
1000+ Rooms
High-Speed Internet
On-Site Restaurant
Near Restaurants
Parking
Info
Location:
4500 W Tropicana Ave
Las Vegas, Nevada 89103
View Map
Website:
https://www.orleanscasino.com/
Room Quality:
Very good for the price. Every room at The Orleans Hotel Vegas is bigger than average, has a king or two queen beds and a nice-sized sitting area. We don't mean a crummy little table and dining chairs, we mean comfy loungers, a sofa to call your own. The bathrooms are decent, but not fancy. There is enough space to spread out, or lie against the cool floor when you think you're going to puke. The toilet and tub/shower are in an enclosed room while the sink and hanger rack are in a little space with a sliding door. A really neat touch is the little window in the tub/shower that opens to the outside world, so you can yell at people in the Orlenas Las Vegas parking lot while you bathe. We usually yell, "Come on up, the water's fine!" Rooms have hairdryers and coffeemakers (with a little bit of free coffee). Suite TVs are flat panels, perfect for after you lose all your money and want to watch Judge Judy.
Service Quality:
Good. It's a small place by Vegas standards, and because it's not directly on the Strip, they try a little harder. Check-in is quick and easy, and room-service is not a rip-off.
What You Get Bottles of in the Bathroom:
The Orleans Hotel and Casino Las Vegas provides generous little bottles of shampoo, conditioner, lotion and bath gel. It's almost more than you can smuggle out in your toilet kit. That's why God gave you so much extra room in your underwear. Check the desk drawer for the elusive and coveted sewing kit.
Clientele:
There are lots of locals in the casino, and middle-aged people in the hotel. If you're a young punk who likes to make noise, this place will feel a little slow. They have a lot of weddings going on upstairs, so don't be shocked to see a lovely bride and groom sitting next to you at the "Filthy Rich" slots.
How's the Pool?
Better than average for an off-strip hotel. It's large but not really themed or unique. If all you want to do is swim, and not dunk yourself under waterfalls, it should suit your needs just fine. In the summer The Orleans Hotel Vegas has big barbecue parties out by the pool one night a week.
Resort Fee:
Resort fees here is $9.99 a night. You get 1MB of wi-fi for three devices, a coffeemaker in the room, local and 800 calls, ten minutes of Internet access in the business center and fitness center access.
Is it Worth It?
If you don't mind being a little ways off the Strip, this place is a steal.
Hotel Amenities
Air-conditioning
Ballroom(s)
Business Services
Concierge Service
Conference room(s)
Event Catering
Fitness Center
Free Fast Internet
Free Guest Parking
Multilingual Staff
Restaurants
Sauna
Security Guard
Spa
Wedding Services
Table Games:
Blackjack, baccarat, craps, Three Card Poker, roulette, Pai Gow. It's the garden variety, with no particular deals to note. Blackjack, craps and roulette are on par with Strip casinos.
Bet Minimums:
Craps is $5 with standard 3x4x5x odds. We've seen other table games at $5 most of the time. Roulette has dollar chips most of the time.
Machines:
Slots from a nickel on up. The Orleans Las Vegas has tons of those crazy video nickel slots that take about 50 at a time. There's a good selection of video poker in all varieties at the nickel quarter and higher levels, some are full-pay at the quarter level.
Cocktails?
Good cocktail service. If you want to get blotto, the too-scantily-clad cocktail waitresses will be happy to help. Above the Orleans Las Vegas casino, on the second floor, there are eight drinking fountains all lined up in a lonely hallway. Why? We don't know, but there's never a wait. And if the first fountain has no cold water, you can try any one of the other seven.
Who Gets Comps?
A $25 bettor can get a buffet comp after a few hours. As with most off-strip casinos, joining the slot club and using it will likely result in some free or discount room offers in the mail. The B-Connected Club has occasional bonus points promotions, so keep your eye out for them and stay on their mailing list.
Number of TVs:
The Orleans Hotel and Casino Las Vegas has 39 TVs, with 30 of them for race and the other nine for sports. There are seven more over in the lounge area.
Number of Seats:
About 115 below-average seats with TVs for racers. 70 additional seats are lounge-style behind the book, and 30 chairs are set up for sports. They're leather.
Number of Betting Windows:
About 13 take race wagers, while seven place sports bets. Race results are written by hand but sports scores get the electronic light treatment.
Free Drinks?
Ummmm, probably not, but there's no rule against it.
Snack Bar?
There is a hot dog cart in the book for your heart-bursting needs. The Orleans Express snack bar is about 100 feet away.
Other Notes:
Minimum bets $5 sports, $2 for racing.
This place really wants your race bet business. The sports, not so much. But those guys that sit around all day, every day, kibitzing and betting race after race are sorely wanted.
Number of Tables:
35 tables in total. That's a lot of action, although, only a fraction of the tables are usually working.
Comfort of Chairs:
Above average. Your backside won't ache.
Closed Room or Open to Casino?
It's open, but removed from the noisiest action. The Orleans Hotel and Casino Las Vegas has a nice card room, it's actually one of our favorites.
Game Spreads and Limits:
7-Card Stud 1-5 (very rarely and on weekends): Hold-em $2-$4; $4-$8; $8-$16: Omaha Hi Lo $4-$8-$8 and $8-$16. No Limit Hold 'em $1-$2 and $2-$5.
Beginner Games or Classes:
No.
How Crowded is the Room?
This is definitely a good poker room, but it's also very big so it doesn't fill up fast, except on weekends, or during their very popular daily tournaments. Most of the time, though, there should be less than a half hour of waiting at The Orleans Hotel and Casino Las Vegas.
Comps?
Free drinks while playing. $1.25 per hour in comps for the first four hours and then 50 cents an hour, capping at $9 a day. You've got to have a players card, too.
How Good Are the Players?
It's a mix of good and very good. This is no place for rookies to get their feet wet, but it's perfect for a decent player who wants to get better.
What Else Do I Need to Know?
Tournaments twice a day, mostly Texas Hold 'Em. The weekend evening tournaments are the most expensive and the deepest stacked.
The Orleans Hotel Vegas Guest Rooms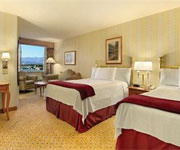 Deluxe Room
The deluxe rooms at The Orleans Hotel and Casino Las Vegas are actually pretty spacious with enough room for either one king bed or two queen beds, a sitting area that will make you feel like you sprang for a suite, and all the regular extras like a coffee maker, cable TV and clock/radio. Oh and enough complimentary toiletries to supply your next few weeks. Check out The Orleans deals and promotions if you actually want to afford this luxury.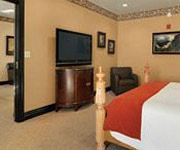 Executive Suite
Splurge on an executive suite at The Orleans Hotel and Casino Las Vegas if you really want 900 square feet of royal treatment. Enjoy a king bed in a private room, a separate living room with a sofa and entertainment center, dining table and wet bar. I know it sounds crazy, but these suites actually have four different TVs for your viewing pleasure. Make sure to take advantage of that small window in the bathroom - you won't regret it.
User Average Review
Overall:
Service:
Cleanliness:
Location:
Room Quality:
Based on 3 reviews
Rating Distribution
100.0% recommended it
The Orleans Hotel Vegas Reviews