CheapoVegas.com Lists the Top 5 Bars for Las Vegas Cinco de Mayo Deals in 2013
May 01, 2013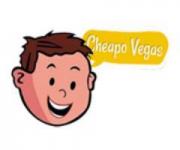 Cinco de Drinko in Las Vegas! Get ready for some shots, beers, and margaritas because CheapoVegas reveals the best bars for Las Vegas Cinco de Mayo 2013 drink specials.
(PRWEB) May 01, 2013
Pass that margarita over to Casino Boy because it's almost Cinco de Mayo in Las Vegas! Besides crossing the border into Mexico, there's no better place to celebrate Cinco de Drinko than Sin City! Casino Boy hardly even knows what the Cinco de Mayo Battle of Puebla was for but he'll take any excuse to party in Vegas for cheap! With the drink specials and deals for Cinco de Mayo 2013, it's looking to be one of the best weekends this spring for visiting Las Vegas. Here are the top 5 cheap Las Vegas bars for Cinco de Mayo 2013 at Las Vegas hotels on the Strip:
1. Cabo Wabo Cantina at the Miracle Mile Shops at Las Vegas Planet Hollywood Resort & Casino:
With their "Tres, Cuatro, Cinco: Let's Drinko!" party for Las Vegas Cinco de Mayo 2013, Cabo Wabo Cantina is the place to be for any party people in Vegas for Cinco de Mayo weekend this year. This party runs from Friday May 3 through Sunday May 5, and at least we can pretend that we know what we're celebrating since its a Mexican restaurant. Plus, with these drink deals, there's nowhere better to watch the Mayweather vs. Guerrero fight on May 4th during Cinco de Mayo weekend 2013. Vegas partiers can down their daiquiris and drink specials without missing Mayweather and Guerrero in Vegas on May 4th with these 3 day specials:
Hourly specials for drinks and shots
Daquiris and fireball shots for $5
2. Public House at Luxor Las Vegas - specials for Cinco de Mayo 2013 in Vegas:
This Las Vegas Cinco de Mayo party looks like it may be a Casino Boy favorite, but he'll be expecting a hangover with these Vegas Cinco de drinko specials:
Beer for $5 (Dos Equis, Micheladas, Corona)
Shots of Patrón for $5
Margaritas for $5
3. Hussong's Cantina & Taqueria at The Shoppes at Mandalay Place for Cinco De Mayo deals on drinks:
For those looking for a Mexican style Cinco de Mayo party in Las Vegas (it is a Mexican holiday, afterall), head on over to Hussong's Cantina & Taqueria inside Mandalay Place at Mandalay Bay Vegas for some Rock n' Roll Mariachi music and drink deals in Vegas:
Pints of Pacifico or Modelo Especial for $4
Shots of Cazadores tequila for $5
Chalices of Cazadores Margaritas for $20
Buckets of Corona or Corona Light for $20
4. PBR Rock Bar & Grill at the Miracle Mile Shops at Planet Hollywood Resort and Casino on May 5th:
This Sunday fun-day party in Vegas for Cinco de Mayo lets Vegas party goers get their drink on for Cinco de Mayo and also helps relieve them of the drunchies with their food and drink specials. Keep an eye out for Casino Boy, he'll be the dude with a taco in one hand and a drink in the other (international drinking rules, left hand of course). Plus, if all of the Vegas Cinco de Mayo festivities don't keep you entertained, their 105 HD TVs, strip side patio, and breakfast all day might. Here are the PBR Rock Bar & Grill Las Vegas Cinco De Mayo 2013 specials:
Tacos for $5 all day
Buckets of Bud Light Lime or Lime-a-Rita for $18
Prizes from the Dos Equis girls
5. Rockhouse Las Vegas Cinco de Mayo drink specials Sunday May 5th:
Located within the Grand Canal Shoppes at The Venetian Las Vegas, Rockhouse will be celebrating Cinco de Drinko with style. Every 2 hours they will have the Bust-A-Pinata from 2pm to midnight, and the 80 HD TVs, pool tables and beer pong games will keep anyone entertained in between swings. The Vegas Cinco de Mayo drink specials at Rockhouse are as follows:
Bottles of Dos Equis for $5
Hornitos Lime Shots for $5
Margaritas for $7
This article was written by Ariel Abbott, Editor of CheapoVegas.com
About CheapoVegas.com:
CheapoVegas.com is the online authority for all things fun and exciting in Las Vegas... and cheap, too! Hotel promo codes, show packages and tour deals are just a few of the travel aides to be found on CheapoVegas.com.