Sam's Town Vegas
Good Golly! Another old west theme? I'm running out of cowboy hats!
---
A Quick Look
Location: Off-Strip
Hotel Class:

Room Price:

Hotel Size:646 rooms
Casino Size:150,000 sq. ft.
Gaming:Yes
Nightlife:

Pool:

Buffet:
---
Book now for great deals!!

Other Hotels like Sam's Town Vegas
Sam's Town Vegas Deal Finder
* Room Rates shown above reflect the average nightly rate for a 2 night stay with the calendar date as the check-in date, our visitors should verify actual rates, promotions and deals directly with the hotel as we make no guarantees regarding rates, but only provide them as a convenience.
Book Now
The Skinny
Sam's Town Las Vegas is popular with RVers, locals, and people who have been to Vegas enough times to grow tired of the razzle-dazzle of the Strip. For a locals casino, it actually has a lot to it (and it's huge and meandering).
Reviews
Most Recent Reviews
Our user reviews are from real registered users.
Quick Facts
Near Attractions
Check-in at 3pm
Check-out at 12pm
500+ Rooms
High-Speed Internet
On-Site Restaurant
Parking
Check-In Age - 21+
Info
Location:
5111 Boulder Hwy
Las Vegas, Nevada 89122
View Map
Website:
https://www.samstownlv.com
Room Quality:
Nice size, very comfortable, but not heavily furnished. After all, Sam's Town Hotel Las Vegas are catering to cowboys and cowgirls here, and cow-people don't like no sissy stuff. You have your choice of a king or two doubles. Rooms on the top floor have high ceilings, so ask for one of those if you're over nine feet tall. All the rooms surround the giant atrium in the middle of the casino, so you either get a view of the atrium or the outside world. Plus, you get to ride in a very cool glass elevator on your way up. The bathrooms are basic, with a single sink and tub/shower combo. There is no closet, just an insert in the wall, but that's standard for moderate hotel rooms.
Service Quality:
Pretty good. Sam's Town Hotel and Gambling Hall Las Vegas does offer the best, most comprehensive shuttle system in town. It's great for getting to the Strip or downtown. Check-in is usually quick; the room service menu is limited.
What You Get Bottles of in the Bathroom:
Cheap soap, shampoo and conditioner. This isn't one of those upscale Las Vegas hotels, okay! If that's what you're looking for, Casino Boy has a plethora of Vegas promo codes for you to use!
Clientele:
Older locals and RVers. This is the kind of place people like to describe as simple and no-nonsense, and they get a crowd who appreciates that. Oh, except for the weekend when Sam's Town Hotel and Casino Las Vegas hosts a "punk rock" bowling tournament.
How's the Pool?
Eh. It's okay. This pool is not a reason to stay here, but it's certainly functional and it has some nice palm trees around its irregular shape. Actually, it's probably the best on the Boulder Highway.
Resort Fee:
There is a $9.99 resort fee plus tax per night per accommodation. Get's you 1MB or Wi-fi for up to three devices. Guess you're outta luck if you wanted 2MB of wi-fi.
Is it Worth It?
We think that Sam's Town is worth it if not for the rooms, for the classic casino.
Hotel Amenities
Air-conditioning
Airport Transportation
ATM/Banking
Ballroom(s)
Bar/Lounge
Business Services
Car Service
Conference room(s)
Event Catering
Free Guest Parking
Jacuzzi
Multilingual Staff
Parking Garage
Restaurants
Room Service
Security Guard
Wedding Services
Table Games:
Blackjack, roulette, craps, poker room, Let It Ride, 3-card poker, Pai Gow. They deal a single-deck blackjack game. This is a huge casino with tons of tables. Over the tables in some pits they have high-density televisions showing sports. We guess that's for the short-attention span gamblers.
Bet Minimums:
$5 craps with 20x odds, $5 and up for blackjack and other games, including single-deck blackjack. Beware the 6:5 monster. Limits may go up a little on weekends. You can play roulette for $2 at Sam's Town Hotel and Gambling Hall Las Vegas.
Machines:
There is a phenomenal selection of video poker at Sam's Town Hotel and Gambling Hall Las Vegas. You'll find every flavor imaginable, but not too many full-pay machines. Look around and you'll find some quarter full-pays but you have to look hard. Loads and loads of slot machines, including all the crazy new video machines, just like on the Strip.
Cocktails?
Fair. These local places just aren't as good at doling out the free drinks as our friends downtown are.
Who Gets Comps?
The B-Connected club is about on par, but certainly not worth dedicating your play to, especially since they don't have much full pay VP. The club links you with all the Boyd properties.
Number of TVs:
There are 38 TVs that include 15 huge plasmas and two humongous projection TVs.
Number of Seats:
About 210 total, with 160 for the butts of race fans, all with little LCD screens. They are all plush and average for comfort.
Number of Betting Windows:
Around 17, so you won't have to wait long before handing over your cash. The signs are electronic for everything.
Free Drinks?
Yes, but they don't come by too often, and dangit we were thirsty.
Snack Bar?
The Sports Deli (clever name, huh?) is right nearby, with medium-priced sandwiches. It ain't gourmet, but the food looked fresher than at most deli/snack bars in town. It is also the only place in Sam's Town Hotel and Gambling Hall Las Vegas to get food in the middle of the night.
Other Notes:
$5 minimum for sports and $2 for the races.
Number of Tables:
They have 11 with about most going at nights and all on the weekends.
Comfort of Chairs:
Decent chairs that recline and wheel about. Man, you can have enough fun with these to forget how much you're losing at Sam's Town Casino and Gambling Hall Las Vegas.
Closed Room or Open to Casino?
It's a room off the main casino floor.
Game Spreads and Limits:
Omaha at $3-$6, Texas Hold 'Em at $2-$4, $4-$8 and some no limit, and Seven Card Stud if they can get the players. Needless to say, all of these games aren't always going, but you can pretty much rely on Texas Hold 'Em games any time of day. The No-limit game gets going on weekend nights.
Beginner Games or Classes:
Free lessons at noon. Eat lunch early.
How Crowded is the Room?
This is a very popular locals room, so expect a crowd on weekends and possibly on nights of good tournaments.
Comps?
Free drinks while playing. Food discounts and room discounts are also available for three or more hours of play a day.
How Good Are the Players?
Better than average locals gather at Sam's Town Hotel and Gambling Hall Las Vegas. The games tend to be pretty tight and draw older players. You know, the guys who have been around the block and are wise to our shenanigans.
What Else Do I Need to Know?
This is a good, medium-sized room. There are No-limit Hold 'Em tourneys every day.
Sam's Town Vegas Guest Rooms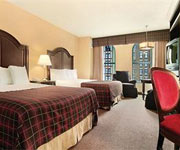 Standard Room
This 375 square foot room at Sam's Town Hotel and Gambling Hall Las Vegas is available with two queens or one king bed. A television with cable channels, pay movies and a video game console that is great for the kids. Wireless Internet access, clock radio, washer and dryer, and blackout drapes/curtains that will let you sleep in. Refrigerator available upon request. Bathrooms come with hair dryer and complimentary toiletries.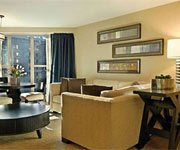 Premium Room
The upgraded room at Sam's Town Hotel Las Vegas is still 375 square feet with one king bed, just like the standard. However, it comes with atrium view, separate sitting area, writing desk, flat-screen panel TV and cable TV service. Besides other standard fare that comes in the regular room, the premium room also includes an iron/ironing board and coffee/tea maker.
User Average Review
Overall:
Service:
Cleanliness:
Location:
Room Quality:
Based on 2 reviews
Rating Distribution
100.0% recommended it
Sam's Town Vegas Reviews