Hotel32 Las Vegas
Ooh la la! These are pretty great rooftop views from the 32nd floor!
---
A Quick Look
Location: The Strip
Hotel Class:

Room Price:

Hotel Size:50 rooms
Casino Size:102,000 sq. ft.
Gaming:Yes
Nightlife:

Pool:

Buffet:
---
Book now for great deals!!

Other Hotels like Hotel32 Monte Carlo
Hotel32 Monte Carlo Deal Finder
* Room Rates shown above reflect the average nightly rate for a 2 night stay with the calendar date as the check-in date, our visitors should verify actual rates, promotions and deals directly with the hotel as we make no guarantees regarding rates, but only provide them as a convenience.
Book Now
The Skinny
The Monte Carlo has renovated its top floor, given it a catchy name (Hotel32 Las Vegas, of course!) and turned their penthouse suites into some of the coolest rooms on the Strip.
Reviews
There are currently no reviews!
Be the first to write a review!
Write a review
Our user reviews are from real registered users.
Quick Facts
Check-in at 3pm
Near Attractions
Check-out at 11am
Check-In Age - 21+
On-Site Restaurant
Near Restaurants
Parking
Info
Location:
3770 Las Vegas Blvd S
Las Vegas, Nevada 89109
View Map
Website:
https://www.hotel32lasvegas.com/
Room Quality:
Simply put, Hotel32 Las Vegas luxury hotel rooms are ballin'. Every room has a scenic rooftop view of the Strip, huge plasma HDTVs and an iHome for your pod or phone. The beds are clean and comfy, and include Egyptian threads so you can sleep - or pass out - like a baby. Studios, suites lofts and penthouse suites are available.
Service Quality:
Excellent. Each room at Hotel32 at the Monte Carlo Las Vegas has its own Personal Suite Assistant and an iPhone that acts as your "mobile concierge." Essentially, your wish is their command. With the steep coin you're paying to stay at this hotel, you may as well take advantage of their awesomely unique services - we know we would! Also, did we mention they pick you up from the airport in a limo? Pretty swank business.
What You Get Bottles of in the Bathroom:
Kiehl's toiletries to keep you so fresh and oh so clean. Also, the bathrooms are spa-like, and lofts and penthouses include private Jacuzzi tubs. No, not the heart-shaped kind.
Clientele:
Upscale. Not surprising, given the price range. The cool thing is, there are only 50 hotel rooms and one small lounge at Hotel32 at the Monte Carlo Las Vegas, so it's a great place to make some new friends and get your mingle on.
How's the Pool?
Guests have access to the Monte Carlo pool.
Resort Fee:
$28 a day. Gets you fitness center access, a daily newspaper, internet access, copying and faxing, boarding pass printing, and local and 800 calls.
Is it Worth It?
Honestly if you really want class, try some of the swankier hotels in Vegas. But for a mid-scale luxury hotel, this place is pretty awesome.
Hotel Amenities
Bar/Lounge
Complimentary Breakfast
Air-conditioning
Fitness Center
Room Service
Restaurants
Free Fast Internet
Concierge Service
Express Checkout
Table Games:
It's the Monte Carlo Casino, so Hotel32 at the Monte Carlo Las Vegas guests have their choice of double deck blackjack ($25- $5,000), craps, Let it Ride, Pai Gow and baccarat. Scenic, solid and large - that should be the Monte Carlo casino tagline.
Bet Minimums:
$25 blackjack and double deck blackjack tables.
Machines:
Over 2,000 machines (penny slots to $1,000 machines), and new games seem to show up regularly.
Cocktails?
Servers come around regularly, but since it's the Monte Carlo you won't see too many people getting housed in this upscale Vegas casino.
Who Gets Comps?
Like the Monte Carlo, it's the M Life Slot Club. However, you can get all the freebie (non-alcoholic) drinks you'd like in Lounge32. Go during happy hour and they might even give you some of the good stuff for free too.
Number of TVs:
It's the Monte Carlo sports book - 18 TVs, with one featured big-screen that plays the horses mostly.
Number of Seats:
Around 30 for sports, 50 for the races and another 25 or so scattered in-between. No special reserved seats for Hotel32 guests. Bummer.
Number of Betting Windows:
Eight, with a number of electronic signboards as well.
Free Drinks?
If you're betting on the horses, then probably. Do yourself a favor and grab one of the discounted drinks in the Lounge32 and bring it down to the sports book for the best deal.
Snack Bar?
Nope, but there is a bar in the back of the sports book.
Number of Tables:
Again, it's the Monte Carlo poker room. Nine tables total.
Comfort of Chairs:
Comfy chairs and a decent amount of leg room. We can dig it.
Closed Room or Open to Casino?
Yes, but the quarters can get a little tight.
Game Spreads and Limits:
Texas Hold 'Em - $2-$4. No Limit - $300 minimum buy-in, with $2-$5 on occasion.
Beginner Games or Classes:
Classes start at 10am. Early? Yes. Worth it? That depends on how much you need the extra help.
How Crowded is the Room?
Particularly busy from Thursday- Sunday, but we're told by the room manager that the wait is usually less than 15 minutes.
Comps?
Drinks are free while you play, and if you play four hours a day they give you a $6 food coupon, which is nice but won't get you very far.
How Good Are the Players?
They're good, but not too scary.
What Else Do I Need to Know?
Again, this is the Monte Carlo casino downstairs from the Hotel32 at the Monte Carlo Las Vegas. Don't get lost looking for a casino that, um, doesn't exist!
Hotel32 Monte Carlo Las Vegas Guest Rooms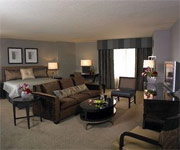 Studio Rooms
The Hotel 32 Monte Carlo Las Vegas studio rooms are all done up in dark browns and cream colors and put the cherry on the top of the luxury with a giant California king complete with 300 thread count Egyptian cotton linens. And as if that wasn't enough, you get an iPhone "Mobile Concierge," a Personal Suite Assistant and a 42 inch plasma TV. Even this room, which is the smallest option at 400 square feet, has gorgeous views of the Strip. So live it up because after a stay here your own home will feel like a shack.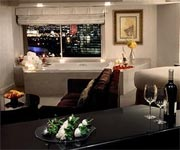 Suites
The suites at Hotel32 are massive at between 700 and 825 square feet, and if that's still not enough space you can combine them with studio rooms for a roomy getaway. Not only do you get the huge bed, swanky sheets and mobile concierge, but you also get a hydrotherapy soaking tub. We've never had the luck to try one, but it sounds just like having a personal spa in your bathroom. At least here no one will make fun of our tan lines.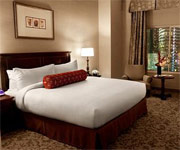 Lofts
The lofts at Monte Carlo's Hotel32 are 1,200 square feet - AKA the size of our entire apartment complex. There's an entertainment room with two plasma TVs, a Kohler Chroma-therapy steam shower big enough for all of your friends (hey, we don't judge), and an ultra king bed. This place is so huge and swanky you can invite people to come stay with you and not even notice them the whole time you're there. We're free this weekend. Nudge nudge wink wink.
User Average Review
Overall:
Service:
Cleanliness:
Location:
Room Quality:
Based on 0 reviews
Rating Distribution
0.0% recommended it
Hotel32 Monte Carlo Las Vegas Reviews
There are currently no reviews! Be the first to write a review!
Write a review