New things to do in Las Vegas this September
---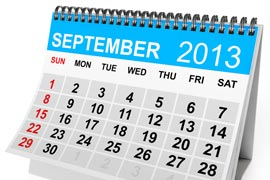 September is an exciting month in Las Vegas. Aside from Labor Day there's also a bunch of other fun things going on in the City of Sin for Cheapos to enjoy. Casino Boy of CheapoVegas.com knows restaurants, music festivals and new thrill rides are just a few of the great things to look forward to this September in Las Vegas.
Festivals - The iHeartRadio Music Festival:
Unless you're a Cheapo who has been living under a rock for the past few years, chances are that you already know about the iHeartRadio Music Festival. The festival is again being held at the MGM Grand and will feature an all-star lineup. Katy Perry, Justin Timberlake, Zedd, Maroon 5, Miley Cyrus and many more will be performing at the two-day event.
New to the iHeart Radio Music Festival this year is the Village. The Village is an outdoor venue featuring, of course, more musical acts. Miley Cyrus will headline the performances at the Village, which will also feature The Band Perry, Jason Derulo and DJ sets from DJ Prostyle, DJ JacyCeeOh and DJ Skee.
Restaurant Opening - Pizza Rock:
Pizza Rock is, obviously, a pizza restaurant opening in mid-September at 201 N. Third Street. Pizza Rock was originally started in Sacramento by celebrity chef Tony Gemignani. Gemignani has won many competitions for his pizza-making skills and holds two Guinness World Records for his 'zas.
Pizza Rock Las Vegas will seat 180 seats and will serve much more than just pizza. In addition to the four pizza ovens cooking up delicious slices Pizza Rock will feature a ton of imported beers and wines as well as handmade cocktails. The restaurant is still in the hiring process, so you'll have to wait just a bit longer before you can get your hands on some delicious Pizza Rock.
Attraction Opening - Slotzilla Zipline:
SlotZilla is one of the most-anticipated attractions opening in Las Vegas. While the name might be misleading, SlotZilla isn't actually a giant slot machine that goes around killing unsuspecting Cheapos. The ride is actually a massive zipline that will be the newest addition to the Fremont Street Experience. SlotZilla was slated to open during summer 2013, but its opening has been pushed back to September.
SlotZilla will stand some 128 feet and lets riders fly 70 feet high. True thrill-seekers will want to try the second SlotZilla option that gives riders the opportunity to fly 110 feet above Fremont Street. The ride reportedly cost $11.5 million to build and will take 100 people to operate.
Construction - Everwhere:
It seems like there is always construction going on in some form in Las Vegas. Construnction continues at many Las Vegas hotels this September. Monte Carlo Las Vegas and New York New York are undergoing a serious facelift. Also, the Linq shopping center observation wheel "High Roller is looking pretty close to sort of looking finished (a Las Vegas Miracle...*cough*..."Skyvue"...*cough*).
Another project that will be completed in September 2013 is an addition to the Plaza Hotel & Casino's food court. The addition comes in the form of a beer garden. The beer garden will sport fake grass and will feature concerts on the weekend. The beer garden will serve food and booze and is expected to be opened towards the end of September.
Have you been to the Las Vegas lately? Leave any reviews below! What are you most excited for this September? Use the comment section below or let us know on the
Casino Boy Facebook
,
CheapoVegas twitter
, or
Casino Boy Google+
! Keep up with these pages for updates on Las Vegas hotels, deals, specials, hotels, shows, Vegas promotions and more!