Lounges in Vegas
Ghostbar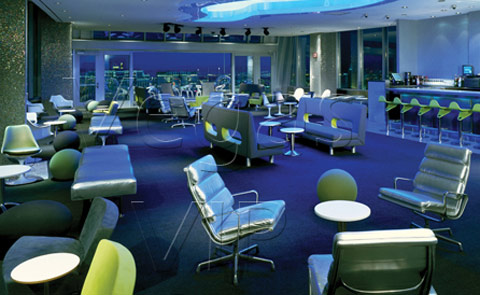 Best Strip Lounges
Whether your feet are tired after a long night of dancing or you're looking to get your drink on before heading out to the club, lounges in Vegas are a convenient location to add to your itinerary. Especially for those looking to lounge around. Because that would make sense.
Deuce Bar & Lounge: Located inAria and near HAZE nightclub, this high end cocktail lounge really brings the heat. And by heat, we mean exclusive gambling tables and a stunning decor that is really the cat's meow.
Mix Lounge & Bar: Sitting pretty on the 64th floor of the Mandalay Bay, Mix offers some of the best views of the Las Vegas Strip. The truly adventurous (and true high-rollers) can even book an outdoor patio seat with bottle service.
The Chandelier: One of the main attractions of CityCenter (not many Las Vegas lounges can say this) and the Cosmopolitan, this posh-beyond-belief lounge features more than just a fancy decor. Try a specialty drink called "The Secret Flower" for a crazy time. We're not allowed to say anymore.
The Chandelier
Off-Strip Hybrid Bar Lounge Nightclubs
When you really think about it, lounges in Vegas are essentially glorified bars with tricked out decor. They are popular Vegas destinations because of their convenience and their pomp. These Off-Strip locations are a bit farther away, but offer a Vegas bar scene and more food choices all rolled into one package.
Firefly: A great mix of tapas, delicious Sangrias and generous happy hour make this place worth a longer stay than your typical lounges in Las Vegas.
Ghost Bar: This lounge opens up into a dance floor on the top floor of the Palms with beautiful views of the Vegas Strip. A cool glass floor allows you to take the breathtaking view downwards. One of the original clubbing hot spots, we prefer Ghost Bar as one of the coolest lounges in Las Vegas.
Vanguard Lounge: The Downtown Vegas representative of our lot, this moderate joint is ultra-modern and urban without being ridiculously pricey. We like its unpretentious nature and truly unique cocktails (one of our favorites has both fig and bacon in it, we kid you not.)
Las Vegas lounges are a great alternative to the clubbing scene. At Las Vegas clubs it can be hard to even here yourself things, but lounges in Vegas are the places where more laid back party-goers can simply chill and actually hear each other talking. Still, the same goes for all Las Vegas nightlife: be prepared to drop some major dough for overpriced drinks.
$ - Drinks under $5 $$ - $6- $10 $$$ - $11- 15 + cover $$$$- Over 15 + cover
Sometimes, a night out on the town in Vegas is just too hot with all the crowded dance floors and sweaty bodies invading your personal space. Sleek Las Vegas lounges give claustrophobia-avoiding party-goers an opportunity to get their drink on without the associated hazards of a nightclub.
Most every single Strip hotel features posh Las Vegas lounges that attract the big spenders and those trying to show off as such. But sometimes we aren't afraid to venture away from the Strip to find a more down-to-earth joint that will give us a better bang for our buck.
Other lounges in Vegas double as tapas restaurants or nightclubs themselves. These convenient all-in-one operations are something to think about for all of those girls with aching feet in heels that refuse to walk more than 25 feet.
For the best deals on Vegas hotels with easy access to your desired lounges in Vegas, make sure to check out our Cheapo Vegas promo codes. We want to make sure your Las Vegas lounge nightlife experience is an unforgettable one - for the memories - and not your wallet.