Lake Mead Fishing Tours: FishFinders Guide Service offers best fishing experience
---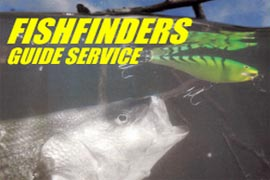 Location, Location, Location.
Sometimes, it's easy to forget Las Vegas is a lot more than flashing lights and boozy casinos. The Nevada desert is actually home to some of the most beautiful natural wonders in the country. Just a short drive from the Las Vegas Strip lies the majestic Lake Mead. Lake Mead is 112 miles long with more than 500 miles of shoreline. With hundreds of coves and inlets, Lake Mead is an ideal fishing location for first timers and experienced fishers alike. However, Las Vegas travelers may be unfamiliar with the water or may end up overpaying to rent their own boat and equipment. How disappointing would it be to embark on a fishing trip and not catch a thing? Call Lake Mead Fishfinders Guide to ensure that you and your group have the ideal fishing experience in Las Vegas. Striped Bass, Large-mouth Bass, Catfish and more are also great to look into and explore. Lake Mead has year-round recreational boating, fishing and sightseeing. Enjoy stunning views of the red rock mountains and native wildlife on your Las Vegas fishing vacation.
Ahoy, Captain.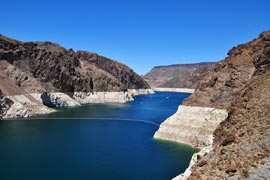 When exploring uncharted waters, it's best to have a professional by your side. Captain Kevin Durham is a United States Coast Guard Captain with more than 25 years of fishing, boating and water safety experience. Durham also is a licensed and insured Nevada Department Of Wildlife Master Guide. Besides his official credentials, Durham also is a winning Bass Tournament Fisherman. Many factors such as time, weather, season and technique go into catching a fish. Kevin uses his extensive knowledge of the trade and Lake Mead to help you catch as many fish (and as big a fish) as possible. Fishfinders Guide was also awarded The Best Lake Mead Boat Rental/Charter for two consecutive years. Plus, all anglers are automatically entered into the Christmas drawing for a rod and reel combo from Bass Pro Shops. Way better than the lump of coal Casino Boy usually gets. Also, there will be plenty of opportunities for photos so be sure to bring a camera! Most importantly, Captain Kevin has an outgoing and friendly personality that ensures patrons have the fishing experience that will be the highlight of any Las Vegas vacation.
Steady as she goes.
Lake Mead is a big place, so any dinky boat isn't going to cut it. Set out with Captain Kevin on a speedy Ranger 2300 Bay Boat, powered by a quiet Mercury 225HP Four-Stroke Outboard Motor. The Ranger 2300 is known for it's smooth ride so you won't feel queasy. The low profile design and extra wide beam make this a very fast and stable boat with enough casting room for four persons. The Ranger 2300 also features a T-Top that provides ample shade from the hot Nevada sun. The Lowrance Fishfinder has advanced GPS technology that offers the best view of the structure bellow. No need to rent or purchase your own equipment. All anglers are provided with high quality rods, reels and tackle from Bass Pro Shops. No cheap rods or smelly worms here.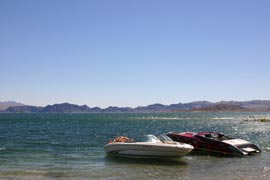 Tidbits.
Make sure to purchase the proper fishing license ahead of time.
This is a catch and release fishing tour.
Call (702) 499-7942 for reservations.
Head to lakemeadfishfinders.com for more information
Check out other Las Vegas Tours that are guaranteed to be full of excitement and adventure!
Have you ever been to Lake Mead? Have a great fishing story? Let us know in the comments below!