Fat Tuesday 2013 & Las Vegas Mardi Gras Parties you won't want to miss!
---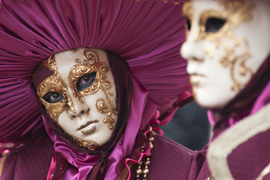 If you're in Las Vegas tonight and want to celebrate Fat Tuesday at some of the Las Vegas Mardi Gras parties, Sin City is bound to live up to its name. Casino Boy knows that if you can't make it to New Orleans, a night of sin before Ash Wednesday couldn't be better than Fat Tuesday in Las Vegas. Even if you don't plan on fasting in the Lenten season, indulging in Vegas for Mardi Gras carnival celebrations are parties in Vegas that you won't want to miss this year. Whether or not you can make it tonight, Casino Boy has the scoop on the hottest 2013 Mardi Gras parties in Las Vegas and the best Vegas Nightlife for Mardi Gras 2013:

1. Celebrate Mardi Gras in Las Vegas with Fat Joe for Fat Tuesday at Pure Nightclub in Caesars Palace Las Vegas hotel. The only things Fat Joe has in common with Fat Tuesday are probably his size an epic party, but partying and binging is what Mardi Gras in Vegas is all about! Join Fat Joe for some Mardi Gras indulgence tonight, Tuesday February 12th starting at 10:00pm.
2. Ranch House Kitchen in Town Square celebrates Fat Tuesday with the $5 special Hurricane cocktails and their "Dirtbag Tuesdays" deal of 50 cent PBR draftsfrom 9:00pm until 12:00am. Casino Boy says call me a dirtbag any day for those prices!
3. Cruise on over to Rockhouse at the Venetian tonight on February 12th, 2013 for Fat Tuesday celebrations and drink deals. Rockhouse Las Vegas will be serving $5 Hurricanes all day to make sure that Mardi Gras debauchery comes all the way to Las Vegas!
4. Don't miss the Mardi Gras Fat Tuesday party at the PBR Rock Bar inside the Miracle Mile Shops at Planet Hollywood Las Vegas. For $10, the PBR Rock Bar will be serving Fat Tuesday bourbon drinks, bull rides, and Mardi gras beads!
5. If you can't make it for the Fat Tuesday celebrations tonight, Red Rooster is having a party this Saturday, February 16th. They say they'll "supply the beads, you supply the boobies." Casino Boy never said Vegas was classy....but it is flashy, so Ladies if you want some beads and prizes at Red Rooster, you know what to do!
6. For those who won't be in Vegas tonight or this weekend, don't fret because you haven't completely missed out on a Las Vegas Mardi Gras. The Fremont Street Experience in March is TBA, but its a New Orleans style Mardi Gras celebration in Vegas like no other. Casino boy will have the scoop when this is announced. With music, dancing, and Mardi Gras costume processions plus a street party, you may not be in New Orleans but join the party and drink up and Casino Boy knows you'll have just as much fun.
7. For those who want to celebrate Mardi Gras all year long, you can head to Fat Tuesday inside The Shoppes at Mandalay place. Open Sunday to Thursday from 10:00 am to 1:00 am and Friday and Saturday until 2:00 am, you can enjoy the over sized frozen drinks and feel like you're in New Orleans any time of year in Vegas.
Know of some other Mardi Gras parties in Vegas that didn't make this list for 2013? Tell us about your Fat Tuesday and Mardi Gras plans! You can use the comments section below, and don't forget: follow the Casino Boy Twitter, and Facebook page for some more information on Las Vegas hotels, deals, nightlife, and more.
This article was written by Ariel Abbott.