Cheap Southwest Vacations
Southwest Vacations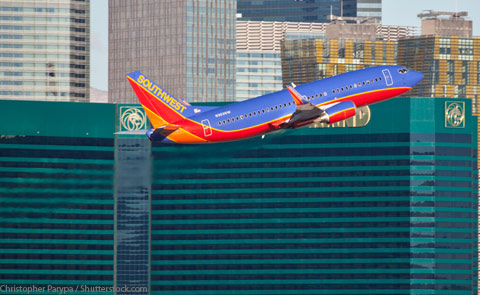 Hotel and Flight Combos
Cheap Southwest vacations bring together two of Casino Boy's favorite things: cheap Vegas hotel deals and cheap Southwest flights Las Vegas. What does that mean for you? Well, it can mean anywhere from 25- 50% off hotel stays, one free night per trip, and up to $100 in discounts. So, yeah - we think you'll want to check out our inventory of cheap Southwest vacations, which can include hotels such as...
Tropicana Las Vegas: One of the most featured Vegas hotels when it comes to cheap Southwest flights Las Vegas, the Tropicana is a popular Vegas Strip hotel with one of the best sports books around. Cheap Southwest vacations featuring Tropicana have been known to include $100 savings plus a free one-night stay.
Golden Nugget: Looking for an old-time Vegas vacation Downtown? Get the Fremont Street experience at the Golden Nugget via cheap Southwest flights Las Vegas. Receive reduced Vegas hotel rates and savings of up to $100 on your Southwest flight to Las Vegas when you take Casino Boy's word for it and book using their standard Vegas vacation package.
Find the Best Air & Hotel Deals in Las Vegas!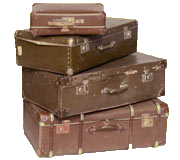 How to Save
Alright, these cheap Southwest vacations sounds pretty good and all, but where exactly are these savings coming from? Well, let Casino Boy give you the skinny; Southwest Airlines deals to Vegas include discounted flight tickets, hotel rates that are cheaper than average and coupons to all kinds of Vegas attractions, restaurants, clubs and more. Here are a few examples of how to save when you book Southwest Airlines deals to Vegas ...
The Stratosphere Las Vegas: How can you save at Stratosphere through cheap Southwest vacations? How about 40% off hotel room rates PLUS $100 in flight savings? Both are offered often via cheap Southwest flights Las Vegas. Hang on to your cash and put it towards the things that really matter in Las Vegas, like booze, strip clubs, buffets - ya' know, the essentials.
Excalibur: While this Renaissance-inspired Vegas hotel is usually pretty affordable anyways, cheap Southwest vacations can save you that much more. Generally, Southwest Airlines deals to Vegas Excalibur include flight savings of around $100, plus as much as 25% on the total bill at Excalibur.
Flying to Vegas? Well, there's really only one way to do it - via cheap Southwest vacations deals. Seriously, there are no bag fees, tons of Vegas package deals you won't find anywhere else, and an unparalleled selection of cheap flights Las Vegas to choose from. Just because gas isn't cheap anymore doesn't mean a flight to Sin City has to cost you a fortune ... Then again, you could take the Casino Boy route and hitchhike. Hey, give him a break - the kid can't drive!
To browse Southwest Airlines flights to Vegas, click on the third tab above, enter your departing city and click 'Submit'.
| Transportation Options | Transportation Info |
| --- | --- |
| | |
| | |
| | |
| | |
| | Location: 3475 Las Vegas Boulevard South Las Vegas, NV |
Cheap Southwest vacations to Vegas are the best way to travel to Sin City on the cheap. Ya' know, aside from walking which, let's be honest, is probably going to take a while.
Lucky for you and your legs, Casino Boy has the hook-up on the best cheap Southwest flights to Las Vegas, including Vegas hotel/flight packages at some of the best hotels on the Las Vegas Strip and Downtown.
These days, flying is rarely budget-friendly, which is why cheap Southwest flights Las Vegas is the way to go. Not only are cheap flights Las Vegas from Southwest the most affordable on the web, but they often include a free night at some of our favorite hotels in Las Vegas. So, you can stay in Vegas an extra night for less, PLUS receive an affordable Vegas flight when you book with cheap Southwest vacations.
Check back in for cheap Southwest vacations deals, up-to-the-minute specials, daily rates and cheap Southwest flights Las Vegas!