Simon at the Palms Casino Resort
Exquisite food and lowbrow culture intersect at Simon at the Palms pajama brunch.
---
A Quick Look
Cuisine:

American

Hours: Daily 9am-2pm and 5pm-10pm
Price:
---
---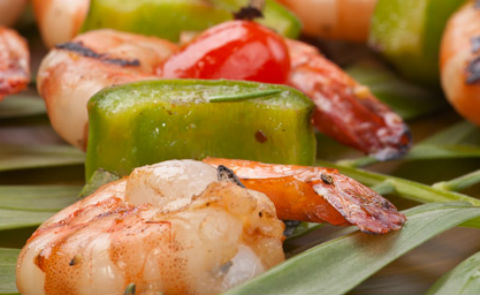 Like American Cuisine?
Check out more of our American restaurant faves!
The Skinny
Simon at the Palms is an upscale eatery that combines American comfort food, rustic Italian pizzas and lighter Asian fusion to create a menu that has something for everyone. At Simon's helm stands Chef Kerry Simon, a Las Vegas staple for 11 years, who grew to fame serving up food for celebrities. He is known for using seasonal, fresh ingredients and organic produce. While his food isn't characterized as "health food", his menu boasts plenty of hearty options to help nurse hangovers, as well as lighter lunches that cater to busy professionals and gamblers on the go.
Reviews
There are currently no reviews!
Be the first to write a review!
Write a review
Our user reviews are from real registered users.
Quick Facts
Located in the Palms Hotel, Simon at the Palms' modern, airy space was designed by David Rockwell, an award-winning architect. Visitors might be familiar with the space Rockwell designed in New York City—Chef Nobu Matsuhia's Nobu.
Chef Kerry Simon circulates his four Las Vegas restaurants and is often seen in the Palms kitchen and making rounds in the dining room.
Make sure to ask your server about drink specials and discounted cocktails that are offered in Simons throughout the day—every day of the week.
Restaurant Website:
https://www.palms.com/casual-dining/simon
Info
Location:
Palms Casino Resort
4321 W. Flamingo Rd.
Las Vegas, NV 89103
View Map
Phone:
702.944.3292
Hours of Operation:
Daily 9am-2pm and 5pm-10pm
The Environment:
Nestled in the Palms Place Hotel and Spa, Simon at Palms Place is the perfect combination of upscale cozy, mimicking the tone of the menu. The restaurant overlooks the hotel pool, giving diners a birds-eye view of swimmers and partiers on the pool deck below. Cozy elements—like chocolate toned chairs and rich mahogany floor—are integrated in a modern setting, accessorized by stainless steel countertops and high ceilings that give the space an airy feel. Warm colors and large oval booths add cozy nooks to the large dining room, and furniture is reminiscent of the old Vegas known to Sinatra.
Why We Dine:
Chef Kerry Simon fuses typical American comfort food with upscale worldly flavors. Simon uses only the freshest ingredients and seasonal fruits, veggies and produce. He's known for only uses organic produce. Comfy foods include hearty meals, like Mama Simon's meatloaf. They also offer plenty of other fusion options, like sushi, sashimi, steaks and pork chops. Famous for their pajama brunch, visitors flock to Simon's on Sunday mornings from 10 am to 4 pm, donning their favorite sweatpants, pajama pants, nighties and sleep masks for mile-high piles of bourbon waffles and peaches and cream pancakes.
Simon's lunchtime means the 30-minute power lunch for professionals on the go and tourists who can't wait to head back to the slots. Speedy diners can choose from three options, including Kerry's Classic that includes turkey chop chop salad, grilled cheese, tomato soup and chocolate chip cookies; Iron Chef that includes a bacon cheddar cheeseburger, fries, Caesar salad and a vanilla milkshake or Simon Bento Box that comes with a California roll, seaweed salad, tuna crispy rice and chocolate mocha for dessert.
Inside Knowledge:
Known as the rock-n-roll chef, Kerry Simon has reinvented the way Americans think of decadent dishes like macaroni and cheese, as well as down-home classics like meatloaf. Simon creates a combination of hearty comfort foods and upscale lighter fare that just goes to show: there really is something for everyone in Las Vegas.
Simon's love of food came from his teenage summer job at Little Caesar's Pizza—a job he took so he could afford amps for his garage band. After discovering he wanted to work with food more than an electric guitar, he started scouring Julia Child's cookbook for concoctions he could make at home and soon enrolled in the Culinary Institute of America. His first restaurant was located in the Hard Rock Hotel in Las Vegas. Two more restaurants in Las Vegas soon followed. He started offering classic American junk food in an upscale way, featuring Hostess cakes, Rice Krispies and Fruit Loops in his Junk Food Dessert Platter. He also offers a White Trash Brunch Menu, full of low-brow favorites like chicken and waffles and pigs in a blanket.
We Recommend:
While power lunches are perfect for those on the go and pajama breakfasts are important for sleepy hotel guests, Simon's offers plenty of other palate pleasing options for every time of day. The menu boasts upscale apps, like Bluefin tuna tartare, seared beef carpaccio and a seafood platter. Hot apps include wok charred edamame, garnished with a wasabi message, scrawled out by the chef himself. Crispy, creamy rock shrimp are popular with kids of all ages, garnished with a celery and apple slaw and sweet chili sauce. The salad selection has plenty of popular options, like Caesar, but we recommend the roasted beet salad, topped with creamy burrata cheese, fresh market oranges and a 12 year aged balsamic vinegar.
The wood roasted pizzas are large enough for big groups to share for a light snack or appetizer. The rotisserie half chicken is stuffed with a pretzel breading and comes with a side of natural au jus. The dry aged 26 ounce rib eye steak is a bargain and comes with a side of delicate cipollini onions.
The sides are the real stars of the menu, boasting creamy macaroni and cheese, fluffy wasabi mashed potatoes, Anson mill grits and bamboo steamed vegetables.
Simon at the Palms Casino Resort Restaurant Amenities
Brunch
Chef's Specials
Facilities for the Disabled
Fresh Food
Full Bar
Gift Certificates
Happy Hour
Healthy Options
Open for Holiday Dining
Homemade Desserts
Outdoor Seating
Outdoor Heating
Premier Location
Small Atmosphere
Specialty Beers on Tap
Sunday Brunch
Take-Out Available
Tapas/Small Plates
Valet Parking
Waterfront
Wheelchair Access
User Average Review
Overall:
Menu:
Ambience:
Location:
Service:
Based on reviews
Rating Distribution
0.0% recommended it
Simon at the Palms Casino Resort Reviews
There are currently no reviews! Be the first to write a review!
Write a review
Restaurant Hotel
Other American Restaurants You May Like