Lao Sze Chuan at the Palms Casino Resort
Who says elegant, authentic Chinese food has to cost a fortune?
---
A Quick Look
Cuisine:

Asian

Hours: Daily 5pm-10:30pm
Price:
---
---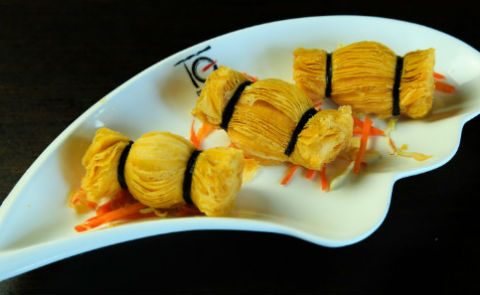 Like Asian Cuisine?
Check out more of our Asian restaurant faves!
The Skinny
If you're looking for cheap Chinese fans, paper lanterns and murals depicting China's misty mountains, be forewarned, Lao Sze Chuan is not your father's Chinese restaurant. It's not your mother's either. This luxe Las Vegas eatery has been described alternately as casual and fine dining. In fact, it's a sleek, elegant affair nestled within the confines of The Palms Casino Resort, located west of the center of the Las Vegas Strip and I-15 on Flamingo Road. Book a table and expect to dine on some of the tastiest Asian dishes this side of the Strip, yet you won't have to hit it big at the tables to pick up the tab for yourself and guests. Reasonable prices, delicious specialties and atmosphere worthy of a Chinese emperor are all just a stroll away from the Palm's casino floor.
Reviews
There are currently no reviews!
Be the first to write a review!
Write a review
Our user reviews are from real registered users.
Quick Facts
Award-winning chef Tony Hu owns the eatery and supervises an energetic staff of wok masters skilled at churning out this restaurant's traditional Szechuan specialties.
The menu includes dishes from other provinces as well as specialties that are Asian inspired, but creatively adapted to American taste buds.
Signature entrees include Chicken with Three Chili, Dim Sum and Sze Chuan Peppercorn Fish, but whatever you choose, your salivary glands and tummy will thank you big time for choosing this restaurant.
Restaurant Website:
https://www.palms.com/casual-dining/lao-sze-chuan
Info
Location:
Palms Casino Resort
4321 W. Flamingo Rd.
Las Vegas, NV 89103
View Map
Phone:
702.990.8888
Hours of Operation:
Daily 5pm-10:30pm
The Environment:
If drama mixed with authenticity is all it takes to charm you, order a meal, sip tea or indulge in savory Dim Sum delights (served between 11:30 a.m. until 4 p.m. on Friday and Saturday) in an environment that's been described as pure Hollywood. Choose Lao Sze Chuan for a formal client dinner or date and impress your guest: palace-worthy colors and décor transport diners across the ocean to a world of opulence and exotic trappings. Royal purple, red and orange walls hung with luxurious fabrics beneath massive chandeliers that drench the dining room in a golden glow are reminiscent of rooms in China's most opulent palaces. Notice subtle bamboo leaves etched into columns that add restive touches throughout the dining room and bar. Guests arrive at a reception area that never fails to thrill: A tower of ginger jars, Buddhas and lanterns extend all the way to the ceiling, so from the moment one enters, Asian décor influences are as heady as the delicious fragrances that follow diners to their tables.
Why We Dine:
Even if you've had bad experiences in the past because someone forced you to dine at an all-you-can-eat Chinese buffet or a mediocre chop suey joint, you owe it to yourself to taste truly authentic Chinese cuisine that's so far from your previous experiences, you might call the experience revolutionary. Owner Tony Hu, whose culinary expertise ranges from family-inspired traditional cooking techniques to culinary school and apprenticeships at Chicago's legendary Chinese restaurants, began building his own restaurant empire over two decades ago. Despite being the proprietor of no fewer than 16 prestigious Chinese eateries, his first location in Las Vegas has proven to be a hit ever since Lao Sze Chuan first opened its doors in August 2014. Hu oversees every aspect of staff, menu and ambiance and visits China regularly to pick up new tips that result in one-of-a-kind gourmet menu offerings. For those who consider the ubiquitous eggroll the beginning and end of an Asian dining experience, a single meal at Lao Sze Chuan has been known to turn diners into Chinese food gourmands.
Inside Knowledge:
At any given time, the Lao Sze Chuan menu lists more than 200 beef, chicken, pork and seafood offerings, in addition to a splendid variety of side dishes ranging from soups to appetizers. Find familiar dishes like Sole Fish Fillet in Chili Bean Sauce and Twice-cooked Pork Szechuan Style, but offbeat menu items not found on typical Chinese menus await diners, like Hu's signature Lamb with Cumin, Mapo Tofu for vegetarians and Chef's Special Dry Chili Chicken. If you think that these dishes come with hot prices equaling the restaurant's spicy seasonings, you would be mistaken: Most items on the a la carte menu cost between $12.95 and $15.95, with a few topping out at $17.95. Seating for 150 people within this Asian enclave means you get atmosphere with gourmet dishes plus an added treat: the expansive outdoor patio space adjacent to the main dining room overlooks the Palms pool—just in case you require a little cool water after sampling hot and spicy dishes.
We Recommend:
A better question posed might be what don't we recommend, but since you crave superlatives, we chose a few unbeatable selections that food critics, reviewers and magazines profiling this restaurant have referenced frequently. The Szechuan Smoked Tea Duck (with Bone) puts every other Chinese duck dish to shame, Mongolian Beef Tenderloin has yet to disappoint a beef lover and if the number of orders for Szechuan Peppercorn Fish sent to the kitchen are any indicator of its popularity, it deserves to land on the "highly recommended" list, too. Need an adventure? Order Chicken in Hot Mini Wok delivered to your table in the pot. You won't regret this choice. To quench your thirst, an enticing selection of Chinese beers and specialty cocktails add to your total immersion in Chinese cuisine. Jump in and order a Lucky Buddha or Tsingtao Tiger beer or dare to request a Dragon's Eye cocktail, a blend of Skyy Infusions Dragon Fruit vodka and calamansi juice topped by a dragon fruit garnish.
Is it Worth It?
You bet it is! A meal at any of Chef Tony Hu's 16 restaurants is always worth the visit and now that he's brought his culinary magic to Las Vegas, his reputation is becoming legendary here, too.
Lao Sze Chuan at the Palms Casino Resort Restaurant Amenities
Famous Chef
Chef's Specials
Facilities for the Disabled
Fresh Food
Full Bar
Gift Certificates
Happy Hour
Healthy Options
Open for Holiday Dining
Homemade Desserts
Premier Location
Romantic Dining
Take-Out Available
Valet Parking
Wheelchair Access
User Average Review
Overall:
Menu:
Ambience:
Location:
Service:
Based on reviews
Rating Distribution
0.0% recommended it
Lao Sze Chuan at the Palms Casino Resort Reviews
There are currently no reviews! Be the first to write a review!
Write a review
Restaurant Hotel
Other Asian Restaurants You May Like