Cheap Golf in Vegas: Tee off for under $50
---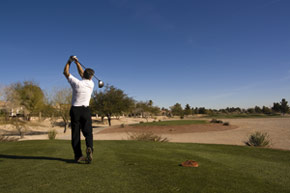 Golf in Las Vegas is as popular in Sin City as spending an afternoon plugging away on the slots, drinking before 5pm and doubling down on 11 at the Blackjack tables. The good news for Vegas scratch golfers and beginners alike is that there's plenty of Vegas golf course competition, which leads to some pretty cheap tee times for us everyday club swingers. Err... Golf club swingers...
Anyways, the truth about cheap golf in Vegas is that it's really available all around us; you just have to know where to look. You're not gonna' believe this, but Casino Boy - whose handicap generally hovers somewhere around, oh, 30 - can help you book a tee time in Vegas for under $50. Here's where to go, and how to golf in Vegas on the cheap...
Find a Cheap Golf Course (Duh.)
OK, this one's obvious but, if you're not from Vegas then you probably don't know where to find the best discount golf courses. Here are a few Vegas golf courses that offer cheap tee times year-round, season to season:
This nine hole golf course on the far south side of The Strip (near McCarran Airport) is perfect for beginners, as no hole stretches more than 185 yards and they're all par 3's. Non-residents can find tee times from $27 on the weekdays and $32 on the weekends and holidays, and if you're hoping to squeeze in a round at odd times, the Callaway Golf Center is open nightly year-round. Between the location, the price and the state-of-the-art lighting system, the Callaway is a great place to break those new clubs in. Or to break them, though we hope your round isn't that bad.
The Badlands Golf Club on Alta Drive offers non-resident rates from just $44 per person. If you're a scratch golfer, this is the place for you, as each of the three nine hole courses at the Badlands are quite challenging. The Badlands are renowned for their excellent course care and staff, and this is a good place to bring the bachelor party if that's what you're in town for. (Before you hit the strip club, not instead of.)
This one's a bit of a drive from Vegas in Henderson, but given their weekday, non-resident tee times starting around $35 a player, it's worth it. While the range has been described as "crowded" by some golfers (and the clubhouse is non-existent, literally), the course itself is nothing short of excellent, plus you can play a full 18 holes here. The Tuscany is more of a day-trip course, so grab your buds (and your Buds) and make an afternoon of it before indulging in Sin City shenanigans after dark.
Golf at Twilight … Or Sunrise
By and large, the cheapest golf in Las Vegas takes place around 5pm. And honestly, that's pretty good with us. Not sure if you noticed, Cheapos, but it's pretty freakin' hot out there right now. Not only is it the most comfortable and serene time of day, but courses are often less crowded in the twilight hours, and tee times are as much as 30- 50% off. So, if you can swing it (See what we did there?), try to clear your afternoon schedule for a twilight round at one of the best cheap golf courses in Las Vegas.
Then again, if you're an early riser (and we do mean EARLY), 6am tee times are often just as cheap. But let's face it; after a night on the town you're certainly running the risk of sleeping through your tee time. If 6am is your thing, more power to you. But we recommend the twilight tee times versus the sunrise rounds because, one more time (with feeling) - IT'S VEGAS.
Take Advantage of Promotions
These are particularly useful if you're booking a guys golf getaway in Vegas, whether it's just a weekend away from the fam, a bachelor party before your buddy walks the wedding plank, or, well, just because. Walters Golf Courses - including the Bali Hai, Royal Links and Desert Pines Golf Courses - regularly offer stay and play packages with the MGM Grand that include two rounds, three nights and round-trip transportation. (Albeit at $300 a pop.)
That being said, many Las Vegas golf courses offer discounts for group outings and special occasions. If you're planning a golf getaway for your friends, just give a couple courses a call and see what they can do for you and your party. More often than not, talking to a real human being (go figure) will end up getting you the best discounts versus those automated replies we receive online.
Now that you know where to golf on the cheap in Vegas, let us know where you've enjoyed your favorite Vegas golf experiences in the comments section below, or visit us on Facebook and Twitter to lend your voice to the conversation when it comes to the best cheap golf in Vegas. Oh, and one more thing...
FORE!