Best Off Road Tours: Las Vegas Razor Adventures puts you in the driver seat
---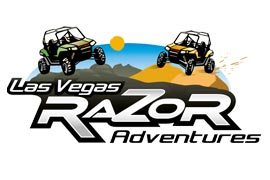 Okay, so Casino Boy is going to go out on a limb and assume you want to have fun on your next Las Vegas vacation. Now there's the nightclubs, the buffets and...of course...the casinos. But for those looking for a little more excitement and adventure, book a tour with Las Vegas Razor Adventures. Not only is it the best off roading in Las Vegas, but the prices are cheaper than the other guys with no hidden fees. Now that's a tour Casino Boy can get behind.
The Machines
You won't find any dinky dune buggies around here. Las Vegas Razor Adventures has the top of the line factory made 4 wheel drive Polaris RZR-S (2 seater) and RZR-4 (4 seater). Now before you're girlfriend (or your mom, let's be honest) freaks out, these babies were also built with safety in mind and proper gear is included. Long travel suspension, 4-wheel drive and incredible horsepower are in store for Las Vegas Razor Adventure patrons. No experience is necessary, because the machines are automatic and quite simple to maneuver. If you've driven a regular ATV before, these machines are on a whole other level.
The Tour
Your 2 hour pursuit will surely get the adrenaline pumping. Sandy trails, rugged terrain, rock climbs and more await the dare-devil in you. You set the pace of the tour. Take the scenic route where you can take in the beauty of the dessert or maybe even spot a desert tortoise. Or put the pedal to the medal and satisfy your need for speed. No need to fight over who gets to drive, there's an opportunity to change drivers during the tour so everyone can get in on the action! Or if you prefer to sit shotgun, a guided ride along tour is available.
The Value
Sometimes, you gotta shell out a little dough for some Las Vegas fun. However, Casino Boy is NOT down with hidden charges. Resort fees, anyone? Las Vegas Razor Adventures won't rip you off, leave that to the casinos. If you find a similar tour for cheaper (watch for hidden fees), they will beat the price.Starting at less than $100 per person, you won't find a better value on an off-road tour However, with Las Vegas Razor adventures there are no sneaky costs, such as fuel surcharges.
5 Reasons Casino Boy likes Laz Veag Razor Adventures:
Free Shuttle Service (Free, as in free)
Free Water Bottles (Hydrate up!)
Short Travel Time From The Strip (No other off road tour is closer)
Long Adventure Time (2 hours)
Best Terrain Variety (no boring trails)
'Padded Seats' (That's the real price point, if you ask Casino Boy)
Ready to ride? Book a tour with Las Vegas Razor Advenutes!