$17 Million Bacchanal Buffet at Caesars Palace Now Open
---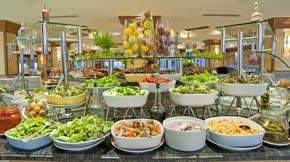 The Bacchanal Buffet at Caesars Palace is the biggest and most buzz-worthy new buffet in Las Vegas, having opened Monday to much fanfare and strong reviews.
Caesars Palace dropped a pretty penny (several, actually) to renovate the long-shuttered buffet, to the tune of $17 million in upgrades. The buffet created quite the buzz this week, as first reviews of the Bacchanal trickled in while everyone from Bloomberg to ABC News analyzed what it meant for the future of Vegas buffets.
Well, let's just say that the Bacchanal sets the bar for Vegas buffet opulence, and the double down on buffet dining by Caesars will at the very least create some word-of-mouth interest in Sin City.
For starters, the Bacchanal Buffet is massive, spanning 25,000-sq. feet with room for about 600 dining guests in a chic, modern-style dining room facing the Garden of the Gods pool. Plus, there are nine - yes, NINE - kitchens representing upscale fare from around the world. Whether it's Mexican, Italian, Asian, American or seafood you're craving, the Bacchanal has over 500 items to choose from during dinner hours.
Like the popular Wicked Spoon Buffet at The Cosmopolitan down the street, the Bacchanal is placing an emphasis on made-to-order dishes that look and taste fresh, versus some of the classic buffet fare many of us think of when we think of old Vegas buffets. Executive Chef Scott Green told ABC News that cooks at the Bacchanal Buffet have been "trained to interact with diners" so you can expect a more personalized approach to this upscale Vegas buffet.
Did you notice that we've mentioned the word "upscale" a few times? Well, the Bacchanal is precisely that - high-class, and expensive. (For a buffet, anyways.) Dinner starts at $39.95 per person, while lunch and breakfast rates will be slightly more affordable at $24 and $20, respectively. (However, various accounts of the buffet said that, with a TOTAL Rewards Card, you can take $10 off the dinner price.)
After the Bacchanal opened Monday morning at Caesars Palace, reviews have been hitting the Internet pretty consistently. A survey of early Yelp reviews is mostly positive, though the sample size is small. User Brooke said, "The selection is crazy, everything is fresh and the cooks are knowledgeable and friendly," while user Jen said, "The food was very good and I really liked the fact that you can have things made just for you. " It wasn't all positive, as there were complaints about the service ("Kinda clueless," said user Sean), but it sounds as though the first few days at Bacchanal have been by-and-large a success, and there was allegedly an hour-long wait for dinner already.
So tell us, Cheapos - will you be willing to pay upwards of $30 for buffet admission? Are you excited about the opening of a new buffet in Caesars Palace? Let us know your thoughts in the comments section below, or drop us a line on Facebook and Twitter! (Before you do, though, check out a sample of the fare you can expect to find at Bacchanal below, compliments of their press release available on the Caesars Palace website.)
From Caesars Palace:
Mexican - featuring freshly made enchiladas, tortillas and sopapillas
Italian - Pastas, baked lasagna, antipasto display
Chinese - Made-to-order assorted soups, wok-fried dishes and dim sum
Japanese - Fresh sushi, sashimi, cooked fish American
BBQ - house-smoked meats from a wood-burning smoker and wood-burning grill; numerous carving stations including prime rib, brisket, rotisserie chicken and more
Seafood - Fresh East and West Coast oysters, king crab, snow crab, stone crab, mussels and prawns
Pizza - Varieties of pizzas served fresh from a wood-burning oven
Deli - Soups, cheeses, 7 charcuterie selections including house specialties and individual, prepared and make-your-own salads
Dessert - Chocolate, vanilla and pistachio soufflés baked to order, selection of gelato, sorbets and crème brûlée
Each will have an action station, plated dishes and "minis"; Majority of cooking will be executed in front of guests by interactive chefs.