Best Vegas buzz: CheapoVegas picks MadHouse Coffee as Las Vegas coffee shop favorite of 2014
---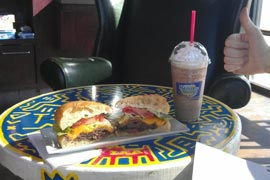 Casino Boy is no coffee expert, but when it comes to getting that fresh cup of joe after his all night Vegas benders, MadHouse Coffee in Las Vegas is his coffee shop of choice for two years in a row. Plus, there's nothing like munching on some freshly baked delicious french macaroons to get the day started or help cure a hangover while sipping on some coffee. Since MadHouse Coffee in Las Vegas is open 24 hours, Casino Boy can keep his coffee addiction satisfied at any hour of the night, whether he's up late studying for a test (yeah, right) or needs a break from the casinos (more likely). Besides being open 24 hours, MadHouse Coffee in Las Vegas holds a special place in Casino Boy's heart for many reasons...here's why:
Atmosphere & Service:
One thing Casino Boy hates is waiting for his coffee, but the quick service at MadHouse Coffee keeps that smile on Casino Boy's oversized head every time he visits. The staff is very helpful and the cozy atmosphere plus customer-oriented employees keep Casino Boy coming back time and time again. After spending so much time indoors, the patio area at MadHouse Coffee is Casino Boy's favorite spot to sip on his specialty coffee drink and chill as he noms away on his sandwich or freshly baked pastry. Plus, smoking some hookah on the patio is a great way to unwind, whether alone or sharing with friends. With its artistic feel and laid back customers, this coffee shop is great for an escape from the Las Vegas Strip. Plus, on the days Casino Boy is too hungover to hang out at the shop or needs to get back to the tables in a jiffy, MadHouse Coffee also offers a drive through service for those who need coffee or food on the go!
Coffee Drinks in Vegas at MadHouse Coffee:
While sometimes he just needs a classic MadHouse Coffee brew of the day, hot chocolate, or cappuccino, Casino Boy especially loves MadHouse Coffee for their specialty coffee drinks. His favorites at the moment are the Red Velvet Mocha (hot or cold) or the hot Peppermint White Choco Mocha. On the days Casino Boy isn't exhausted from Vegas partying (which, let's be real, isn't often...but it does happen occasionally), the thick and rich Italian style MadHouse Chocolate hot chocolate drink can't be beat. While he could be lazy and just visit a Starbucks on the Strip at one of the many Vegas hotels, the trip to savor one of the specialty coffee drinks from MadHouse Coffee and support a small local Vegas business is worth the venture away from the Strip for both his taste buds and his wallet.
Freshly Baked in house Pastries and Made-to-Order Sandwiches at MadHouse Coffee:
Whether looking to cure that hangover, get a hearty breakfast, or just a snack to help Casino Boy savor his coffee, MadHouse coffee has him covered. The Build Your Own Breakfast Sandwich (choice of bagel or croissant, egg, cheddar, and bacon, ham, or sausage) is typically Casino Boy's go-to for breakfast. Lately though, even Casino Boy is trying to get in shape for Las Vegas pool season, so he's been ordering The Supermodel (Egg whites with sun dried and fresh tomatoes, oregano, lettuce, and balsamic vinegar), and being skinny never tasted so good. When he makes it to MadHouse for lunch, The Gobbler (roasted turkey with Swiss cheese and creamy cranberry sauce) or The Godfather (Sundried tomatoes, mozzarella, pepperoni, oregano, and mushroom) are his favorite sandwiches as of late. Above all, Casino Boy has a sweet tooth and there's nothing like pairing his coffee with a White Chocolate & Nutella Mousse or one of the MadHouse Coffee delicious french macaroons! Casino Boy knows he'll get a fresh taste each time because all of the pastries and food items from this Vegas bakery are freshly baked in house!
Who cares what Casino Boy thinks though, right? Try it out for yourself and let us know what you think in the comment section below.
Location information:
MadHouse Coffee in Las Vegas - Westside
Address: 8470 W. Desert Inn Rd Las Vegas, NV 89117
Phone: (702) 360-4232
This article was written by Cash Cooper.
Where's your favorite coffee shop in Las Vegas? Let us know in the comments section below! Keep up with Casino Boy on CheapoVegas for updates on what's new in Las Vegas for cheap, whether you're looking for a Vegas discount, Las Vegas show, hotel, tour, or restaurant! Follow the CheapoVegas Facebook, the CheapoVegas Twitter, or the Casino Boy Google+ pages for the best updates on Vegas for cheap!