No Thanks-giving in Las Vegas: Why planning for Vegas in December is smarter
---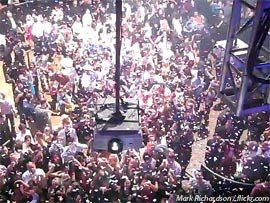 There really isn't a bad time to go to Las Vegas... but if there was one holiday we would recommend staying away for, it's Thanksgiving. Say "no" to Thanksgiving in Las Vegas this year and save your cash for a better time of year: the end of December.
The Las Vegas Strip is offering plenty of delicious Thanksgiving Day meals and as hard as it is for Casino Boy to turn down a hearty turkey dinner, Thanksgiving in Las Vegas just doesn't cut it. Many people take the time to be with their families, opting for close gatherings at home as opposed to rambunctious romps through our favorite City of Sins. So it follows that things are generally less rowdy on the Vegas Strip the fourth Thursday of every November... and we really love rowdy.
There's no better way to make an argument than with evidence so here are a few reasons why Casino Boy and other Cheapos are choosing to do Vegas weeks after the Thanksgiving food-babies have been passed:
Concert Events: If you plan on checking out a concert while you're in Las Vegas then Thanksgiving probably isn't the time you want to be around. Sure, you've got "Guns N' Roses" (minus all the original band members besides Axl) playing at the Hard Rock Hotel and Casino, Rush at the MGM and Trey Songz (whoop-de-freakin'-doo!) at the Orleans... but we can't say we really care to see any of them. Instead, we'll be checking out The Black Keys, Yelawolf, The Eagles, Ice Cube, Red Hot Chili Peppers, The Killers... need we go on? New Years will be rockin' on the Strip and we'd much rather be drunk for that then too full to drink on Thanksgiving. Check out the Cheapo Vegas events page to see for yourself.
Find Good Food All Year: Thanksgiving is our favorite holiday because of the food and there are plenty of places to get a good turkey meal in Las Vegas next week. However, we don't love food enough to plan a trip around it... especially when mom's sweet potatoes are soo good. Come to Las Vegas for Christmas or New Years and you'll still find a bevy of excellent menu selections and even some seasonal specials. Of course, there are those of us who love food so much that heading to Vegas for a few Thanksgiving meal is a yearly highlight... but those people quit reading this after the first paragraph so forget them!
We Like to Party: We're not saying that Las Vegas turns into a ghost town during Thanksgiving, but we're pretty sure we saw some tumbleweed in front of The Mirage. For obvious reasons, New Years is one of (if not THE) best times of year to come to Vegas. You'll find that room rates are a little lot higher for New Years but the amount of partying that goes on is so insane that the cost is worth it! Las Vegas hotel deals and New Years packages can help you save money and also get you tickets for concerts like The Black Keys. Luckily for you, Casino Boy has done all the work and aggregated the best Las Vegas hotel promo codes onto one page that will help you save cash. Whattaguy!
Thanksgiving in Las Vegas is good if you love food but if you're like us and love to partay then you won't have the type of vacation you're looking for. Better save up your cash and make the trip at the end of the December when things are really poppin' off! For daily updates from Cheapo Vegas, follow Casino Boy on Twitter, Facebook and Google+.