Las Vegas Restaurant Week returns this month
---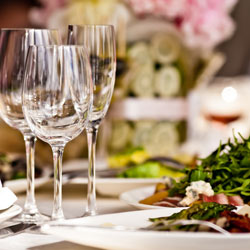 Las Vegas Restaurant Week is that one week per year (well, technically two; there's also a February Restaurant Week) when Cheapos like you and I can actually afford to dine with the big boys. From August 27- September 2, dozens of Vegas restaurants will take part in offering up their big-ticket entrees at a reduced prix-fixe price.
Admittedly, Restaurant Week prices are still on the high side - prix fixe dinner menus will be offered from $20.12, $30.12, $40.12 and $50.12 per 3-course meal - though we feel a little better knowing that either $4, $5 or $6 from each meal benefits the Three Square Food Bank of Las Vegas. Plus, when you consider how expensive it can be to wine and dine at the ritziest of Las Vegas eateries, Restaurant Week 2012 is a great way to celebrate a special occasion at a cheaper-than-average price.
While not all of the Las Vegas restaurants participating in Restaurant Week have been announced yet (we'll update as they're made available), we thought we'd give you a jump on what to expect at Restaurant Week in Las Vegas. Here are the restaurants we're most looking forward to checking out, and you can get the full list of participating restaurants on the Three Square Food Bank website.
Breakfast ($20.12)
As of today (Aug. 1st), you have exactly two restaurants to choose from for what is widely considered the most important meal of the day. (In our opinion, it's generally the most boring, too, though you can expect to eat the unexpected during Restaurant Week.)
Morel's French Restaurant at the Palazzo will be serving four courses of goodness, highlighted by your choice of an American breakfast (yes - the description is that vague), a Classic Benedict, Huevos Rancheros or a fancy French Toast dish.
Down the street at the Cosmopolitan, the Overlook Grill has three entrees to choose from, but all you really need to know about is their Steak and Eggs cooked with a flat iron steak, chorizo, hash and quail egg. If you decide to indulge in a Restaurant Week breakfast, we'd recommend the Overlook.
Lunch ($20.12- $30.12)
Lunch is actually Casino Boy's favorite meal of the day, and while he almost never ponies up $30 for a midday meal, after a decent morning on the tables he'd be willing to make an exception at the following eateries involved in Restaurant Week:
The Dragon Noodle Co. is offering your choice of chicken Chow Mein, sweet and sour pork or beef fried rice, plus a helping of their homemade ice cream and their veggie spring rolls (not in that order, thankfully) for $20.12.
However, if we were you (and we admit, we're not), we'd journey to Hussong's Cantina at Mandalay Bay for their Mexican combo platter, which includes a fried shrimp chipotle salad, a Mexican combo platter that includes two chicken tacos and two enchiladas (plus beans and rice), and a chocolate flan for dessert. That's some serious bang for your $20, Cheapos.
Dinner ($30.12- $50.12)
Since the name of the game is "cheap" around these parts, we'll stick to the best $30 and $40 meals available at Restaurant Week in Las Vegas.
We've walked by D.Vino at the Monte Carlo more times than we can count, but their prix-fixe Restaurant Week menu definitely has us considering stopping in. For $30, you'll get your choice of a Caesar salad or creamy asparagus soup, followed by your choice of a seared salmon, gnocchi, flat iron steak or roasted airline chicken breast (we hope it's better than airline food, not that that exists anymore), and tiramisu for dessert. Not a bad place to take the Mrs., either.
For $40.12, Table 10- an Emeril Lagasse Restaurant is offering your choice of a roasted chicken stuffed with fennel, or pan seared scallops. It's the first course that caught our attention, however; the chicken & andouille sausage combo is making our mouth water. The chocolate mousse cake for dessert is nothing to brush over, either...
So there you have it, Cheapos - ya' hungry yet? Unfortunately, we have another few weeks to kill before Restaurant Week Las Vegas. In the meantime, tell us where you plan on dining out at in the comments section below, or hit us up on Facebook and Twitter!