Las Vegas Show Schedule: Who's Coming, Who's Going This Fall
---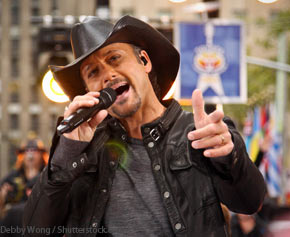 The Las Vegas Fall show schedule came into focus on Tuesday afternoon when, to basically no one's surprise, the Venetian announced that two of country music's power couple – Tim McGraw and Faith Hill - would be arriving in December for a 10-week run. (We say 'no one's surprise' since Robin Leach of Las Vegas Weekly tipped everyone off back in April.)
While there's already a bit of a 'Yee-Haww!' vibe on the Las Vegas Strip, what with Garth Brooks and Shania Twain already occupying residency at the Wynn and Caesars Palace, respectively, the acquisition of a McGraw/Hill double-headliner residency is about as can't miss a move as there is. (The couple, who has been married since 1996, have taken their "Soul2Soul" tour on the road twice, record-breaking earnings each time.)
However, in what's been a busy week at the Venetian, it was also announced this week that (once again to no one's surprise – thanks Vegas Chatter) Rock of Ages would be replacing Phantom – The Vegas Spectacular as early as December 18th. The closure of Phantom had been announced months ago, with a final show date fast approaching on September 2nd. Rock of Ages-themed venues have already begun popping up at the Venetian, and given the blockbuster-caliber numbers the show has taken in during its Broadway run in New York City (though less so at the box office, no thanks to Tom Cruise), this Vegas show acquisition was anything but controversial.
Plus, with its affinity for 80's hair metal and Sunset Strip nostalgia, Rock of Ages will surely play well to the Monster Ballad-loving crowds that regularly show up on the Strip. (In a city that hosts free concerts featuring Poison and Vince Neil on a regular basis, is there any question that this Broadway hit will be a smash in Sin City?)
Meanwhile, further down the Strip at the Aria, it's just about time for Elvis to leave the building. VIVA Elvis – the Cirque du Soleil show that's been featured at CityCenter seemingly since the Aria opened – is closing in on a curtain call, with a final show scheduled for August 31st. However, Elvis will have hardly had the chance to say goodbye before a new Cirque du Soleil show makes its arrival. Cirque's Zarkana – another acrobatic spectacle making noise in New York – is scheduled for a November debut at the Aria.
Described as a freak show-meets-magic show with signature Cirque theatrics, Zarkana will keep the tradition of big-production shows on the Vegas Strip alive well into the future. (And not that there will be any lack of Elvis in Las Vegas once the VIVA exits stage left, here's to hoping that they keep the bronze Elis statue in front of the theatre at the Aria.)
Tell us what Las Vegas shows arriving this Fall you're most excited about in the comments section below, or hit us up on Facebook and Twitter! Also, check back in to Cheapo Vegas and our newly-improved Events Calendar for comprehensive updates on the Las Vegas Fall show schedule!