Vegas Club Hotel and Casino
Gee! Won't you take me out to the casino? Or, rather, get me out of this one.
---
A Quick Look
Location: Downtown
Hotel Class:

Room Price:

Hotel Size:408 rooms
Casino Size:49,000 sq. ft.
Gaming:Yes
Nightlife:

Pool:

Buffet:
---
Book now for great deals!!

Other Hotels like Vegas Club Hotel
| | |
| --- | --- |
| | |
| | |
| | |
Vegas Club Hotel Deal Finder
* Room Rates shown above reflect the average nightly rate for a 2 night stay with the calendar date as the check-in date, our visitors should verify actual rates, promotions and deals directly with the hotel as we make no guarantees regarding rates, but only provide them as a convenience.
Book Now
The Skinny
If you're on a tight budget, aren't looking to impress someone, don't mind a little grime and are willing to walk elsewhere for some meals, then this might be okay. The (Las) Vegas Club Hotel is often cheap, but also poorly-maintained. Its current owners stripped it of the "Las" for unknown reasons, but are too cheap to change the signage. The whole place is as depressing and rundown as a casino gets. The casino has some good low limit gaming though, so that's a plus.
Reviews
Most Recent Reviews
Our user reviews are from real registered users.
Quick Facts
Near Attractions
Check-in at 4pm
300+ Rooms
Check-out at 11am
High-Speed Internet
On-Site Restaurant
Near Restaurants
Check-In Age - 21+
Info
Location:
18 East Fremont Street
Las Vegas, Nevada 89101
View Map
Website:
https://www.vegasclubcasino.net/
Room Quality:
The Vegas Club Casino and Hotel Las Vegas has fair to poor rooms with few amenities and newer carpet (but newer nothing else). The rooms in the North Tower are bigger and slightly nicer, but are still pretty basic and considerably worn down. The beds are beat to the point of sadness. The south tower rooms are okay but often more threadbare and have some seriously outdated furniture. In either tower, the king bed rooms have a sitting area with a sofa. There is a vanity desk in the room and the bathrooms are fair-sized. The two-bed rooms have two queens. The Vegas Club Hotel charges more per night for the "Deluxe" rooms and for North Tower, but nothing here is either deluxe or worth paying much extra for. If your main concern is just a place to rest your head and you don't mind the occasional clogged drain or wheezing AC, welcome to the (Las) Vegas Club Casino Hotel.
Service Quality:
The service at Vegas Club Casino and Hotel Las Vegas is fair. It's a small hotel so check-in is quick so long as you don't get stuck behind a tour group. The place feels understaffed, so employees may act indifferent or preoccupied.
What You Get Bottles of in the Bathroom:
They have bars of soap and bottles of cheap shampoo which, on our last trip, they did not replenish, and yes, things look to be about that bleak here.
Clientele:
Lots of people who would describe themselves as "regular guys," bargain hunters and typical middle-class Downtown folks. The Vegas Club Hotel is no nonsense, and it attracts people who want Vegas for what's outside, not inside, their hotel rooms.
How's the Pool?
The Vegas Club Casino and Hotel Las Vegas has no pool of its own, but guests can use the pool at the Plaza across the street. That is, when it's open. It isn't right now because of Plaza renovations. They also send you over the the Plaza if you want a sports book. Lucky's race and sports book is alright, and unlike the pool it is actually open, but if you want real action you might want to try the Strip instead.
Resort Fee:
Hahaha yeah right! Resort fee for what?
Is it Worth It?
No, plain and simple. It's super cheap but the hotel should pay us to stay here.
Hotel Amenities
Air-conditioning
ATM/Banking
Ballroom(s)
Bar/Lounge
Conference room(s)
Event Catering
Free Fast Internet
Free Guest Parking
Parking Garage
Security Guard
Table Games:
The sad, rundown casino at Vegas Club Hotel has a small pit with blackjack, craps, roulette and 3-card poker. They have some weird blackjack rules at a few tables. The pit is usually pretty quiet, except for the "sexy fetish pit" where you can be dealt to by a naughty nurse, a deceptively seductive librarian, or maybe even a balding, overweight lady with false teeth. What? We all have our own fetishes.
Bet Minimums:
Blackjack tables are as low as $3, but it's 6:5, as is the Fetish Pit. Craps is sometimes $3 with 345x odds. Roulette can be as low as $1 chips. Nothing really special here, except that some of the blackjack games are good.
Machines:
Vegas Club Casino and Hotel Las Vegas has lots of machines from a nickel to a dollar. There are some full-pay video poker machines scattered about. There is a casino area in the rear of the property that has a few slots and a ton of unused space. It is deathly quiet back there.
Cocktails?
Fair. Vegas Club Casino and Hotel Las Vegas is quiet a lot of the time, so maybe they don't hire too many cocktail waitresses. If you do get a waitress to serve you, tip her so she remembers you. If you can't flag down a waitress, the bars have drinks at reasonable prices.
Who Gets Comps?
At blackjack, a $15 player can probably get a comp if he is persistent. Sounds fishy, but then, we've never had more than 10 bucks total to spend so we can't say for sure. The Play Club is a fair slot club.
Vegas Club Casino and Hotel Guest Rooms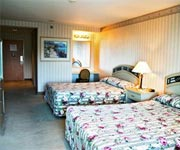 Standard Room
The Standard Room at Vegas Club Casino Hotel comes with one king or two queen beds, TV with cable/satellite, black-out drapes (we recommend closing these at all times and never turning on the lights, you don't want to know what's crawling around your room), pay movies, clock-radio, and air-conditioning. The rooms are decent size but amenities are bare.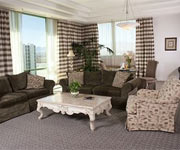 Suite (Available in Mini or Full size)
Try not to be blinded by the ridiculous floral pattern comforters, they are tacky even for us. The Vegas Club Vegas Hotel Suite comes with one king bed, TV with cable/satellite, pay movies, voice-mail, iron/ironing board (that would suck if there was an ironing board but no iron, who does that?), black-out drapes, and a refrigerator upon request.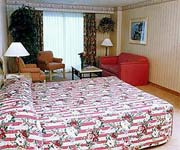 North Tower Standard or Deluxe Room
The North Tower at Vegas Club Casino Hotel is considerably newer and cleaner than the rest of the hotel but trust us, it's not a huge jump from mildew mansion. These rooms come with either one king bed or two doubles and have all the basic amenities: TVs with cable/satellite, pay movies, iron, wireless Internet, and black-out drapes. We have yet to figure out the difference between a standard and deluxe room, Matt came down with scabies before we could check it out.
User Average Review
Overall:
Service:
Cleanliness:
Location:
Room Quality:
Based on 1 review
Rating Distribution
100.0% recommended it
Vegas Club Casino and Hotel Reviews