Family Friendly Hotels in Vegas
Four Seasons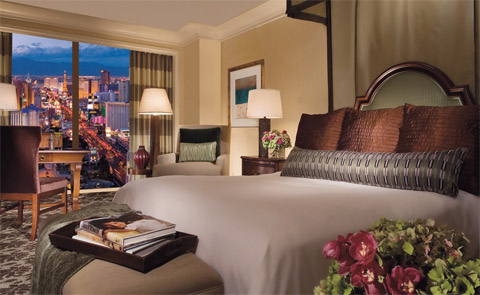 For Small Children
Mandalay Bay: Of all the family friendly Vegas hotels, this place may have the most kid friendly pools in Vegas. There are 11 acres of water fun here that include 8 pools, a lazy river and a wave pool. Enjoy a nice day at the beach in the middle of a hot desert day. When you're not outside enjoying the water with the family, there's the Shark Reef Aquarium and coin museum that many kids enjoy, as well as the kid menus in most of the 20 restaurants at Mandalay Bay.
Circus Circus: Forget going to Disney or Six Flags for a vacation, because Circus Circus has a full amusement park in Vegas, making this another one of the most family friendly Vegas hotels. Adventuredome at Circus Circus is a 5 acre indoor theme park with roller coasters, a water park, a sling shot and a carousel. There are performances every hour on the Circus Circus Midway Stage and your kids can dazzle you long after the trip is over with goodies from the magic store. It's not as cheesy as it might seem. Definitely not any cheesier than posing with Goofy all day long. There are tons of family friendly restaurants like Rock & Rita's. You don't even have to get a room, because the Circusland RV Park will accommodate the family RV.
Stratosphere Hotel and Casino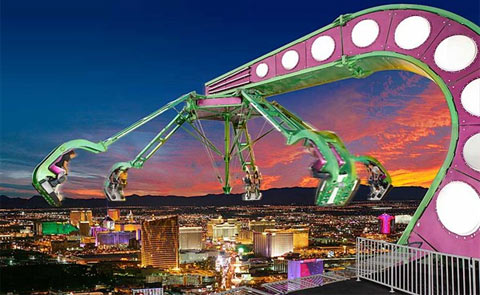 Themed Family Friendly Hotels
Family friendly Vegas hotels aren't just about the kids. There are places to stay with fun for the whole family. Actually, that's pretty much every place in Vegas, but these hotels have fun stuff for kids and the adults that are accompanying them.
Caesars Palace: Here, there are plenty of kid friendly forum shops, as well as an aquarium right outside the Cheesecake Factory. The hotel has large rooms and a fun pool, as well as child care/babysitting services for when you need alone time away from the little ones. Caesars Palace has one of the biggest and best spas for mom, and nightclubs like PURE for anyone over 21.
Excalibur: Here is a medieval castle themed hotel that somehow throws in attractions that make it another one of the better family friendly hotels Vegas has with features like the arcade, pool with a waterslide and a 4D SpongeBob Squarepants experience. Hopefully your kid will get how that fits in with the theme because we sure don't. Many enjoy eating with their hands at the Tournament of Kings medieval jousting dinner show though. And for all you older kids, there's beer pong, risquee shows and pole dancing at the Party Pit and Thunder From Down Under.
Family Friendly Hotels in Vegas are all over the place, believe it or not. There are some Las Vegas hotels where you don't actually have to take your clan through the smokey casino to get to the elevator and to your room and the only pool isn't topless. And then there are some Vegas hotels that have fun options for the kids, but just as many things to do for the adults looking for an R-rated Vegas vacation. Many of the family friendly hotels in Vegas have Las Vegas coupons to encourage the families to come to Sin City instead of it always being a bachelor destination.
Hotel Information
Hotel Rates

Address:

4949 N Rancho Dr Las Vegas, NV 89130

Address:

3325 Las Vegas Blvd. South Las Vegas, NV 89109

Address:

4500 W Tropicana Ave Las Vegas, NV 89103
Family Friendly Hotels in Vegas aren't as hard to come by as you might think. In fact, there are lots of family friendly Vegas hotels in this land of raunchy and smokey casinos and strip clubs. Their status as family friendly depends on whether they provide access to the rooms and pools that don't lead you straight through the casino floor, have larger rooms to accommodate bigger families without booking extra rooms, or provide an overload of fun for members of the family of all ages in Vegas.
Of all the family friendly hotels in Vegas, the ones on the Las Vegas Strip have the most to offer. The hotels out in the middle of nowhere are far less smokey, but they are also far more boring. You're out in the middle of nowhere and far more limited to the most popular Las Vegas attractions. Of course, these hotels are much more quiet and you may worry a little less about your kids running off without being able to find them, but don't worry, they have pretty good surveillance.
Many family friendly hotels Vegas has added over the years have attractions to keep the kids entertained all day long, and then casinos and clubs to keep everyone of age entertained until the wee hours of the morning. There are also plenty of spas in Vegas and places to shop when you need some relaxing time away from everyone. These family friendly Las Vegas hotels have thought of every complaint you'd have when you vacation with your kids and provide proper getaway options, from babysitting to finding the best Las Vegas deals. So don't hesitate to load everyone up in the minivan next time you head out to Sin City, because these family friendly hotels in Vegas have everyone covered.