Skipping Coachella? Here's a few headliners coming to Vegas this week
---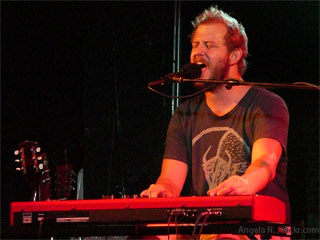 When tickets for the Coachella Music Festival went on sale months ago, it became clear that music-loving Cheapos like you and I would be forced to make a decision: scrap together the $350+ it would take to get through the concert gates by performing street tricks and hitting up our (respective ... kinda') mother-in-laws for some quick cash, organize a Danny Ocean-level break-in plan, or simply skipping the event altogether in hopes that our 2013 bank accounts would be more fruitful. (A pipe dream, really.)
Well, it's April 12th and we're blogging at home while all of our friends pack up for the first of two magical (and yes, we mean the abundance of recreational drug use) weekends in Indio, California. You can guess what we decided to do ...
(Bangs head against wall. Repeatedly.)
However, as the April concert schedule in Las Vegas began to blow up, it turned out that we may have not been so stupid after all. In fact - we might have been correct all along.
What do we mean?
Well, since the behemoth music festival now takes place over two consecutive weekends, Coachella headliners and second stage rising stars are left with a week or so of free time in the Las Vegas and SoCal areas. Consequently, Vegas has been graced with a whole bunch of great shows starting today and extending through the coming week, all of which come at a FRACTION of the cost of a Coachella ticket.
Here are a few of the highlights, according to Casino Boy (and yes, he's in a bit of a Lana Del Rey/Shins/M83 phase right now):
Bon Iver plays TONIGHT at The Joint at the Hard Rock Hotel and Casino. Actually - this show is sold out. Sorry Cheapos - no bedtime music for you.
The Shins will perform at The Boulevard Pool at The Cosmopolitan tomorrow night. It should be a "Simple Show" if you catch my drift. Wait ... you don't? Oh, well.
Grace Potter brings her legs - and (perhaps just as importantly) her band The Nocturnals to the Aliante Station tomorrow night, followed by another gig in Henderson next Friday night at the Green Valley Ranch Resort.
Noel Gallagher (the good Gallagher brother) brings his new band, the High Flying Birds, to The Pearl at the Palms on April 20th. Actually, let's go ahead and imagine what it would be like to be at this show: "4/20, bros! ... Play 'Wonderwall!' OK, OK ... I'm leaving." Wow, that was quick.
Florence Welch of Florence + The Machine brings her bright orange hair and HUGE pipes (and, of course, The Machine) to The Cosmopolitan next Saturday (4/21) to 'Shake it Out' with Vegas party-goers, proving finally that the spring's "Dog Days are Over"! See what we did there? Yeah ... that was bad. Moving on.
REO Speedwagon, Styx and Ted Nugent will play Planet Holl- ... Wait, they're NOT part of the Coachella line-up? Whhaaaat?
Finally, Madness - yes, that band that sang "Our House" years and years (and years) ago - will play the House of Blues on Saturday. And yes, they ARE on the Coachella lineup. Seriously - if you don't believe us - check out the entire Coachella lineup for yourself.
So there you are, Cheapos. Hopefully, it won't be as lame a weekend as you were anticipating. And if it is, well, don't blame us.
Now, if you'll excuse us, we have to find a 'sitter for Casino Boy ...