Celebrate Oktoberfest in Las Vegas
---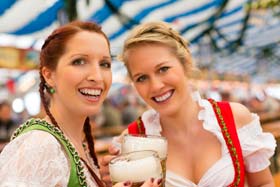 Oktoberfest in Las Vegas is a beer-infused, brat-filled party taking place at various locations throughout the upcoming month. If you're in town this October (and you like to drink), there are some can't miss Las Vegas Oktoberfest parties taking place on and off the Strip through Halloween.
Here are a few of the Oktoberfest highlights in Sin City, whether it's drinking, eating or listening to live German music you're most excited for! (We won't judge if you prefer the last one.)
Okbtoberfest 2014 Las Vegas
Hofbrauhaus Las Vegas
No conservation about the best Oktoberfest parties in Las Vegas is complete without mentioning Hofbrauhaus, located on Paradise Road. Hofbrauhaus will be going from September 13-October 31 this year and will be kicking off their Oktoberfest with a show by Siegfried and Roy at 7PM. Don't miss out on their long list of entertainment during this years Oktoberfest!
Hofbrauhaus will be tapping fresh kegs imported straight from Munich, Germany with the festivities beginning at 7pm. However, if you happen to be in Sin City in the middle of the week, you can visit Hofbrauhaus on weekday nights to enjoy live music from different bands including Kreuzberg Rebellen. Don't be surprised if you encounter a celebrity host at tone of these keg tappings, too. (Here's a link to the Hofbrauhaus Events Calendar.)
Golden Nugget Oktoberfest Pool Party
As the finale to their Fall Beer Festival on October 10 & 11, the Golden Nugget is inviting over 150 domestic and imported beers - plus tons of Oktoberfest fare, live entertainment and (hopefully) some beach bodies - poolside on Saturday. We like this Las Vegas event a lot since admission is FREE and the party rolls from 3pm to 9pm. However, you may want to rethink that second third Bratwurst if you plan on partying shirtless. A little advice, from Casino Boy to You.
Dog-Tober Fest at Big Dog's Draft House
Last but not least, this Oktoberfest celebration at the notorious Big Dog's Draft House in Las Vegas is a little off the beaten path, but the beer and brat selection make it worth the trip. Located northwest of Sin City, the Dog-Tober Fest kicks off Saturday, October 11th at 3pm. Admission is FREE and a big slice of the proceeds are going to charity, so you can feel good about ordering yet another of their Chocolate Lab beer since a $1 of your purchase goes to the Animal Foundation. You can also enter into a ton of great giveaways and mix it with up locals and tourists alike for something completely different on your upcoming Vegas getaway. Donations of dog leashes & animal toys are greatly appriciated and you'll receive 5 extra tokens with Festival Package Purchase!
Freakin' Frog
Cheapos, have you noticed that this dive bar near UNLV seems to show up every time we make a list about drinking? There's a reason for that; it's the variety, Cheapos! Well, that and the prices (cheap) and atmosphere (a bit college-y, but overall awesome). According to Las Vegas Weekly, you can expect 15 festival-inspired beers - plus another 5 Oktoberest recipes - through the end of the month. However, LV Weekly says the best date to pop into The Frog is October 1, when they tap what their owner, Adam Carmer, delcares as the "only wooden kask in the state."
There you have it, Cheapos; the shortlist of awesome Las Vegas Oktoberfest parties to choose from. Tell us what - and where - you like to drink during Oktoberfest in the comments section below!