Texas Station Vegas
Remember the Alamo! And double slot points day, too!
---
A Quick Look
Location: Off-Strip
Hotel Class:

Room Price:

Hotel Size:200 rooms
Casino Size:91,000 sq. ft.
Gaming:Yes
Nightlife: No
Pool:

Buffet:
---
Book now for great deals!!

Other Hotels like Texas Station Vegas
Texas Station Vegas Deal Finder
* Room Rates shown above reflect the average nightly rate for a 2 night stay with the calendar date as the check-in date, our visitors should verify actual rates, promotions and deals directly with the hotel as we make no guarantees regarding rates, but only provide them as a convenience.
Book Now
The Skinny
Texas Station Gambling Hall and Hotel Las Vegas is a mid-level Station Casino, which means stuff that appeals to locals and regular Vegas visitors, such as clean, cheap rooms, decent video poker, and no-frills food. The stars at night, shine...well, just the same as anywhere else in Vegas.
Reviews
There are currently no reviews!
Be the first to write a review!
Write a review
Our user reviews are from real registered users.
Quick Facts
Check-in at 3pm
Check-out at 12pm
200+ Rooms
Check-In Age - 21+
Parking
On-Site Restaurant
Info
Location:
2101 Texas Star Lane
Las Vegas, Nevada 89032
View Map
Website:
www.stationcasinos.com
Room Quality:
Just like its Station brethren, Texas Station Gambling Hall and Hotel Las Vegas offers big old comfy rooms for a reasonable rate. Texas Station Las Vegas has all the basic amenities and a little Southwest flavor, but you'd be hard pressed to tell you were supposed to be in Texas by looking at it. The bathrooms are nice: single sinks and tub/shower combos. The linens and furniture are a cut above average.
Service Quality:
Great. Unlike people from the state which shares this joint's name, the staff is friendly, not thin-skinned, and not suffering from delusions of grandeur due to the size of the land mass which they call home. Remember though, that this tiny Vegas hotel is not big on hotel amenities. There is no spa, but there is a movie theater. Check-in is a breeze, once you find the well-hidden lobby at the Texas Station Las Vegas hotel.
What You Get Bottles of in the Bathroom:
Shampoo, conditioner and lotion. Nothing to get too excited about.
Clientele:
Locals and tourists come here looking for that country western feel. Mostly it's older locals drawn by the bingo or who don't mind gambling in this mediocre casino. Some might say if you don't collect a Social Security check, don't bother. This is a good place to take mom and grandma when they come to visit. Especially if their agoraphobia would make the bright lights of hotels on the Vegas Strip a living nightmare to them.
How's the Pool?
With only 200 rooms they were not hard pressed to put in a fancy pool area. It's good enough for swimming, but nothing out of the ordinary. Don't think you can practice your synchronized swimming here. If a fabulous pool is your main concern, shoot for a place on the Strip.
Resort Fee:
Texas Station Gambling Hall and Hotel Las Vegas is $14.55 per night, which gives you internet access, a game of bowling for two, a 10% gift shop discount, an outlet line pass, a daily newspaper and unlimited local and long-distance calling. You can call some Texans and see if they think Las Vegas is representing them well.
Is it Worth It?
We suggest coming for the casino or the food, maybe even the entertainment in general. The rooms are fine, but you'll find better rooms in better places for about the same price.
Hotel Amenities
Concierge Service
Bar/Lounge
Room Service
Restaurants
Free Guest Parking
Parking Garage
Ballroom(s)
Conference room(s)
Event Catering
Business Services
Express Checkout
Security Guard
Multilingual Staff
Dry Cleaning
Shoe Shine
Wedding Services
Fitness Center
Air-conditioning
Babysitting
Table Games:
Blackjack, craps, roulette, baccarat, Let It Ride, Pai Gow and lots of oddball games. They have it all just sitting there waiting for you. They have sexy blackjack dealers on weekends, but we wish they had a table where you could gamble while riding a mechanical bull.
Bet Minimums:
$3 6:5 blackjack, $5 3:2 blackjack, and $3 craps with 10x odds. Roulette chips can be had for as little as $1, with a $4 minimum bet. It's a clean casino with okay ambiance, but there are cheaper games around, especially if you avoid the 6:5 blackjack.
Machines:
Lots of newer slot machines. Not the best video poker, but we did see some full-pay Double Bonus video poker in quarters, and that's a good sign. The high-limit slots go all the way to $5.
Cocktails?
Good. We tried to get Lone Star beer, though, and they didn't have any. Minus points for inauthenticity.
Who Gets Comps?
$25 bettors, get ready to strap on the feedbag. $50 and up, go ahead and play until you get sleepy, because you'll probably get a room. The rest of you bums, be happy with your free drinks. It shares its slot club with its Station Casino brethren and points earned at any can be redeemed anywhere within the chain. Even though it's not a very generous slot club, this policy makes it handy.
Number of TVs:
About 30. There are two big screens, but they use them for racing and sports, so don't bother bringing your Star Wars video here and asking them to play it for you. Twelve TVs are for sports and 18 are for racing.
Number of Seats:
Around 207, with 120 for racing and 87 for sports. These are average seats, but at least the race bettors get desks to write on or carve the name of a lover. They also get individual TVs. The sports bettors are out in the open like antelope on the Serengeti, but they are nicer, plusher and have large writing surfaces.
Number of Betting Windows:
Texas Station Las Vegas has nine windows for sports and another nine for racing with slate boards.
Free Drinks?
You bet! Suck 'em down, ladies and gentlemen.
Snack Bar?
No, so eat before you get here.
Other Notes:
This is a massive room off the side of the casino. The locals are thick and they all seem to know each other. Texas Station Las Vegas is just one big happy family, but they still let the new people stop in for a meal or a friendly game.
Number of Tables:
Texas Station Vegas Hotel and Gambling Hall has eight tables with one or a few going at most times. Weekends will see many going.
Comfort of Chairs:
Average. Your tush will not sing with glee and it won't complain. We suppose that can be a good thing if you need quiet while you play. It's also good for the people around you, because singing tushies are sort of creepy.
Closed Room or Open to Casino?
Off the casino floor but not closed.
Game Spreads and Limits:
Texas Hold-em at 2-4 and maybe 3-6 or 4-8. Omaha 3-6 at night. Also on weekends they may get a no-limit game going.
Beginner Games or Classes:
No real lessons, but you can hit up the floor supervisor in the mornings when it's slow.
How Crowded is the Room?
Texas Station Casino and Hotel Las Vegas gets busy on weekend nights as the locals come in, but most of the time you can get into a game with little or no wait. If you want, call an hour ahead and get your name on the list.
Comps?
Free drinks while playing. They rack up a dollar an hour on your Boarding Pass slot club card.
How Good Are the Players?
Locals by the pound. That doesn't mean they're good, but they are usually tighter than the out-of-town yahoos on the Strip. The low-limit games seem to get wild on weekends, but not weekdays.
What Else Do I Need to Know?
They've got one of them there Station-wide progressive jackpots, pardner. The tables are non-smoking, which is just about the least Texan thing we've ever heard of. This room is not particularly popular, which is strange because they call it Texas Hold 'Em, don't they?
Texas Station Las Vegas Guest Rooms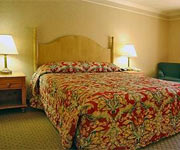 Standard
Texas Station Casino and Hotel Las Vegas really only offers up a standard hotel room choice. Choose from either one king or two queen beds, but every room gets floor-to-ceiling windows. These windows are really the only things that make these rooms stand out from any other hotel room in any other city, even though all you really get is a view of the pool. Whoop-de-doo.
User Average Review
Overall:
Service:
Cleanliness:
Location:
Room Quality:
Based on 0 reviews
Rating Distribution
0.0% recommended it
Texas Station Las Vegas Reviews
There are currently no reviews! Be the first to write a review!
Write a review