Need a hand? Here's how to pack for your Vegas Vacation
---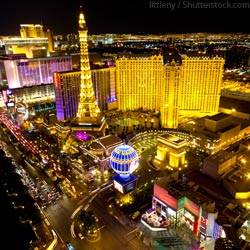 Whether you're practically a regular in Vegas or it's your first time, we've all had trips where we wish we had brought that one item we were on the fence about for days, brought a million extra clothes when we were only planning on staying for a night, or packed for the completely wrong season.
Hey, it happens; when you're expecting one thing in Vegas and you get another, it's a total letdown for both your agenda and your wardrobe. Obviously, no one knows exactly every place they're going to go while they're on vacation, making packing a bit of a guessing game. (As in, "I guess I could bring that...")
Here is what we do when we're packing for Vegas to make sure the only regrets we have in Sin City are those brought on by our own misjudgments at the time, not before we even order our first drink.
Make a List, and Check it Twice
When packing for Vegas, it's important to keep your own to-do list in mind... not someone else's. Don't bring a bunch of fancy dresses if you're going to be sight-seeing, hanging out with other Cheapos in dive bars and hiking all weekend. (Seriously, you're going hiking all weekend?) Pack for your most likely occasions, people.
For those of you who have been to Vegas before, you know that your to-do list can sometimes get muddled with your too-much-list. Happy hours that lead to a few too many Margaritas, an unexpected trip to a fancy restaurant, too many hands at the Blackjack table, too many cocktails with the newly appointed dime (after too many cocktails already) you've been talking to for 3 hours - all of these things can knock some of the planned things to do in Vegas off your list. The good news? You can wear essentially one outfit for all of these activities; the trick is to pack something fit for all of occasions. Ladies should always pack an LBD (Little Black Dress); gentleman, how about something with a collar? Let's keep it casual, just not too casual... Speaking of casual, guys, if you're thinking of bringing a pair of your favorite grease stained 80's jean cut-off shorts, think again. Fanny pack is optional and at your own risk.
Shoe Selections
Of course if you're planning on going to a nightclub or even stepping foot near one of the luxury hotels like Aria (on the Strip), you're going to want to bring dressy shoes, but do not let those be your only shoes. Generally, people do a lot more walking than they anticipated they would. No hotel on the Vegas Strip is as close as it looks. It's a good idea to bring more than one pair of shoes, something ultra chic and something like a sneak(er)... Okay, we'll work on that one. Sandals for pool-side.
Nightclub Attire
If you're planning on spending any time at all in one of Vegas' nightclubs, you need to know that most of them do have a dress code that is enforced. Sometimes it's better just to bite the bullet and wash your hair (we know, it must be excruciating spending that extra 2 minutes in the shower and having to let go of a few days of grease) instead of just trying to cover it up with a hat. Most things that don't fly in Vegas clubs are hats, ripped jeans, brown shoes with black pants (that's more for your own sake), shorts, jerseys and muscle shirts are all on the no-fly list at most Las Vegas clubs. We like this guide for dressing for the club in Vegas, so obviously we can pass it on to you.
RELATED: Check out the hottest, best nightclubs in Vegas...
Pool Party Necessities
Vegas is hot. You know why? Because it's in the freakin' desert, that's why. The sun's a-blazin' most months of the year. Since you don't want to be a lobster the second day into your trip, make sure to pack sunscreen. (Checked bags only. Seriously, FAA?) Remember - it's completely un-sexy to be the tomato in the room. And remember sunglasses, you don't want to be the goob squinting up at the cocktail waitress.
Bringing a Camera
A risky decision. You might lose it, come home with some incriminating photos, or use it to remember what happened last night. If you know that you're going to want to document your efforts in Vegas, bring your camera. If you are one of those people that likes the idea of having a camera more than the actual taking of pictures, a camera in Vegas might just be weighing you down. And if you're a guy, remember that at least one lady in your party will be snapping pictures for Facebook all night/weekend. Just mootch off hers.
Our Friends, the Layers
Vegas is one of those places that can be crazy hot in the day and surprisingly chilly at night. (Again, it's the desert.) If you're not there during the summer, or even if you are and get goosebumps at the thought of the sun going down, be sure to bring a something warm for the cooler nights in Sin City. It also rains a bit during the winter months, so check the weather forecast when you're planning your packing as well!
Hangover Pills
Crucial! Bring all the reinforcements you can to help keep the party going through the weekend. We recommend ginseng pills or those awesome little Party Smart vitamins.
(Editor's Note: We are NOT - repeat - NOT doctors. Do not take these recommendations as medical advice. Just know that we've, um, tested these little guys out and they seem to lessen the headache potential the following day. Hey, whatever it takes for you to not feel terrible the next day.)
Variety is the Spice of... Your Suitcase
It's never a bad idea to just bring a little bit of everything if you don't know what the heck you'll be doing. Something casual, something nice, something comfortable. There's three outfits that you can't go wrong with, and you've still got plenty of room in your suitcase to take home all the tacky Vegas shot glasses, souvenir cups, and something that probably has boobs on it.
Even for those of you who have never been before, it's universally understood that a Vegas vacation is not your typical vacation. Be prepared for the unprepared, even when it comes to your wardrobe! Don't be that one who has to buy an outfit at the place you thought was for "working ladies only" just so you can get into the club of your choice, or the one in a fancy dress and heels walking down the Strip during the middle of the day because "you thought that's how people in Vegas dress." Believe us, the fashion police do not patrol the streets of Vegas, so always choose comfort over style unless you're going somewhere with a dress code. And guys, if you plan on clubbing, bring long pants.
Let us know what you can't live without when you go to Vegas in the comments section below, or on Facebook, Twitter or Google+. A man of many medias, Casino Boy is!