NBA Sports Betting: Getting Paid During the Regular Season
---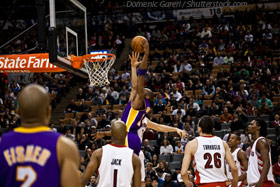 It's official: the NBA season has begun Cheapos... and so has the time for NBA sports betting in Las Vegas! Casino Boy has been patiently waiting for tip-off since those guys from South Beach showered in NBA Finals glory and now it's finally here: a new season and another chance to win big on a FULL 1,230 regular season games!
Before we get into our picks for the regular season, let's quickly go over how NBA betting works. If you're familiar with NFL sports betting then you're ahead of the curve and can probably skip this (well, look at you!). Just like football betting, to win BIG money you're gonna have to consider more than which team will come out with the "W". The highest payouts are for covering a point spread or an over/under on the point total. So for example...
A bet on last night's NBA tip-off game between the Boston Celtics and the defending champion Miami Heat could have been placed three ways:
Point Spread: The point spread for last night's game looked like this: Boston Celtics (+6) vs. Miami Heat. This means that to win cash you'd either have to bet on Boston losing by less than 6 or Miami winning by more than 6. Last night's final score was Miami 120 Boston 107; Boston was the loser by 13 points (more than 6) so anyone who had bet on Boston to lose by less than 6 is also a loser. Sorry bro! These are the hardest bets to win but offer the highest payouts.
Point Total: Point total is an over/under bet... pretty self-explanatory. For the Miami-Boston game, the over/under was 187.5, meaning you could either bet on the combined point total of both teams to be higher or lower than 187.5.
Game Winner: Bet on who will win the game. It ain't rocket science!
Get it? Got it? Good.
So without further ado, let's take a look at a few teams that Casino Boy will be recklessly responsibly placing bets on throughout the regular season and up until the playoffs next spring.
Chicago Bulls: The Bulls limped out of the first round of the playoffs last year after their star Derrick Rose went down with a torn ACL. Riiiiip! There's a chance Rose could miss the 2012-2013 season... but if he manages to get back on the court, we like the Bulls for a flurry of late season wins as they attempt to challenge the Indiana Pacers for division champs. Casino Boy will be placing NBA sports bets on the Bulls when they play elite eastern conference teams like the Heat and Celtics. They'll likely be the underdog in these match-ups but they have traditionally done well against good teams, finishing 5-3 against the Heat and Celtics in last year's strike-shortened season.
Denver Nuggets: No team shot better within the 3-point perimeter last year than the Denver Nuggets and we're looking for the same efficiency to continue this year. Their defense struggled but the off-season addition of Andre Iguodala should help out a lot on the wing and in late game situations. The Nuggets are in the same division as the always-dangerous San Antonio Spurs and the young Memphis Grizzlies, so there will be plenty of tight games to bet on this season. We expect the Nuggets to do a good job covering spreads as a result of their high shooting percentage and improving defense. Plus, this bench is deeper than any other NBA team!
Brooklyn Nets: The new look Brooklyn Nets are a great team to put cash down on for some NBA sports betting in Las Vegas! With all of the attention in the Atlantic Division on the aging Boston Celtics and the high-powered Knicks, the Nets should be able to pull out some big W's. Place money on the Nets when they're going up against teams who might take the night off like the Heat or Los Angeles Lakers. These games will be much more important for the Brooklyn Nets... especially early in the season.
Go forth and gamble in Las Vegas, Cheapos. Sin City has some of the best odds for sports betting in the country and you can drink in the street! Casino Boy has the hook-up on all the best Strip hotel deals so that you can have plenty of money to put on NBA sports betting in Las Vegas. Follow Casino Boy on Twitter, Facebook and Google+ for the skinny on all things cheap in Las Vegas!