FIREFLY: Best Las Vegas Restaurant for Tapas & Drinks in 2013
---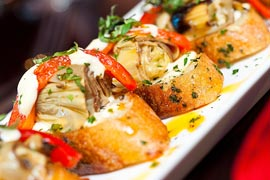 Casino Boy can't get FIREFLY off his mind. While he usually sticks to casino tables and the hard stuff, that white sangria from Firefly Tapas Kitchen & Bar has stolen Casino Boy's heart. With delectable tapas style plates and delicious fruit infused beverages, cheapos can have their fill at this Las Vegas restaurant without paying Las Vegas hotel prices. Plus, with Vegas happy hour rates that can't be beat, Firefly has swept Casino Boy off his feet. CheapoVegas.com has chosen Las Vegas Firefly as the best restaurant of 2013 for tapas and drinks, and here's why:
Las Vegas Food: Casino Boy's eyes are always bigger than his stomach when he goes out to eat in Las Vegas (even though his stomach is pretty big too). He's also cheap, and ordering multiple items from the menu at a typical Vegas restaurant will definitely break the bank. Luckily for Casino Boy and all the other cheapos out there, Firefly tapas mean even a cheapo can try out different plates. With their tapas, Spanish for small plates (Sí, Casino Boy habla espanol!), Firefly allows customers to savor a variety of food, all with quality ingredients and great value. None of the tapas are priced over $10, and going with a date, friend, or group is the best option since you can order a variety and all get to try a multitude of flavors. The reasonably priced and delicious food means this restaurant tends to be busy, so if you don't want to wait for a table, make a reservation! While their long tapa menu includes a ton of options, here are Casino Boy's favorite items:
Chilled Tapas:
Artichoke Toasts ($4.5)
Tuna Tartare ($8)
Tomato Bread ($4.5)
Hot Tapas
Stuffed Dates ($4.5)
Stuffed Peppers ($7)
Mushroom Tart ($7.5)
Seafood Tapas
Baked Filets of Tilapia ($6.5)
Camarones a La Diabla ($10)
FireFly Fish Sticks ($6.5)
Meat & Poultry Tapas:
Empanada ($5)
Chicken and Chorizo Stuffed Mushrooms ($5.5)
Filet Mignon Sliders ($7.5)
Desserts
Banana-Nutella Sandwiches ($6)
Chocolate and Cherry Bread Pudding ($5.5)
Caramel Flan ($4)
See the full menu here: http://fireflylv.com/menu.html
Drinks in Vegas: Just as popular for their drinks as their food, Firefly knows how to make killer cocktails and the best sangria Casino Boy has ever tasted. I'm not talking about a bit of fruit thrown into some wine...Firefly has the real deal. Choose from red, white, or sparkling sangria made from the wine, brandy, and fresh fruit all marinated for a minimum of 3 days before being served. Don't enjoy fruity beverages? Casino Boy is quick to judge and will probably call you boring, but you can still order beer for cheap too ($4 & $5).
Las Vegas Happy Hour: This Vegas restaurant is affordable to begin with, but come during happy hour and you'll get some of the best cheap eats in Las Vegas. Happy hour at Firefly includes half off of everything on the menu! Here are the happy hour times by location:
Firefly on Paradise: Vegas Happy Hour Mon-Thurs 3pm to 6pm, or Fridays 3pm to 5pm.
Firefly Westside: Vegas Happy Hour Mon - Sun 3pm to 6pm
Firefly on Eastern Avenue: Las Vegas Happy Hour Mon-Sun 3pm to 6pm.
Atmosphere: Walk into Firefly and you'll already feel sexier. The lively atmosphere, sleek bar style tables, music, and Spanish feel make it a hotspot for those who want a Vegas dinner with an energetic ambience. Some nights even have live Spanish music!
This article was written by Ariel Abbott.
Heard of any other can't miss cheap Las Vegas restaurants? Let us know what you think of Firefly in our comments section below! Or, tell Casino Boy about your favorite cheap Vegas spots and he can write about it in a future post! To keep up to date on the best of Las Vegas for cheap, whether its Las Vegas hotels, shows, attractions, or cheap eats, follow the Casino Boy Facebook, Casino Boy on Twitter, and the CheapoVegas Google+!