Casino Boy breaks down the Kentucky Derby odds
---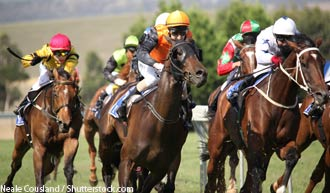 BECAUSE Casino Boy is a degenerate gambler and BECAUSE tomorrow's Kentucky Derby just happens to be the most bet-on race of the year in Vegas, we thought, 'What better time to break down the horses - and their odds - for the 2012 Kentucky Derby?' ...
Here's a quick breakdown of the Kentucky Derby 2012, compliments of Casino Boy.
The Favorites
Union Rags (9/2) & Bodemeister (4/1)
Derby favorites have NOT performed well over the last few Derbies. Last year's winner, Animal Kingdom, was a 21/1 underdog when the race began, Super Saver started the morning of the 2010 Kentucky Derby as a 15/1 underdog, and 2009's winner, Mine That Bird, had over 50/1 odds!
SO, the numbers suggest that a favorite is due for a win then, right? Well, not according to the sharps, who are looking for a little bit more value in the field in the mid-to-high odds. Then again, Rex Chapman picked Union Rags on the Dan Patrick Show this morning, so, there's that.
Casino Boy's Take: The only 'meister you should have anything to do with on Saturday is Jagermeister. If you're betting for a favorite tomorrow, make it Mayweather.
Strong Bets
Dullahan (8/1), Hansen (10/1) & Gemologist (6/1)
Casino Boy usually likes dipping below the 10/1 line to make a little money on the track, but there's some solid buzz surrounding both Dullahan and Hansen. The Baltimore Sun announced that, barring a setback today or tomorrow morning, Dullahan is their pick to win it. (Kiss of death.) However, The Sun also mentioned that a computer simulation (yeah, we're going there) likes 10/1 Hansen for the Derby 'W', so if you're a complete nerd there's clearly something to be said for that. And finally, Gemologist is 5-for-5 in his career, but it's hard to imagine a Derby winner with a name as terrible as Gemologist. (Then again, it wasn't long ago that Big Brown took home the roses.)
Casino Boy's Take: While we're hesitant about all three of these horses, we would be anything but shocked if a winner emerges from this group.
Our Favorite Underdogs
Creative Cause (12/1), Take Charge Indy (15/1), Daddy Long Legs (30/1) & Alpha (20/1)
Alright - we're pretty high on Take Charge Indy because of its fiery jockey (the legitimately crazy Calvin Borel) and recent Florida Derby win. However, if their "luck" is anything like that of the Indianapolis "Colts" this year, well then it could be a last place finish for this 15/1-shot. (Do you see what we did there? At all? Andrew Luck? Colts? OK .. moving on.)
Meanwhile, Daddy Long Legs has the second-coolest name of any horse in the Derby (behind Optimizer, obviously), and his odds have dropped steadily over the last month or so, though he's still a 30/1 long shot. Then, there's Alpha, who recently lost a close race to Gemologist and might be better for it, and Creative Cause, whose name sounds more like a non-profit in Vermont than a Derby challenger, but is actually a strong performer on the longer tracks.
Casino Boy's Take: Of this group, we'll go with the crazy jockey on the crazy horse - Borel and Take Charge Indy.
The Long Shot ... With a Shot
Done Talking (50/1)
Unlike the other long shots in the field (Liaison, Trinniberg, Rousing Sermon and Optimizer), Done Talking's resume suggests this 50/1 hopeful actually has a shot at the win. Seriously.
Done Talking took home the Illinois Derby (a 1-and-1/8 mile race, by the way) in April, and appears to get stronger the longer the race goes on. That bodes extremely well for a race like the Kentucky Derby, a 1-and-1/4 mile slugfest where any winner not named "Secretariat" tends to emerge on the stretch run home.
Casino Boy's Take: If you're looking for a long shot to drop a little coin on, Done Talking is your man. Err.. horse.
Our Pick
I'll Have Another (12/1)
Casino Boy's Take: Was there ever a question?
The Trifecta
Win: I'll Have Another Place: Take Charge Indy Show: Dullahan