CheapoVegas.com Reccomends Top Las Vegas Attractions for Thrill-Seekers
May 30, 2013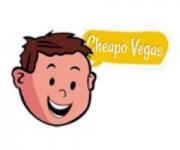 (PRWEB) May 30, 2013
Casino Boy is actually getting out of the casino for a change and heading to some of the most fun attractions in Las Vegas. Many Las Vegas hotels and venues offer thrilling things to do in Las Vegas that will be sure to scare the hangover right out of weary guests. Step away from the blackjack table and use that hard earned money for an unforgettable experience instead. Here are the top fun attractions at Las Vegas hotels for summer 2013:
Zipline at The Rio Las Vegas
This summer, The Rio Las Vegas Hotel and Casino will debut its new zipline called VooDoo. The 400 foot high zipline will catapult daredevils into the open air with a complete view of the Strip. Riders will fly between a launch pad at VooDoo Lounge at Masquerade Tower to the Ipanema Tower. This zipline allows for two riders at a time, so riders can conquer their fears alongside a companion. Also, the Vegas zipline is considerably longer than most because riders will be sent back up to the VooDoo Lounge with the help of a motorized pulley. At speeds up to 33 miles per hour, this thrilling attraction is a must. Riders can zoom over the Strip every day of the week from noon to midnight. According to Ariel Abbott, Editor of CheapoVegas.com, this is one of the most anticipated openings of summer 2013 for Las Vegas attractions. The attraction is said to open late this summer, and prices (like the zipline) may be pretty steep. Rates are expected to be $25 for daytime riders and $40 for the more spectacular nighttime view. But fear not, cheapos. Fremont Street Flightlinez in Downtown Las Vegas is only $15 before 6p.m. and $20 at night. Plus, discount "re-fly" and group rates are available. The budget friendly alternative will not provide the panoramic views of the Strip, but riders will be able to take in the Viva Vision canopy at 30 miles per hour.
SkyJump at the Stratosphere Las Vegas
The newest attraction at the Stratosphere Las Vegas is the ultimate ride for adrenaline junkies. Riders are placed in a harness before they take the 855-foot plunge from the 108th floor of the Stratosphere Tower. The only skyjump in North America, this tourist attraction in Las Vegas draws thrill seekers from around the world. Rates start at $109.99 to jump from the highest controlled free fall in the world. However, cheapos are still welcome at The Stratosphere where other rides such as Big Shot, X-Scream and Insanity cost only $15. The best deal is tower admission plus all day unlimited rides for $34, but that does not include SkyJump. Reviews claim the ride is completely worth experiencing at least once. Hotel guests get priority jump times, so try and snag a nighttime jump for the best view.
Drive a racecar at The Las Vegas Motor Speedway
This place does not just exist for EDC. Actually, this venue offers some of the most thrilling rides in Las Vegas. Guests have a variety of options to choose from at the Las Vegas Motor Speedway. Book a session at "Exotics Racing School" to drive a Ferrari, Lamborghini, Porsche, Aston Martin, Nissan GT-R or Audi R8 around the racetrack. Prices range from expensive to very expensive, but there is a pricing tool on the official LVMS websites. Also, don't miss the "Richard Petty Driving Experience". The cheapest price to drive a real race car is $499 but cheapos can ride shotgun for only $99. Come see why 30 million tourists come to LVMS every year to satisfy their need for speed.
Swim with sharks at Mandalay Bay
If gambling sharks aren't scary enough, hotel guests at the Las Vegas Mandalay Bay can actually swim with the real deal. Guests must have a diving licence to participate in the "Dive with Sharks" program. The four hour long experience in the Mandalay Bay Shark Reef aquarium will put divers face to face with more than 30 exotic sharks such as Sandtigers, Sandbars and White Tip Reefs. For $650, guests get SCUBA equipment and a video of their dive. Divers also can invite four guests to watch their adventure from the outside. Those who lack the guts, funds or diving license should head to "The Tank" at the Golden Nugget Las Vegas. The pool at the Golden Nugget in Downtown Las Vegas is a $30 million dollar complex that includes a three story water-slide through a 200,000 gallon shark tank. The pool is free for guests and $20 for non-guests on weekdays. Take a shark tank tour and then relax by the H20 Bar.
Sin City isn't all swanky clubs and expensive booze. Take a cue from Casino Boy and embrace the adrenaline and Las Vegas deals. Also, "I jumped off the Stratosphere" is a pretty unbeatable Las Vegas story.
This article was written by Lauren Yap, Travel Writer for Cheapovegas.com.
About CheapoVegas.com:
CheapoVegas.com is the online authority for all things fun and exciting in Las Vegas... and cheap, too! Hotel promo codes, show packages and tour deals are just a few of the travel aides to be found on CheapoVegas.com.
Location
Las Vegas Strip
United States