Labor Day Weekend in Las Vegas - The Cheapo Guide
---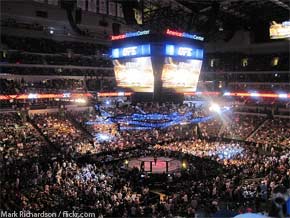 Labor Day Weekend in Las Vegas means that it's the unofficial end of summer in Sin City. This is especially "unofficial" in Las Vegas, where the temperatures will continue to hover around the 100-degree mark into October. But for season's sake, the first weekend of September means the end of summer-lovin' Sin City-style. (Editor's Note: We here at Cheapo Vegas love alliteration.)
As you've come to expect from Vegas, there's only one correct way to send off our favorite season: by partying our faces off, of course.
Yup - Labor Day Weekend is a 3-day free-for-all complete with some of the most anticipated parties of the year. While the room rates and the cover charges can get a bit pricey, there are some great cheap things to in Vegas Labor Day weekend as well. Here's our guide to the cheap - and not so cheap - Labor Day weekend festivities in Las Vegas...
The Cheap
DJ Atom E will be spinning at the Bond Club at the Cosmopolitan Friday through Sunday from 10pm- 3am each night. The house-heavy DJ will be hosting one of the best cover-free parties on The Strip deep into the A.M. this Labor Day weekend in Vegas.
Speaking of the Cosmopolitan (and speaking of free), indie up-and-comer Twin Shadow will be performing compliments of the Cosmo at the Book & Stage on Friday, Aug. 31 from 10:30pm- 11:30pm.
UFC 151 takes place Saturday, September 1 at the Mandalay Bay Events Center. This Labor Day event isn't cheap if you're attending in person but, if you just plan on catching the fight at one of the dozens of sports bars in Vegas playing the fight, you can expect to pay between $5 and $20 to get in the door. (Editor's Note: UFC 151 was canceled on Thursday, August 23rd. So basically, find something else to do! It's Vegas, this shouldn't be hard...)
Steel Panther - our favorite hair metal cover band regularly playing the Las Vegas Strip - continues their residency at the House of Blues on Saturday, September 1 at 11:30pm. Tickets start at $20.
Dee Snider of Twisted Sister wants to rock, so the Fremont Street Experience is going to oblige on September 1st. This FREE Vegas concert is part of their Rock of Vegas Summer Concert Series, and is set to begin at 9pm.
Not So Cheap
If you're a house music fan, then you'll want to make your way to XS at the Encore anytime between Friday and Monday night this Labor Day weekend in Vegas. The festivities begin Friday night when DJ Tiesto headlines the first of four straight nights of partying. On Saturday, Steve Angello takes the reins, followed by superstar David Guetta on Sunday night and the infamous deadmau5 on Monday. (Individual tickets range from $50 for men to $20 for ladies.)
Meanwhile, before the sun goes down, the best pool parties of the weekend include Recess Fridays at the Encore Beach Club, Ditch Fridays at the Palms and the Marquee Dayclub's usual Friday shenanigans. Each entry fee is in the $20+ range for guys, though we should warn that lines at these Labor Day pool parties in Vegas can become absurd. If you can, arrive early.
The Aces of Comedy are bringing the big guns (both metaphorically AND literally) to the Terry Fator Theater Labor Day Weekend, with Jay Leno set to headline on Friday night followed by Ron White on Saturday and Sunday. (All shows start at 10pm.)
And last but certainly not least, did you know that VIVA Elvis is set to close this Labor Day Weekend at the Aria?! Seriously - your last chance to catch this Cirque du Soleil classic before Elvis has left the building is August 31st. Tickets are still available - give this Cirque show the proper sendoff this Labor Day Weekend in Las Vegas!
Already got plans? Tell us what you'll be up to this Labor Day in Vegas on Facebook, Twitter or in the comments section below!