Rage All Night at the Best Las Vegas Halloween Parties of 2013: The Most Monstrous Halloween Parties and Nightclubs As Listed by CheapoVegas.com.
Oct 03, 2013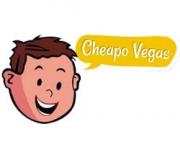 Halloween 2013 in Las Vegas is shaping up to be one of the most insane holidays of the entire year. Remember going door-to-door trick or treating every Halloween? Well the awesome grown up version is club hopping on Halloween! Except the costumes are wilder and thousands of dollars are up for grabs on Las Vegas Halloween 2013. Not to mention the DJs in Las Vegas on Halloween are some of the most famous performers in the entire world.
MGM Grand Las Vegas
•Hakkkasan
Hakkasan Nightclub at MGM Grand Hotel and Casino will transform into Forbidden City for the Halloween Las Vegas 2013. DJ Tiesto will be the main headliner during the two-weekend Halloween bash. Hakkasan Forbidden City will also host a costume contest on Oct. 26, 27 and 31 and participants are eligible to win a whopping $60,000 in cash prizes. Other headliners include Hardell, Calvin Harris and Dada Life.
Hard Rock Hotel and Casino
•Fetish and Fantasy Halloween Ball at Hard Rock
The infamous Fetish and Fantasy Halloween Ball at the Hard Rock Hotel and Casino is back on Saturday,Oct. 26. Costumes are a must and plenty of creepily sexy entertainment will entertain patrons for Halloween 2013 in Las Vegas. The party starts at 10:00pm and will feature DJ Darude.
•Body English Nightclub at Hard Rock
Looks like the 80s are making a comeback this Halloween in Las Vegas. Body English Nightclub is hosting Rock n' Horror 80's Halloween party on Halloween Night, Thursday, Oct. 31 at 10:30pm. Leigh Gorman of Bow Wow Wow and 80's Music Video DJ CB Shaw will provide the totally rad tunes.
Mandalay Bay Las Vegas
•Lightmare at LIGHT Nightclub
Looks like puns are also making a comeback this Halloween. Light will host its first ever Las Vegas Halloween party ever "Lightmare" from Oct. 30-Nov. 2 at Mandalay Bay Hotel. The three-day party will feature world famous DJs and of course, plenty of beautiful people. Watch Alesso on Wednesday, Oct. 30, Skrillex on Friday, Nov,1 and Alesso with Matt Zo on Saturday, Nov. 2.
Rio Hotel and Casino Las Vegas
•VooDoo Nightclub Las Vegas
VooDoo Rooftop Nightclub at Rio Las Vegas will host a rocking costume contest and Halloween bash on Oct. 31. Prize winners in different categories will be eligible for $2,000 in cold hard cash. There will also be drink specials on Halloween night so feel free to indulge in Sin City.
Bellagio Las Vegas
•Brody Jenner and Rob Kardashian host at The Bank
Here's a chance to finally keep up with the Kardashians at the Ghostbar Las Vegas is throwing a "Back to The Future" party and Las Vegas Halloween costume contest on Oct. 26. Then on Halloween night, head back to Ghostbar to party with the undead at Zombie Prom. Casino's Boy prom was scary enough, but relive the nightmare with a $10,000 Zombie Prom Costume Contest.
•The View
No, not the snoozefest TV talk show. The View is an ultra lounge located on top of the Palms hotel in Las Vegas. The View will host a "Thriller" b-boy dance battle on Tuesday, Oct. 29. Prepare to get served. Unfortunately, no Playboy bunnies will be present.
Aria Hotel Las Vegas
•Haze Nightclub at Aria.
Even though Las Vegas is always a haze for Casino Boy, this Las Vegas nightclub is getting ready to host a fang-tastic Halloween bash in 2013 a Aria Hotel. The "Haunted House of Pain" Halloween party will feature, who else, T-Pain. ARIA definitely gets points for puns. Also, there's a $10,000 Halloween costume contest so be sure to dress up.
This article was written by Lauren Yap, Editor of CheapoVegas.com.
About CheapoVegas.com
CheapoVegas.com is the online authority for all things fun and exciting in Las Vegas... and cheap, too! Hotel promo codes, show packages and tour deals are just a few of the travel aides to be found on CheapoVegas.com.