Party like a VIP for free!
---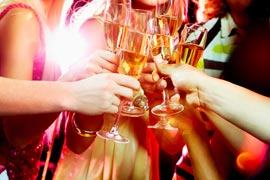 Want to get on the VIP guest list for the hottest Las Vegas nightclubs, pool parties and strip clubs?
Two options:
1. Be a rich, high rolling celebrity
2. Call Chris Hornak of Free Vegas Club Passes
If you're like Casino Boy, you probably don't fall into the #1 category. In that case, Chris Hornak is your go-to man and possibly new best friend. His team of well connected hosts and promoters has gotten more than 170,000 thrifty travelers on the guest list at the best clubs in Las Vegas since 2007—for free. Don't miss the chance to party at some of the fanciest Las Vegas Hotels on the Strip. Sound too good to be true? There is a catch, but it's a pretty awesome catch. To use the free guest list service, all you need to do is party at one of their featured clubs—Pure, LAX, Moon or Ghostbar your first night. (Beats slipping a hundo to the doorman). Yeah, we think we can manage to party at one of the hottest clubs on the rooftop of the Palms Hotel. They get paid by the clubs (not you) to bring in the party people. It's no accident that Vegas clubs are filled with outgoing, well dressed fun-loving people with an even girl to guy ratio-It's Chris's job to help make that happen so everyone has a good time. Not convinced? Check out the overwhelmingly positive reviews on Yelp and Facebook.
Once you are on the list, guests receive a confirmation via text with all the information they need for the night. Then, simply walk past all the suckers in the mile long general admission line (expect some jealous stares). Depending on the club, guys pay a reduced cover charge while ladies are always 100% free. After visiting one the featured clubs, you can get hooked up at almost any other Las Vegas club on the Strip! If you know nothing about Vegas or the party scene, they can create a custom-built itinerary. Hot spots like Haze, TAO, XS and Tryst are always good bets.
Night Clubs are awesome, but Free Vegas Club Passes also offers free dayclub entry. Pool Party season is literally heating up, so don't miss out on these wet and wild shindigs and check out ways to maintain that bikini ready body you worked so hard for. Venus, Wet Republic, Ditch and Encore Beach are just a few of the places where Chris has inside connections. Free Vegas Club Passes also has access to the more mellow pool bashes if you want to just sit back and enjoy a mai tai.
Those in Sin City looking to have a naughtier night out should take advantage of the exclusive strip club promotions. Snag deals on entry and drinks and watch performances by some of the most beautiful women and men around. Oh, and Chris will send a complimentary limo to pick you up. Pretty awesome way to kick off a bachelor or bachelorette party!
No matter if you are a Cheapo or a high roller, a good time is guaranteed ! Sign up for free on freevegasclubpasses.com or just call or text 702-518-CLUB with questions, available from 12p.m.-2a.m. everyday. Tell Chris Casino Boy sent you. Packages are also available for large groups, big spenders and Nevada residents.
What is your favorite club in Vegas? Use the comment section below or let us know on the Casino Boy Facebook, CheapoVegas twitter, or Casino Boy Google+! Keep up with these pages for updates on Las Vegas hotels, deals, specials, hotels, shows, Vegas promotions and more!