Las Vegas Sports Betting | Anonymous woman correctly picks the fate of 15 teams!
---
Published on
Wed, Nov 7, 2012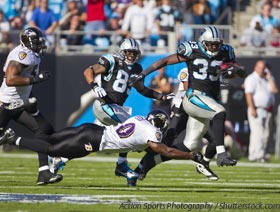 Vegas sports books were thumped hard this week after one of the worst weekends for Las Vegas sports betting in the NFL ever... at least for the guys who had to pay us out! Nearly every favored team won this Sunday; 9 out of 13 covered their spread and sent Vegas bookies into fits of the sweats as they had to pay out parlay after parlay.
Parlays are a great chance to win big if you are good at predicting the future. Channel your inner Miss Cleo and pick a few games that you foresee going your way. If all of your teams win, your payout will be much higher than if you had bet on each game individually. Finally, an honest living for all you fortune tellers!
This week in Las Vegas sports betting, parlays were the way to go. Multiple bettors bucked the odds and multiplied their bucks, betting on 5-, 10-, even 12-team parlays with some experiencing returns of more than 1,000%... even Casino Boy walked away with a couple g's, which is impressive because he's never held more than $20 at once. One anonymous woman put in a $5 15-team parlay and cashed out $100,000!
The anonymous woman incredibly picked all 13 NFL games correctly and added a couple NCAA games into the mix for a nice round "15". In the NCAA, she picked San Diego State (+15) vs Boise State and Nebraska (-2) vs Michigan State, a game which came down to the final seconds! We've no clue who this anonymous woman is, but we think her psychic powers could have a future downtown.
Have you ever placed a ridiculous bet and came out on top? Tell us about the craziest odds you've taken in the comments section below and don't forget: Casino Boy and all his glorious Las Vegas deals can also be found on Twitter, Facebook and Google+, you know... if you're the stalker-type.