Downtown Las Vegas is on the Rise: CheapoVegas.com Lists the Newest 2013 Hotspots
Jun 25, 2013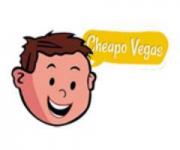 Las Vegas, Nevada (PRWEB) June 25, 2013
Downtown Las Vegas was once the ultimate pinnacle of Sin City. In recent years, the glitzy Strip has taken over that role. Many tourists, especially younger ones, don't even bother seeing the real Las Vegas. Seasoned travelers already know Downtown has the best Las Vegas hotel deals, the lowest minimums and plenty of cheap things to do. However, now more than ever, Downtown is a force to be reckoned with. Recently, many renovations and additions have livened up Downtown once again (no, it's not another jumbo screen) and it looks like there's enough dough invested to completely revamp the neighborhood. Here's some of them:
Vegas StrEATS
Vegas StrEATS is a street food and culture festival in Downtown Las Vegas. On the second Saturday of the month, head to the El Cortez Las Vegas parking lot to experience art, music and fashion while chowing down on some of the most delicious grub from gourmet food trucks. Currently in its second year, Vegas StrEATS has become a source of local pride and tourist interest in the heart of Downtown Las Vegas. The eclectic lineup of headliner has included acts such as Mayer Hawthorne, Johnny Cupcake and gLAdiator. This isn't a some cozy little farmers market, Vegas StrEATS has the hottest up-and-coming DJs and street artists with free admission from 6:00pm to 1:00am. Come watch as the Jackie Gaughan Plaza at the El Cortez Hotel and Casino transforms into a mash up of local street culture.
Container Park
Tourists can give their eyes a break from the overbearing lights at Fremont Experience and head to container park in Downtown Las Vegas. Container Park will be one of the most unique shopping centers in the country because it is built out of re-purposed shipping containers and Xtreme Cubes.The main focal point of Container Park is a large Catalyst Dome, but the center will also host restaurants, boutiques, bars and an outdoor theater. Funded by The Downtown project, a $350 million initiative to rebuild Downtown Las Vegas, this major development is meant to foster innovation, technology, sustainability and community. This type of flexible urbanization will change the downtown landscape in the years to come. Undoubtedly Las Vegas tourists will join the locals at Container Park in Fall 2013.
Atomic Liquors
Atomic Liquors is the oldest free standing bar in Las Vegas and has decades of history (this place get's it's name from the nearby atomic testing facility). Atomic Liquors was established in 1952 and just reopened this June after a two-year hiatus. The bar and liquor store is under new management, and the owners plans to preserve the historic bar and restore it to its original glory. The Rat Pack, The Smothers Brothers and Barbra Streisand (she still has her own chair on display) are just some of the Las Vegas legends who frequented the joint in its hay day. Nowadays, guests can enjoy free parking and drink specials and even get booze to go. The brick building and neon sign may not look like much, but once patrons experience this iconic watering hole, they will understand why everyone has a story about Atomic Liquors.
Commonwealth
This new Fremont Street bar opened late last year and is already drawing the trendy crowd from the Las Vegas Strip. The only downside is there's no food, but the focus is much more on the art and architecture anyway. Both the interior and exterior at Commonwealth are absolutely fantastic. The building has an east coast, Great Gatsby vibe and even boasts a rooftop garden bar. The interior is extremely intricate and makes patrons feel swanky (not such an easy feat in Downtown). The prohibition era decor includes hardwood floors, funky leather chairs and outlandish chandeliers. Commonwealth also has a semi-secret speakeasy called The Laundry Room, accessible only by guests with a reservation. Hand crafted cocktails are priced well below Strip standards, making Commonwealth the perfect place to bring a date after dinner.
About CheapoVegas.com:
CheapoVegas.com is the online authority for all things fun and exciting in Las Vegas... and cheap, too! Hotel promo codes, show packages and tour deals are just a few of the travel aides to be found on CheapoVegas.com.