CheapoVegas.com Lists the Top 3 New Las Vegas Shows on the Strip in Fall 2013
Aug 27, 2013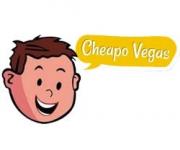 In the Entertainment Capital of the World, there are several Las Vegas shows to choose from. However, while the classics never go out of style, there are plenty of new acts at Las Vegas hotels this Fall. Cheapos who want to experience the latest in Las Vegas entertainment should grab tickets to these three new exciting shows on the Strip in 2013.
∙"Rocktellz and Cocktails" at Planet Hollywood Las Vegas: Despite its uninspired name, "Rocktellz and Cocktails" at Planet Hollywood is sure to be a lot of fun. The "Rocktellz and Cocktails" show gives audience members an inside look at the life and songs of some of rock n' roll's biggest superstars. The rock stars onstage will discuss their lives, their inspiration for their biggest hits and even engage with an audience Q&A. "Rocktellz and Cocktails" is set to debut on September 26, 2013 with Meatloaf as the first headliner. The "I Would Do Anything for Love" singer and "Celebrity Apprentice" alum will give fans an inside look into his life, career and creative process. Tickets start at $94 and are available now.
∙"Paranormal" at Bally's Las Vegas: "Paranormal" at Bally's Las Vegas is one of the most mind-blowing shows on the Strip. This show stars Frederic Da Silva, a noted French mentalist who starred in his own television show and recently started a limited run of shows at Bally's. Da Silva dives into the minds of audience members and performs mind-bending feats. "Paranormal" is running for a limited amount of time, so Cheapos should act fast and pony up the $32.95 it costs to go see Frederic Da Silva live at Bally's hotel. Patrons should prepare to be amazed as De Silva guesses what's inside their pockets. Speaking of empty pockets, be sure to use a Las Vegas promo code to cut costs.
∙"X Rocks" at the Rio Las Vegas: Cheapos who prefer their entertainment topless will want to check out "X Rocks" at the Rio Las Vegas. When it comes to live entertainment at Las Vegas hotels, trust the company that brought "X Burlesque" to town. The show combines the gorgeous and topless X Girls with rock music and all-star dance numbers. Watch as the girls of "X Rocks" strut their stuff on the stage to tunes from some of rock's biggest acts, including hits from Muse, Black Sabbath and Alice in Chains. In addition to the topless rock dancers, the show also features a set from comedian John Bizarre. Tickets start at $47.25 and the first show in on August 29, 2013.
This article was written by Lauren Yap, Editor of CheapoVegas.com.
About CheapoVegas.com: CheapoVegas.com is the online authority for all things fun and exciting in Las Vegas... and cheap, too! Hotel promo codes, show packages and tour deals are just a few of the travel aides to be found on CheapoVegas.com.