The Chandelier Las Vegas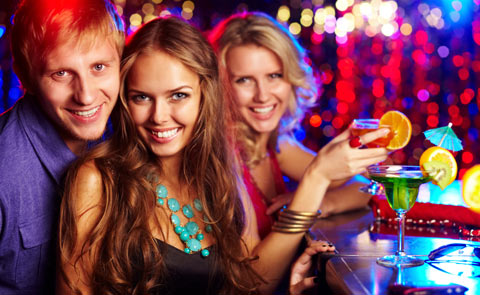 Tipsy? ...or smashed? Stay at one of our favorite nearby hotels!
This place reminds me of Granny's chandelier back home. They even serve as much booze as she did!
---
A Quick Look
Type: Lounge
Dress: No dress code but show up in sweat pants and you might not get passed the door.
Price:

Casino Boy's Rating:
---
---

The Skinny
The Chandelier Las Vegas is a posh new bar and lounge located inside the Cosmopolitan Hotel. Designed as a giant glistening chandelier, the Chandelier Bar Las Vegas is decorated by over two million crystals streaming from ceiling to floor. A different DJ on each floor spins the hottest beats and mixologists serve one-of-a-kind cocktails for a truly unique Vegas lounge experience.
Reviews
There are currently no reviews!
Be the first to write a review!
Write a review
Our user reviews are from real registered users.
Quick Facts
The Chandelier Bar Las Vegas has three stories, each with a different style music and specialty drinks.
Over two million crystals decorate the Chandelier Lounge and Bar Las Vegas.
The three levels of the Chandelier Bar Las Vegas can host up to 500 guests at a time.
Info
Location:
Cosmopolitan Vegas
3708 Las Vegas Blvd S
Las Vegas, NV 89109
View Map
Phone:
702.698.7000
Website:
https://www.cosmopolitanlasvegas.com/experience/lounges-and-bars/chandelier.aspx
Hours of Operation:
Open 24 hours
Features:
The Chandelier Las Vegas is a three story bar surrounded by millions of shimmering crystals. It's striking appearance attracts guests right as they walk in the doors of the Cosmopolitan Hotel. The Chandelier Las Vegas has a group of talented mixologists who create extravagant cocktails you won't find anywhere else.
Why We Go:
We at Cheapo go to The Chandelier Las Vegas because it's literally the most beautiful and glittery lounge in Vegas. Shh, don't tell anyone, but we LOVE glitter.
Great Bartenders: The service at Chandelier Las Vegas is impeccable and the bartenders know how to make a good drink. Whether you are in the mood for a frilly, fruity, sort of drink or a jack and coke, these bartenders do it up right. Of course, we can't guarantee the guys won't laugh at you if you go for the former option.
Unique Ambiance: What's cooler than sitting inside a giant chandelier? The environment of The Chandelier Vegas Lounge and Bar is unlike any other bar in Vegas. The shimmering lights are reflected in gorgeous crystal chains, creating a sense of elegance and style.
Reasonable Prices: For being a posh Vegas lounge, The Chandelier Bar Las Vegas doesn't have abnormally high drink prices. It's a little surprising given the ambiance and list of specialty drinks available.
Inside Knowledge:
There is a "secret" bar between the first and second floor of The Chandelier Las Vegas. Located inside one of the chandeliers, this bar is not always open but if it is, you HAVE to check it out. It's intimate, beautiful, and you'll feel super cool for getting inside.
Do's and Don'ts:
Do Order The Secret Flower: The Secret Flower cocktail is only served at the second floor bar of The Chandelier Las Vegas. Although we don't know what's in it, whatever it is makes your mouth go numb.
Do Check Out Each Level: The Chandelier Lounge and Bar has three different levels that all cater to a different crowd. The bottom level is the most casual, the second is like a club engulfed by the chandelier, and the third is more of a snobby lounge. Each one is great in it's own respect and worth an elevator ride.
Don't Attempt To Climb The Crystal Chains: You will fall, you will get hurt, and they WILL kick you out. This gorgeous chandelier is for looking only, don't touch! That was what they told us, pretty much verbatim.
Don't Go On A Busy Saturday Night: If you like pushing and shoving to get to the bar, then by all means, hit this place at 11pm on a Saturday. If you're like us and like to relax and enjoy the beautiful environment, we recommend going to The Chandelier Las Vegas a little earlier, so you don't' have to wait for hours to get a drink.
Is it Worth It?
This place is amazing! Yes, it's worth it!
The Chandelier Las Vegas Amenities
Easy Parking
Full Bar
Parking Structure
Smoking Allowed
Wheelchair Access
Live Entertainment
Private Parties
Smoking Area
Valet Parking
User Average Review
Overall:
Ambience:
Music:
Crowd:
Price:
Based on reviews
Rating Distribution
0.0% recommended it
The Chandelier Las Vegas Reviews
There are currently no reviews! Be the first to write a review!
Write a review
Nightclub Hotel
Casino Boy's favorite nearby hotels ...in case you need a place to crash.

Hotel Name
Details

1 Promo Region:

Strip

Address:

3735 Las Vegas Blvd S Las Vegas, NV 89109

Region:

Strip

Address:

3799 Las Vegas Blvd. South Las Vegas, NV 89109

Region:

Strip

Address:

3131 Las Vegas Blvd. South Las Vegas, NV 89109

Region:

Strip

Address:

3730 Las Vegas Blvd S Las Vegas, NV 89158

1 Promo Region:

Strip

Address:

3850 Las Vegas Blvd. South Las Vegas, NV 89109