CheapoVegas.com Announces the Top Las Vegas Deals of Summer 2013
Apr 20, 2013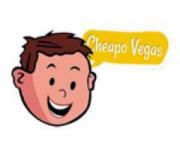 Las Vegas hotel deals of summer 2013 - CheapoVegas.com reveals the best Las Vegas promo codes for this summer.
(PRWEB) April 201, 2013
Summertime in Las Vegas is just around the corner, and hotel deals in Las Vegas for summer have already begun! With the hot Vegas summer weather, even Casino Boy is leaving the tables to hit the Vegas pool scene. Where the ladies go, Casino Boy follows, and there's no shortage of bikini bods at the Las Vegas pools this summer. All of that day partying and Vegas summer lovin' can do some damage to the bank account though, so Casino Boy makes sure to use some of the Las Vegas promo codes he has up his sleeve. Unless you use one of the summer Las Vegas coupons available, you might leave Vegas bummed and broke. Luckily for all of those cheapos out there, Casino Boy has the scoop on the best Las Vegas promo codes and Vegas deals of 2013 for raging in Sin City this summer. Here are the top 5 Las Vegas deals for summer 2013:
1. Rehab Pool & Room Special at the Las Vegas Hard Rock Hotel and Casino:
The Vegas pool scene at the Hard Rock Hotel and Casino is hard to beat for Summer 2013 in Las Vegas. Plus, with their pool and Vegas hotel special, even cheapos can afford to stay at the Hard Rock Hotel & Casino and enjoy the poolside debauchery at Rehab. The Las Vegas promo code at this Vegas hotel includes 2 wristbands for entry to Rehab pool party for those who stay Sunday night, and 2 wristbands to nectar Music Festival Saturdays at Paradise beach for those who stay Saturday night. Visit the Las Vegas Hard Rock Hotel & Casino page to access this Vegas promo code.
2. Luxor Las Vegas Deal: Save 30%
Stay at the Luxor Las Vegas hotel this summer and get a room as low as $30 per night. This Vegas deal saves travelers up to 30% on rooms! The Luxor Las Vegas deal ends August, 2013...so use this Vegas coupon before summer is up!
3. Las Vegas Excalibur Deal: Exclusive Price Special:
Stay at the Vegas Excalibur and book a room as low as $27/night! By using the Vegas Excalibur promo code, Las Vegas party goers can save 30% on rooms and get a $20 food and beverage credit...Casino Boy will need that after day drinking by the pool!
4. Circus Circus Las Vega Food & Beverage Deal:
Book at the Circus Circus and save on Vegas expenses of summer 2013. With their $20 food and beverage credit, Vegas visitors will have that much more to spend poolside or at the casino tables. All of that Vegas summer pool partying will definitely lead to a hangover, and that food credit is going to come in handy. Visit the Circus Circus deals page to access the promo codes.
5. Signature and MGM Grand with Las Vegas Suites 40% OFF!
Book with Las Vegas Suites promotions and save 40% on Vegas hotel rates at the Signature and MGM Grand when booking online. With rooms at $84/night, enjoy Vegas luxury without spending a fortune. Classy and cheap in Vegas? Jackpot.
This article was written by Ariel Abbott, Editor of CheapoVegas.com
About CheapoVegas.com:
CheapoVegas.com is the online authority for all things fun and exciting in Las Vegas... and cheap, too! Hotel promo codes, show packages and tour deals are just a few of the travel aides to be found on CheapoVegas.com.